Description

More

Features

Specs

DJ Controller Accesorries
TOUCH THE FUTURE
Leap into a new world of musical possibility in the studio, on stage, and anywhere creativity leads you with the powerful APC64.

The new Akai Professional APC64 is a powerful next-generation Ableton Live controller for studio and live performance.

It features 64 RGB velocity-sensitive pads with poly aftertouch, and 8 fully assignable Touch Strips for instant hands-on control of devices, pitch, modulation, and much more. APC64 also works as a standalone 32-step 8-track Step Sequencer and controller with 3 MIDI ports and 8 CV/Gate outputs to take full control of synths, drum machines, or modular rack devices.

ENTER THE MATRIX
APC64 features a vibrant 8x8 pad matrix of 64 velocity-sensitive RGB pads with poly aftertouch for playing chords, synth leads, Ableton Live's Drum Racks and of course launching Clips in Session View.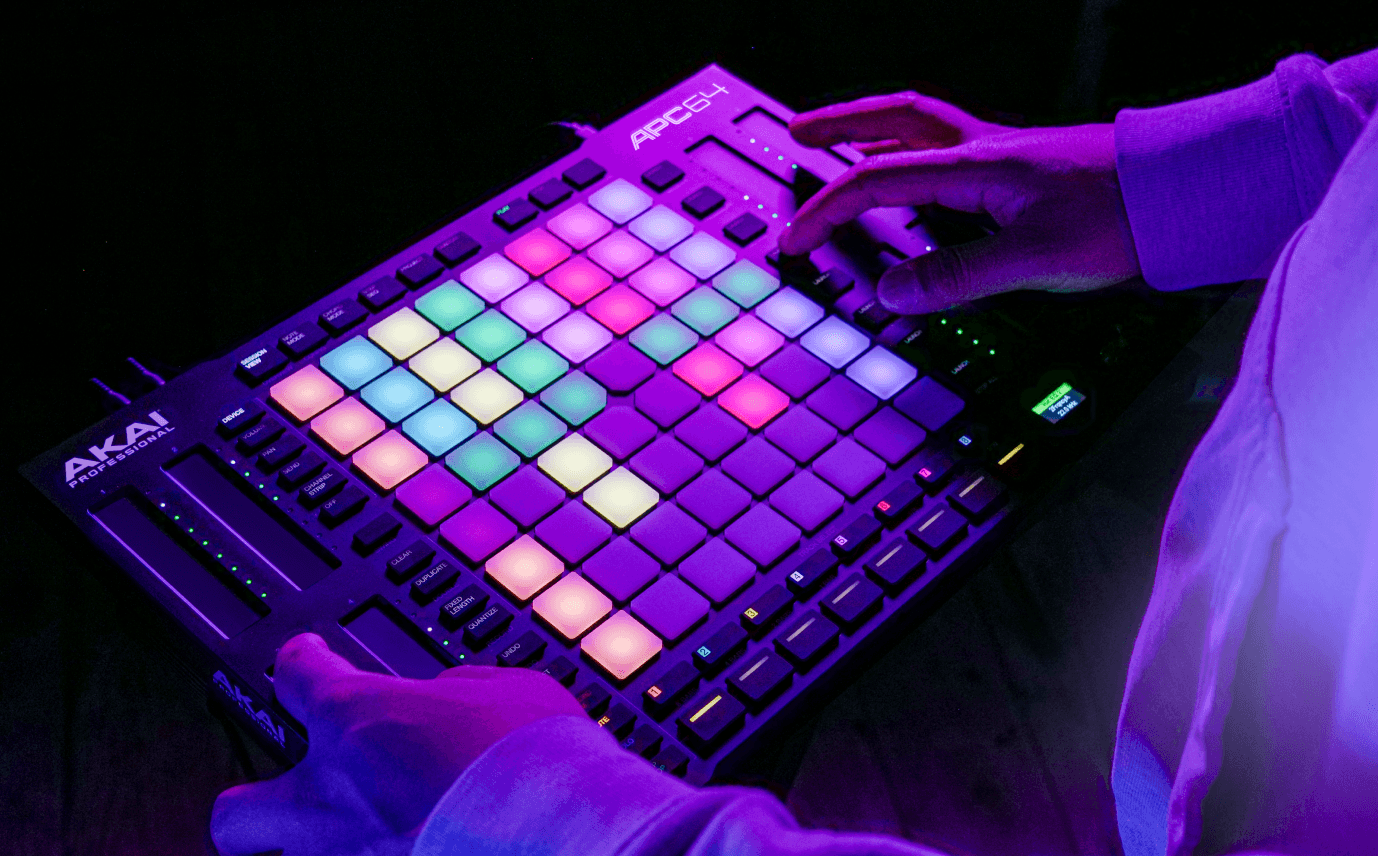 TOUCH THE FUTURE
Add a whole new level of expression and control to your music production and live performances with 8 fully assignable Touch Strips with RGB LED indicators. Get control of Ableton Live's devices - including Auto Filter, Delay, Reverb, Impulse, Simpler and more - right at your fingertips. Adjust macros, mixer volume, pan, and effects sends as well as writing automation.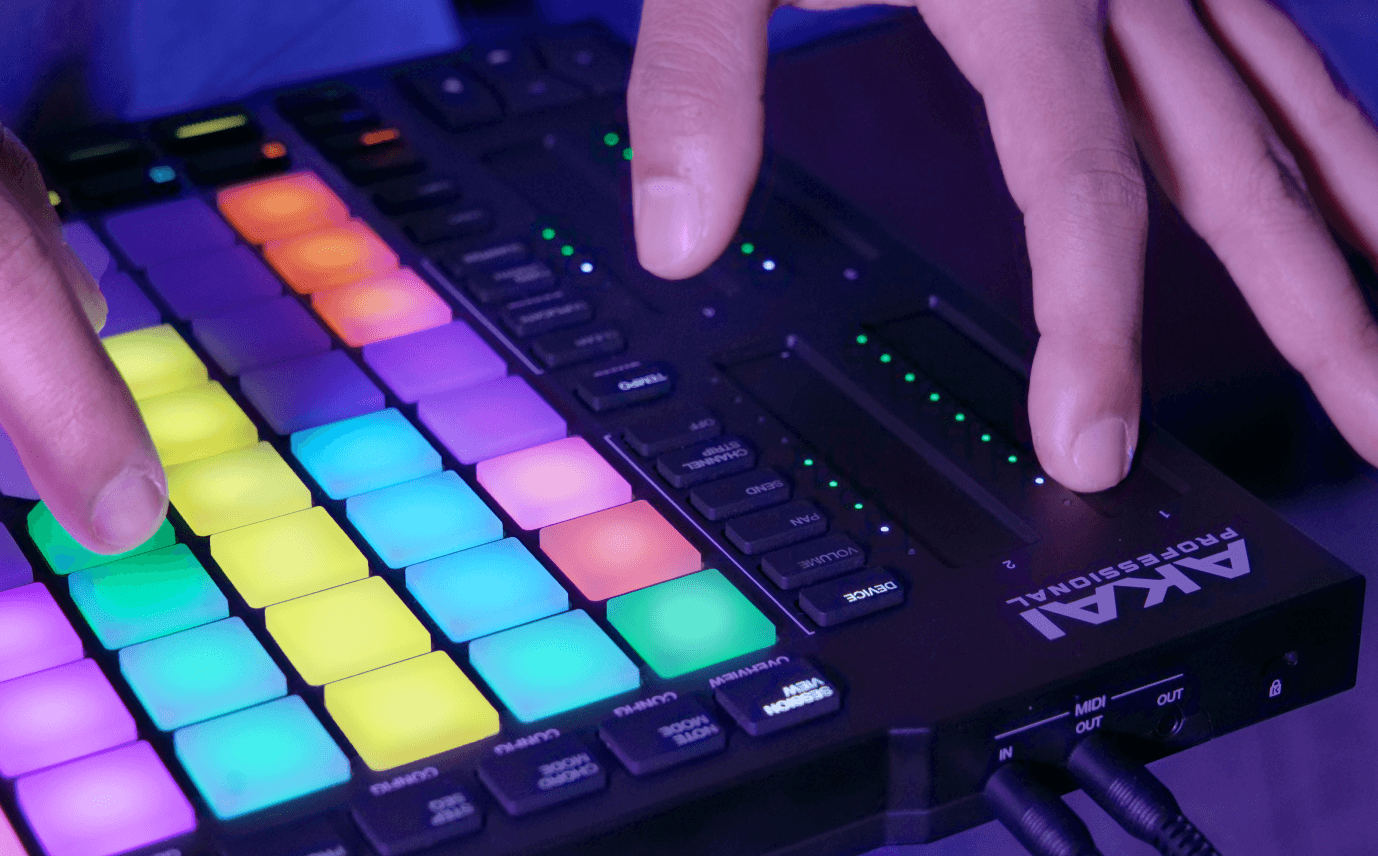 VISUAL FEEDBACK AND CONTROL
APC64 includes a smart color LED screen with a fast push encoder for real-time visual feedback of your parameters. Move around Ableton Live's devices and mixing environments while keeping track of each parameter on the screen. APC64 also features dedicated transport control with Play, Stop, and Record for capturing your ideas along with 8 Track Mute and Solo buttons for mixing and live performance.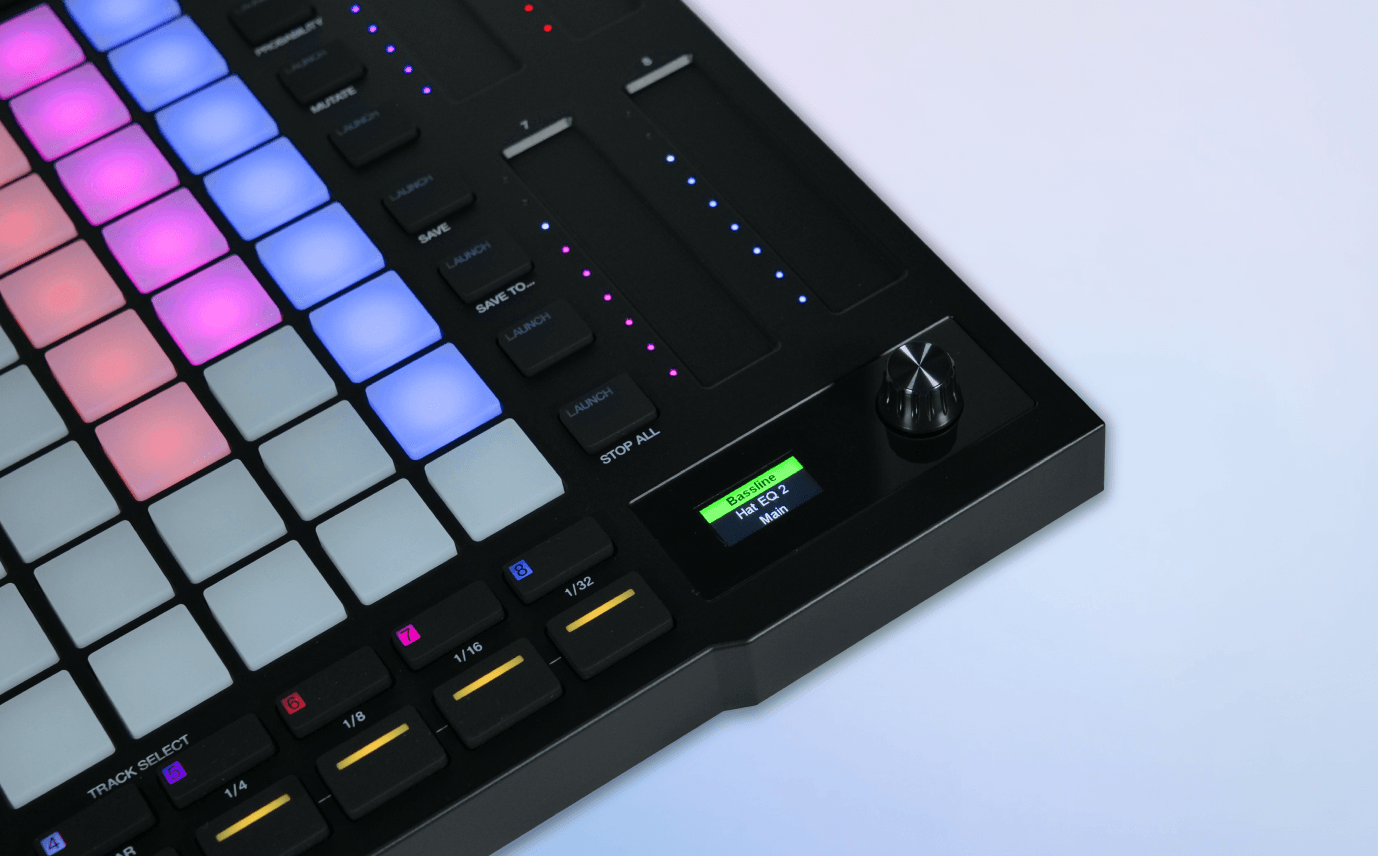 STANDALONE STEP SEQUENCING
APC64 features an internal 32-step 8-track Step Sequencer enabling completely DAW-less control of your favorite synths. With 8 CV/Gate outputs and 3 1/8" MIDI ports, you can connect, sequence, and capture your favorite modular racks, keyboards, classic drum machines, and more. Add continuous control and expression using the 8 Touch Strips for a whole new level of performance. Apply additional creative dimensions to MIDI notes using the Probability, Velocity, and Mutate functions for further experimentation.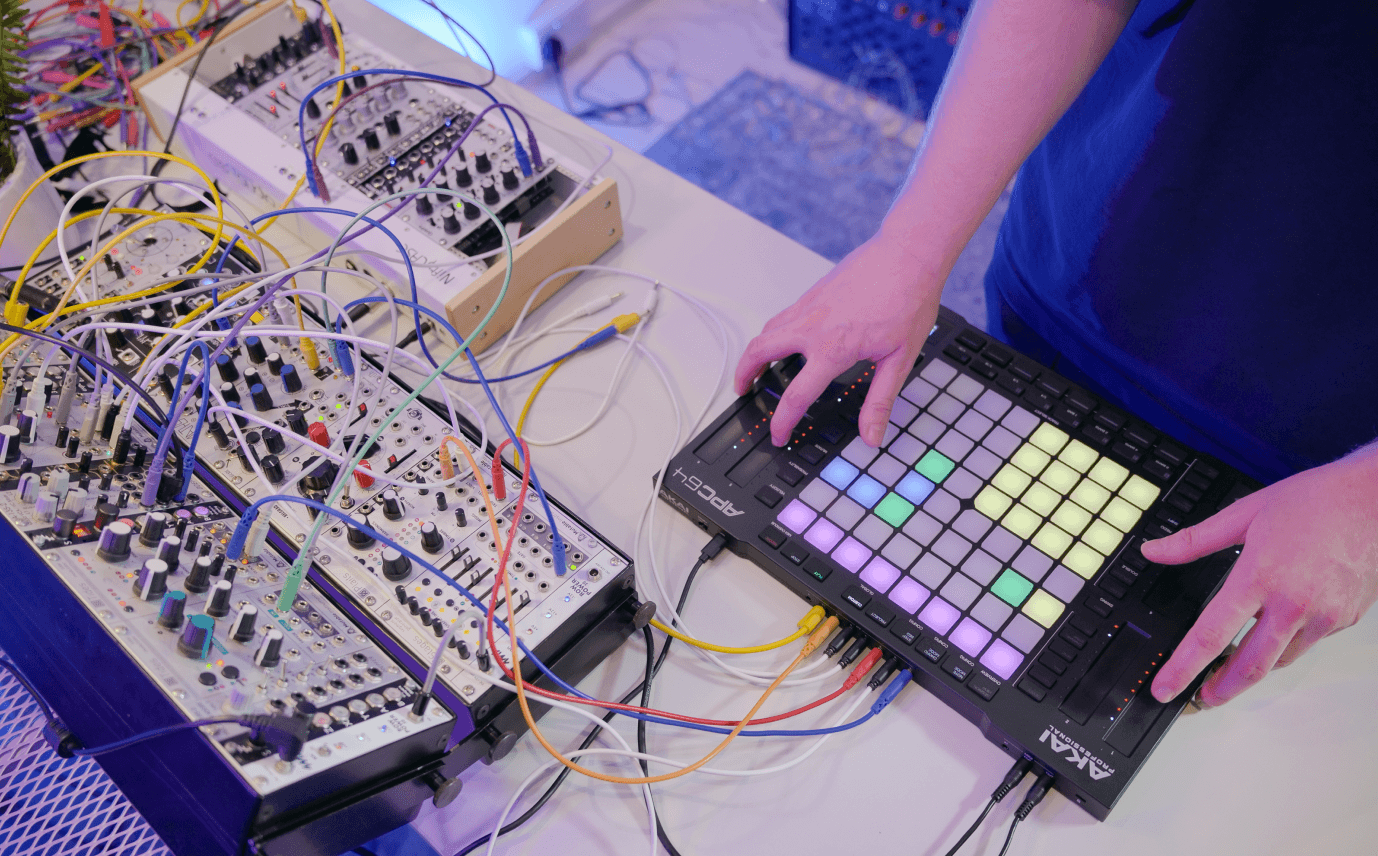 POWERFUL PRODUCTION AND PERFORMANCE
APC64 facilitates a seamless workflow within Ableton Live; from triggering samples and loops in Ableton Live's Drum Rack, all the way to writing expressive melodies using the Notes, Scale, and Chord modes. Use the onboard Step Sequencer to generate inventive melodic patterns that can be instantly transferred to Ableton Live using the Send To Clip function. Apply swing and quantize to your beats or use APC64 to arm and record vocal tracks directly in Ableton Live sessions.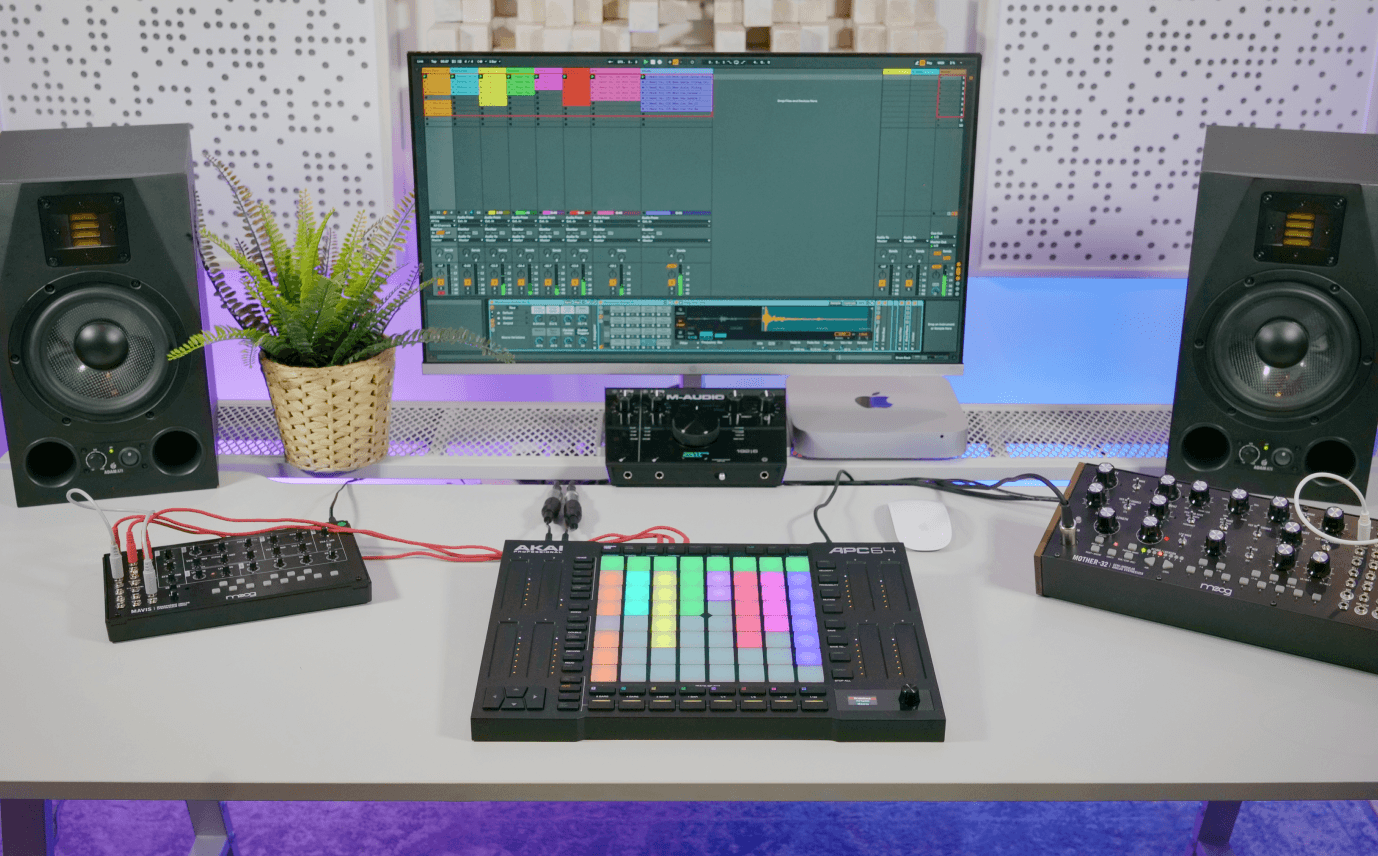 ABLETON DRUM RACK/SIMPLER CONTROL
APC64 features a dedicated Drum Mode allowing you to play and record beats, loops, and slices using an Ableton Live Drum Rack or Simpler device. Capture additional inspiration using the 8 Touch Strips to control Ableton Live's FX racks during beat making and performance.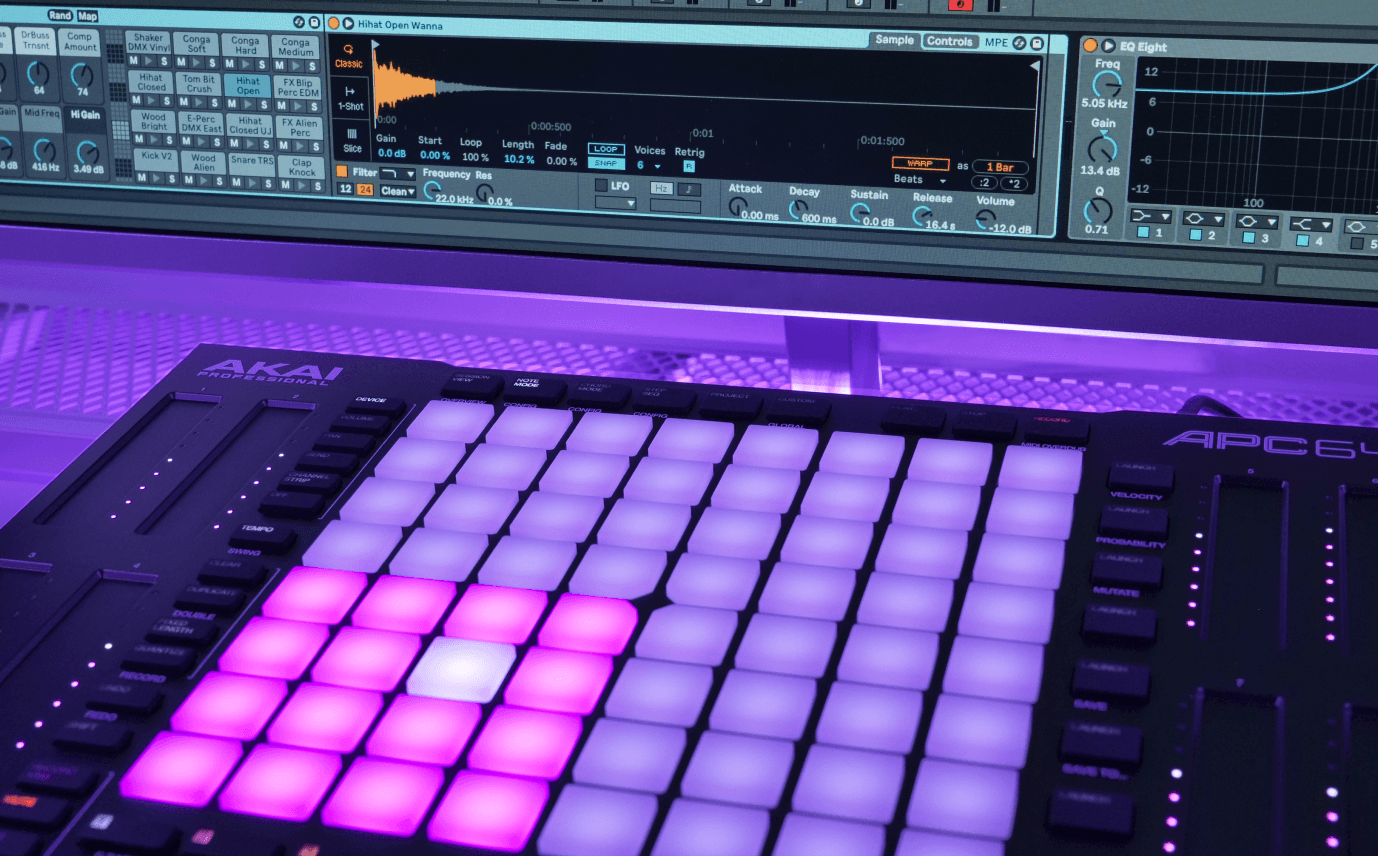 ABLETON LIVE LITE 11
APC64 includes Ableton 11 Lite for all your software music production needs in one package to produce, perform, arrange, record, edit, mix and master your music. Live Lite includes sounds, instruments, and sequencing, recording, and arranging capabilities.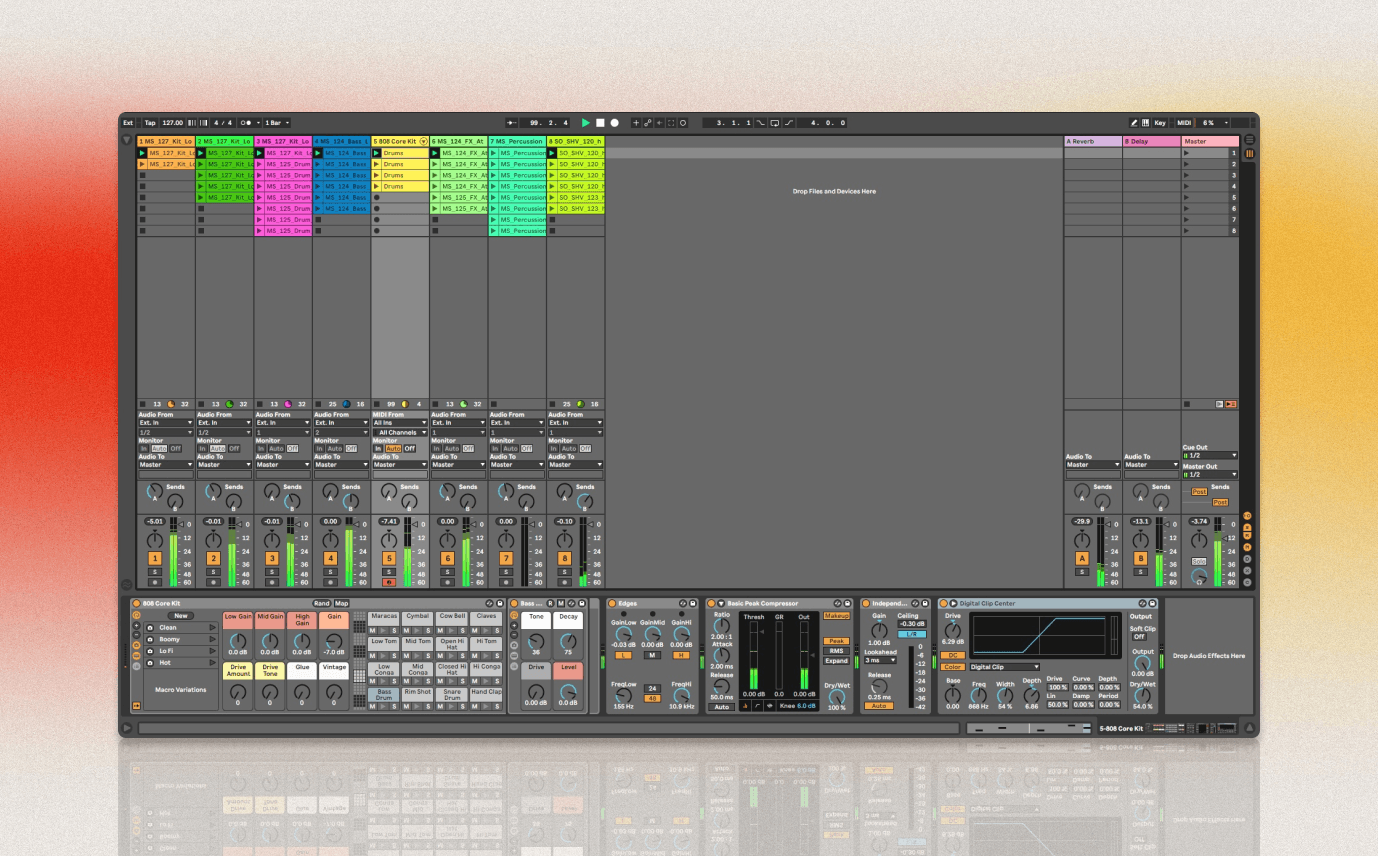 AIR MUSIC INSTRUMENTS/PLUGINS
APC64 Includes a collection of professional plug-in instruments and effects so you can start producing out of the box. Included are the following plugins: TubeSynth, Electric, Ether, Halfspeed, Vocal Tuner, Flavor, and the Sonivox Essential Keyboard Collection.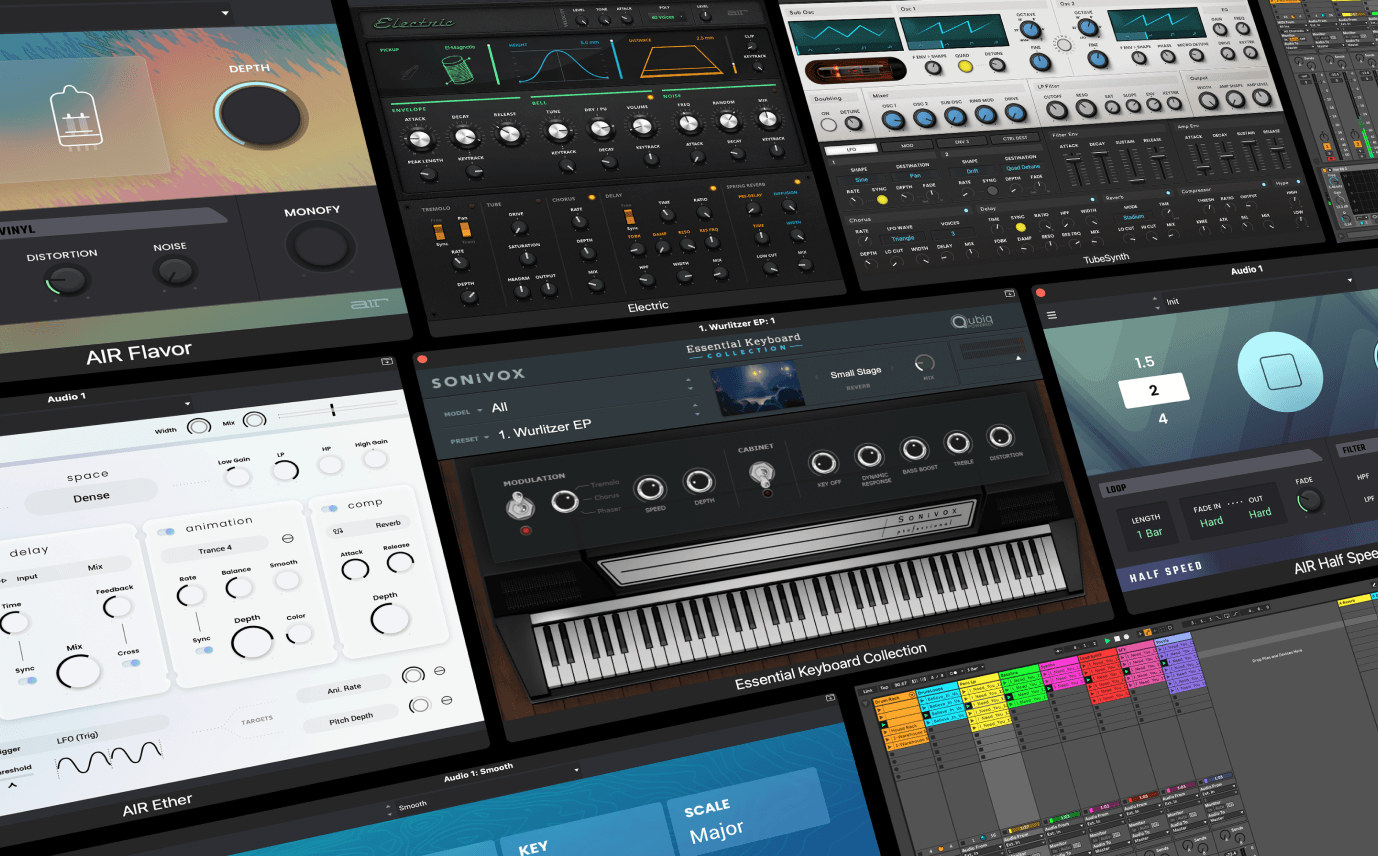 CUSTOM EDITOR SOFTWARE
Create your own custom layouts with the included desktop software editor for Mac/PC to personalize and store pre-sets for quick recall in standalone.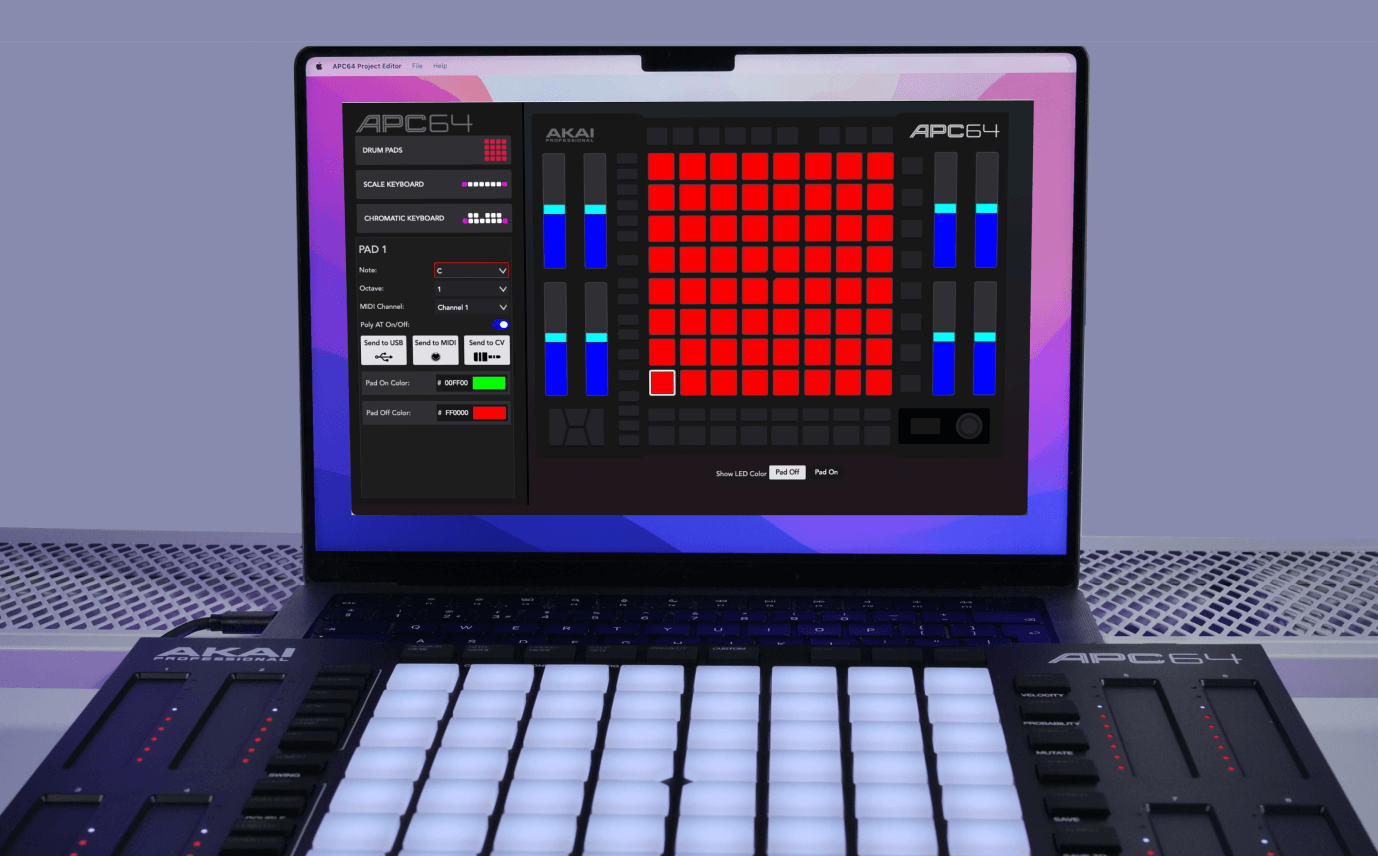 SAMPLES AND LOOPS EXPANSION
Electronic sample and record label "Sample Tools by CR2 Records" presents a dedicated electronic expansion for APC64 filled with over 1.2 GB of cutting edge production ready samples ready to load straight into Ableton. Immerse yourself into the world of electronic dance music with APC64 Electronic Expansion.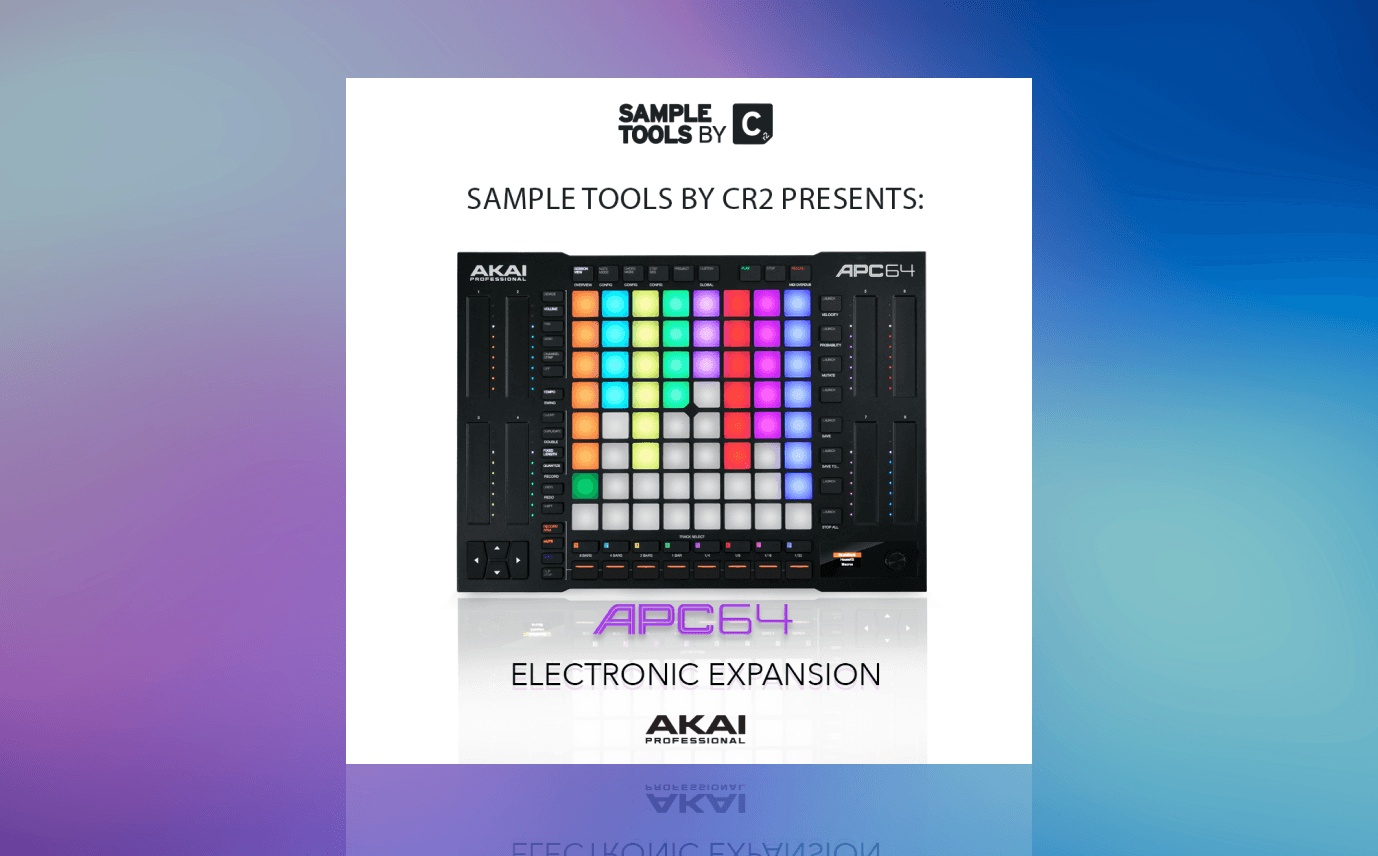 In depth control of Ableton Live

64 velocity-sensitive pads with poly aftertouch for launching clips, playing notes, creating beats, and
sequencing patterns
8 fully assignable touch strips enable hands-on control of devices, expression, the mixer and more
Color display with encoder dial for real-time visual feedback

Powerful production and performance features

Play notes, chords, trigger drum racks as well as controlling Live's session view
Step sequencer mode for creating melody and drum patterns in Live
Send to Clip integration for transferring MIDI to Ableton Clip Matrix
Probability, velocity and mutate functions enable creative experimentation
Apply per-track swing to your beats, along with length and time division settings

Effortlessly navigate Ableton Live

Backlit mode buttons enable quick access to Live's functions
Dedicated transport control with Play, Stop and Record buttons
Full color display instantly feeds back session information

Standalone sequencer and external hardware control

Unplug your computer and connect synths and drum machines to 3x 1/8" MIDI ports
Take control of your modular rig with 8 separate CV/gate outputs
Program the step sequencer or trigger events with the pads, and send continuous control data with the Touch Strips
APC64 comes with a software application for editing parameters and saving presets in standalone, including a custom mode wherein RGB colors can be freely assigned

Ships with Ableton Live Lite and a collection of plug-ins

Includes Ableton Live Lite which works seamlessly with APC64 right out of the box
Live Lite includes sounds, instruments and sequencing, recording and arranging capabilities
Suite of plug-ins from Air Instruments and Sonivox: including classic keyboards, synths, reverbs, vocal
processors and vintage effects
Comes with an additional 1GB of Loops and drum samples from Sampletools by CR2 Records
Display: Graphical full color LCD
Connections:

USB-C®
8 1/8" (3.5 mm) CV/Gate
2 1/8" (3.5 mm) MIDI Output
1 1/8" (3.5 mm) MIDI Input

Dimensions: 10.7" x 14.6" x 1.4" 272 x 371 x 34.5 mm
Weight: 3.5 lb/1.6 kg
DJ Controller Accesorries