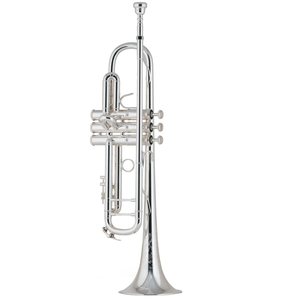 Description

Features

Trumpet Accessories
Commemorating 50 years of manufacturing in Elkhart Indiana, the makers of world famous Bach Stradivarius trumpets proudly bring you an exciting new trumpet model - Introducing the 190S37 Bb trumpet by Vincent Bach.

In 1965, the manufacturing of Bach Stradivarius trumpets was moved from Mount Vernon, New York, to Elkhart, Indiana. Making a new era in Vincent Bach history. The year 2015 marks the fiftieth year of Bach Stradivarius manufacturing in Elkhart. In celebration of the 50th anniversary and in carrying on the legacy and vision of the master craftsman, the makers of today's Bach Stradivarius proudly introduce the Bach Stradivarius 190S37 professional Bb trumpet.

Taking construction techniques from 1965 and the highest quality of USA made materials, and vintage design elements to create this new model featuring an amazing response, flexibility, a larger tonal core, superb resonance, ease throughout all registers - all while maintaining the signature Bach sound!

.459" Medium-Large Bore
Standard weight body
Two-piece valve casing construction with nickel standard weight yellow brass one-piece hand-hammered #37 bell with a side seam and a round steel wire ball rim
Standard construction #25 mouthpiece
Monel pistons
Brass and plastic valve guides
Nickel silver outer and brass inner slides
1st slide thumb saddle
Adjustable 3rd slide rod stop
Silver-plate finish
Bach 3C mouthpiece
C180 woodshell case