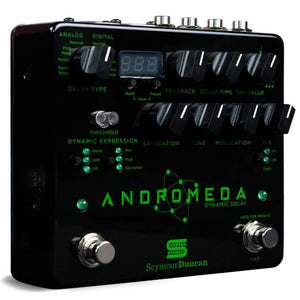 Description

More

Sample Settings

Tech Specs

Pedal Accessories
Andromeda is a fully programmable digital delay pedal, combining classic sounds with unique dynamic control to create an interactive, all-in-one delay machine.

The Andromeda™ Dynamic Delay is a new approach to the traditional digital delay – as much a performance tool as it is a sound effect. Andromeda features warm, hypnotic repeats with an unparalleled level of control and musical, dynamic interaction. The combination of versatility and ease of use make it an indispensable tool for the creative guitarist. Whether you prefer the sound of lush analog delays, vibey tape echoes, pristine digital repeats or some unique blend of the three, Andromeda has you covered with eight delay types including: Normal, Ping Pong, Reverse and Reverse Pong.
Once you select your delay type, you can further modify it with the Tone knob (to brighten or darken the repeats), the Saturation control (to add some of the grit and grind that the classic tape machines provided) and the Modulation knob (for gorgeous chorus or vibrato on the echoed signal). This provides a tremendous amount of tonal options—especially when you add functions like Tap Tempo (with four rhythmic subdivisions) and a selectable Trails feature, which allows the echoes to decay naturally when Andromeda is bypassed. But that's just the beginning…
What truly sets Andromeda apart is the exclusive Dynamic Expression™ feature that allows you to control how the pedal reacts – in real time with your picking attack. That means you can alter settings for Mix, Modulation or Saturation on the fly, just by how you play. For instance, by selecting Mix, you can set Andromeda for a subtle echo until you dig in, at which point your repeats will jump to the forefront. Choose Mod and you can have beautiful chorus in a quiet verse part that magically disappears when you launch into a loud solo, or vice versa. Select Saturation and you can overdrive the echoed signal simply by picking harder. Depending on how you set the various controls, picking hard or picking soft will produce infinite variations on the sounds, taking Andromeda from a stompbox to a living, breathing thing. It's interactive, intuitive and—most importantly—inspiringly musical.
Despite the awesome power and flexibility of this pedal, Andromeda is remarkably easy to work with. Everything you need to create your delay sounds is at your fingertips on the front panel, so no scrolling through menus or navigating confusing multi-function controls. Twist a knob, change the sound—it's that simple. Andromeda provides the tactile, immediate response that we associate with classic guitar gear in a deep, modern effect.
Because Andromeda is capable of so many great sounds, we made it fully programmable. When you create a unique delay patch, you can save it, quickly and easily, and recall it in an instant, either with the onboard buttons or via MIDI. And with 128 presets as well as MIDI In and Through, Andromeda can be not just the pulsating, beating heart of your rig, but the brain as well. Need more? Andromeda features stereo ins and outs, making it compatible with a wide array of live and studio applications and facilitating huge, expansive stereo imaging, powered by a 24-bit/48kHz digital engine.
Andromeda also comes with a micro-USB port so it can connect to our Updater/Librarian software. This will allow you to download future updates for Andromeda, save and name your favorite presets to your computer, trade patches with fellow users and more. Finally, the bright alpha-numeric readout on the front makes it easy to see what patch is loaded, whether on a dim stage or in bright sunlight. Any delay can repeat what you play.
The Andromeda Dynamic Delay can actually have a musical conversation with you, reacting to what you say and how you say it. The dynamic interaction that is possible with this pedal will forever change the way you view delay effects. Like all of our pedals, the Andromeda Dynamic Delay is designed and assembled at our Santa Barbara, California factory by the same team responsible for our legendary pickups.
DIGITAL
This no frills digital delay setting is a great starting point, showcasing Andromeda's pure, warm tone. This delay setting should work nicely for most applications, or use it as a jumping off point to experiment with the tone shaping controls.


ANALOG
Andromeda's analog delay setting is modeled off of our Vapor Trail bucket brigade delay for warm, rich repeats that gently decay into gorgeous lo-fi analog bliss.


DYNAMIC MIX
This digital delay patch makes use of the Dynamic Expression feature to create a ducking delay. When you play harder the mix will get lower and when you play softer the mix will get higher. This keeps the delay out of the way if you're playing fast and blends it back in when you slow down or play softer.


ANALOG WASH
This analog delay patch makes use of the Dynamic Expression to create ambient swells and washes of cascading delay. When you play harder the delay will back off, but as you play softer the oscillating feedback will bring in a wave of soft ambient repeats.


MOD DIGITAL
Andromeda's pristine digital delay is paired with lush chorus for added depth and sparkle.


MOD ANALOG
Subtle modulation and saturation combined with a slight roll off of the tone control creates a very vintage analog delay sound.


REVERSE
A swirling, dreamy reverse delay that's perfect for psychedelic guitar solos, ambient soundscapes, or shoegaze strumming.


TAPE DELAY
Using Andromeda's digital delay engine, combined with the Saturation, Tone, and Modulation controls you can emulate vintage tape delays.
INPUT IMPEDANCE: 1M Ohm
OUTPUT IMPEDANCE: 100 Ohms
GAIN: Unity
NOISE: <-105dBV
FREQUENCY RESPONSE: 20 Hz to 20 kHz +/-0.5dB
POWER: External 9V to 18V regulated DC adapter (center pin negative) with
300mA current rating
CURRENT CONSUMPTION: 150mA
DIMENSIONS: 5.60'' x 5.13'' x 2.15''
WEIGHT: 1.35 lbs.