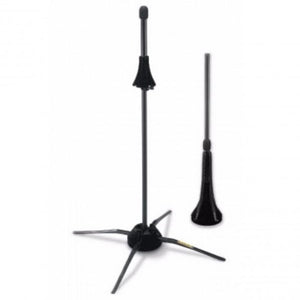 TravLite™ In-Bell Trombone stand folds up compactly to fit inside the bell of your instrument
Takes up no extra space in your instrument case
Velvet base secures snugly inside your instrument
Velvet bag included for better protection and easier access
Height: 870 mm (34.2")
Weight: 1.23 kg (2.71 lbs.)
Base radius: 280 mm (11")
Folded size: 126 mm x 121 mm x 547 mm (5" x 4.8" x 21.5")
Load capacity: 5 kg (11 lbs)
HERCULES firmly believes that today's musicians deserve better stands to support their demanding performances. In response to musicians' requests, HERCULES conducts exclusive research and development to eliminate the problems associated with ordinary stands. These ground-breaking solutions and patented designs set HERCULES apart.