Description

More

Other Features

Specs
The 4-channel DJM-A9 raises the bar for club standard mixers – boasting huge upgrades compared to its predecessor, the DJM-900NXS2 – with stunningly clear sound quality, enhanced playability and connectivity, and a host of new features to help you take your performances to the next level. The DJM-A9 has also been improved as a musical instrument for more emotional and dynamic performances, while retaining the functions and layout that have become club standards.
Stunning clear sound quality
The next-generation club sound of the DJM-A9 comes from extensive development and fine tuning of existing technology from previous units, plus brand-new components. The channel input section is equipped with an ESS Technology 32-bit high-quality A/D converter for crystal-clear, high-resolution sound, while the master and booth output sections employ 32-bit high-quality D/A converters from the same brand.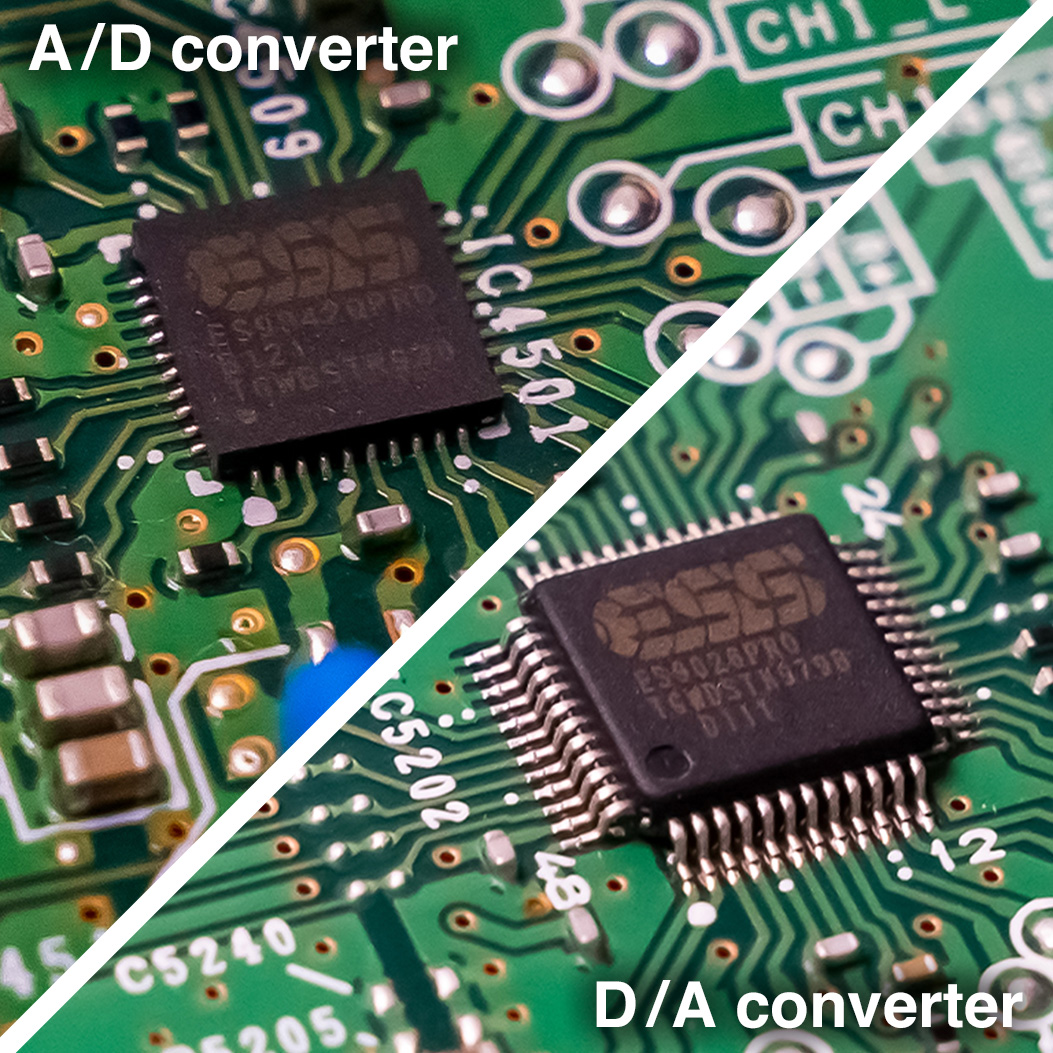 Evolved playability
Increased spacing around the EQ knobs gives you the room to twist your fingers and high-grade, bright LEDs in the channel section make it easier than ever to get a visual grasp on sound levels. You can perform more dynamically than ever thanks to the frequency response of the isolators, which have been optimized to make the most of the latest music production traits. And, with higher quality, slicker channel faders than the DJM-900NXS2 you can enjoy silk-smooth mixing and rapid, stable scratching.
Sound Color FX with world's first Center Lock knob
Turn on the brand-new Center Lock feature and, when you're using the popular Sound Color FX, each knob will stop turning when you reach the center position. This means you can twist the knob as quickly as you like, taking the effect right up to the maximum of the hi, or down to the minimum of the low parameter, without the risk of going too far and switching to the opposite parameter.
Newly advanced Beat FX
A new color display helps you to quickly and accurately understand the status of the selected effect, and it features lighting that corresponds with the X-Pad's horizontal arrangement, enabling more intuitive control with a simple finger slide. 
Even better, the channel selector is now a dedicated button, enabling you to quickly apply effects to your chosen channel.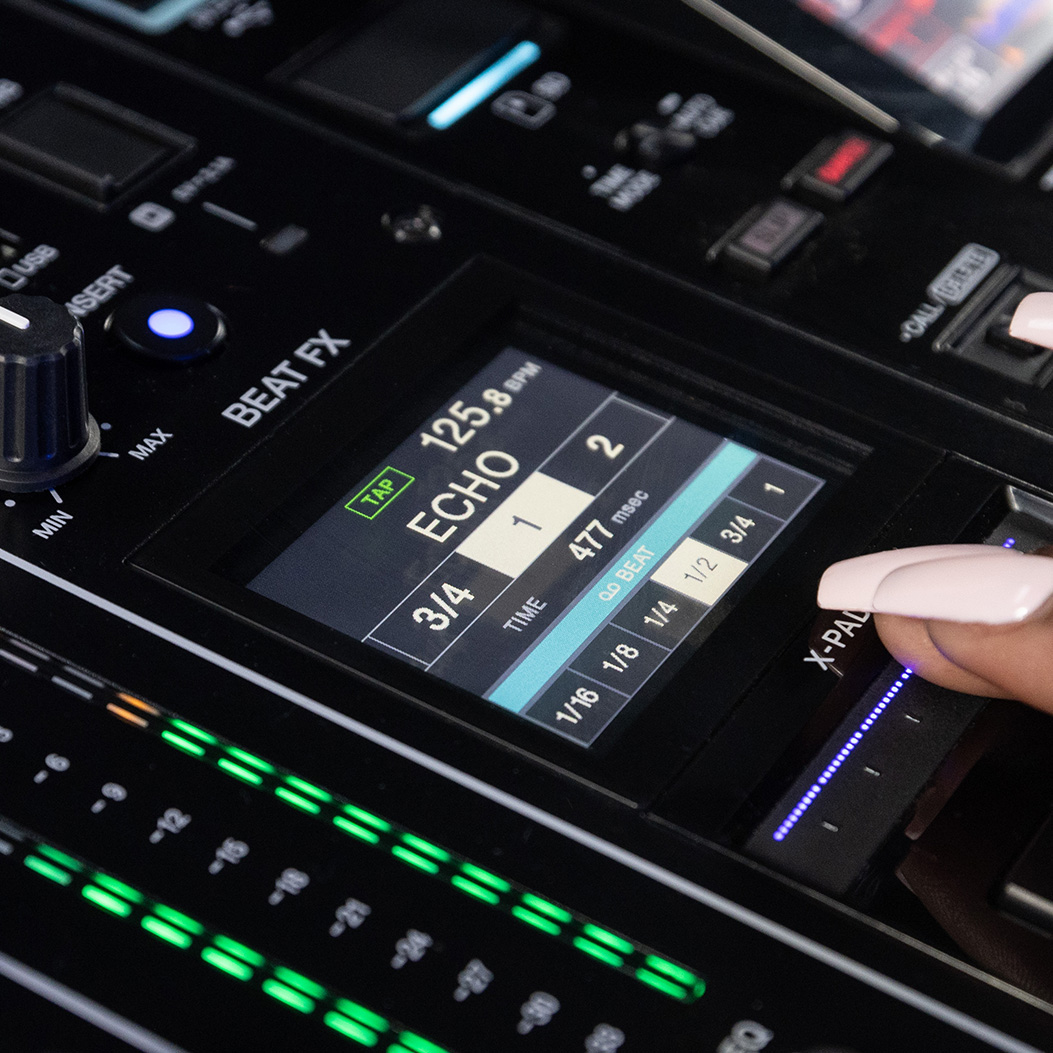 Enhanced mic section
The phantom powered input means you can connect a high-quality condenser mic directly to the DJM-A9, a feature never seen before on a DJ mixer. And there are 3 new microphone effects (Echo, Pitch, Megaphone) with a dedicated reverb effect so you can change the sound of your voice and hype up the crowd with your vocals.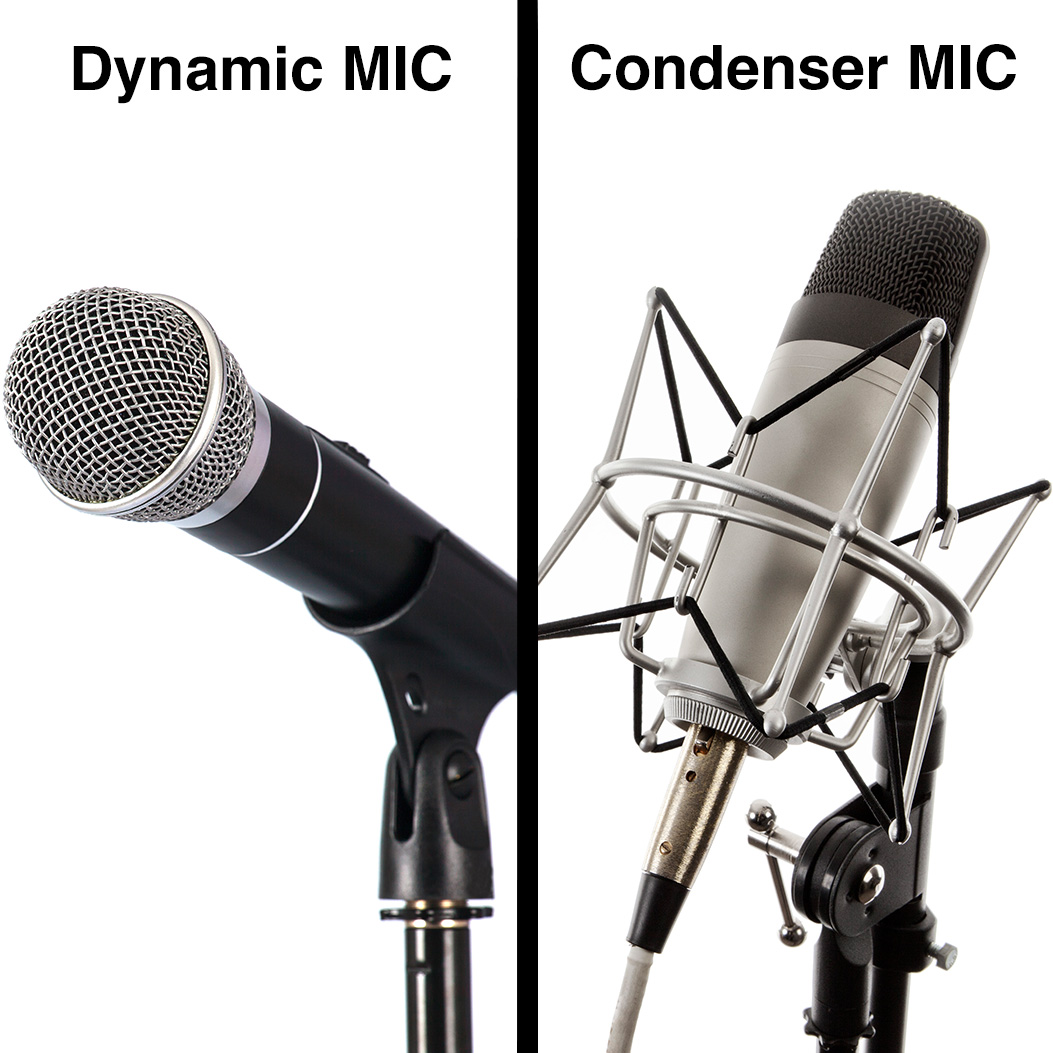 Expanded connectivity
Connect 2 different PC/Mac systems at the same time thanks to the dual USB Type-B and USB Type-C ports (there are 2 of each) for seamless transitions between DJs and easy back-to-back sets. And, thanks to a Bluetooth® input which you can route to any channel on the DJM-A9, you can wirelessly drop audio tracks into your sets from other devices such as smartphones and use all the mixer's features and effects to change the sound. The Multi I/O section has an independent channel selector so external effects can be used separately from Beat FX, giving the DJM-A9 true send capabilities.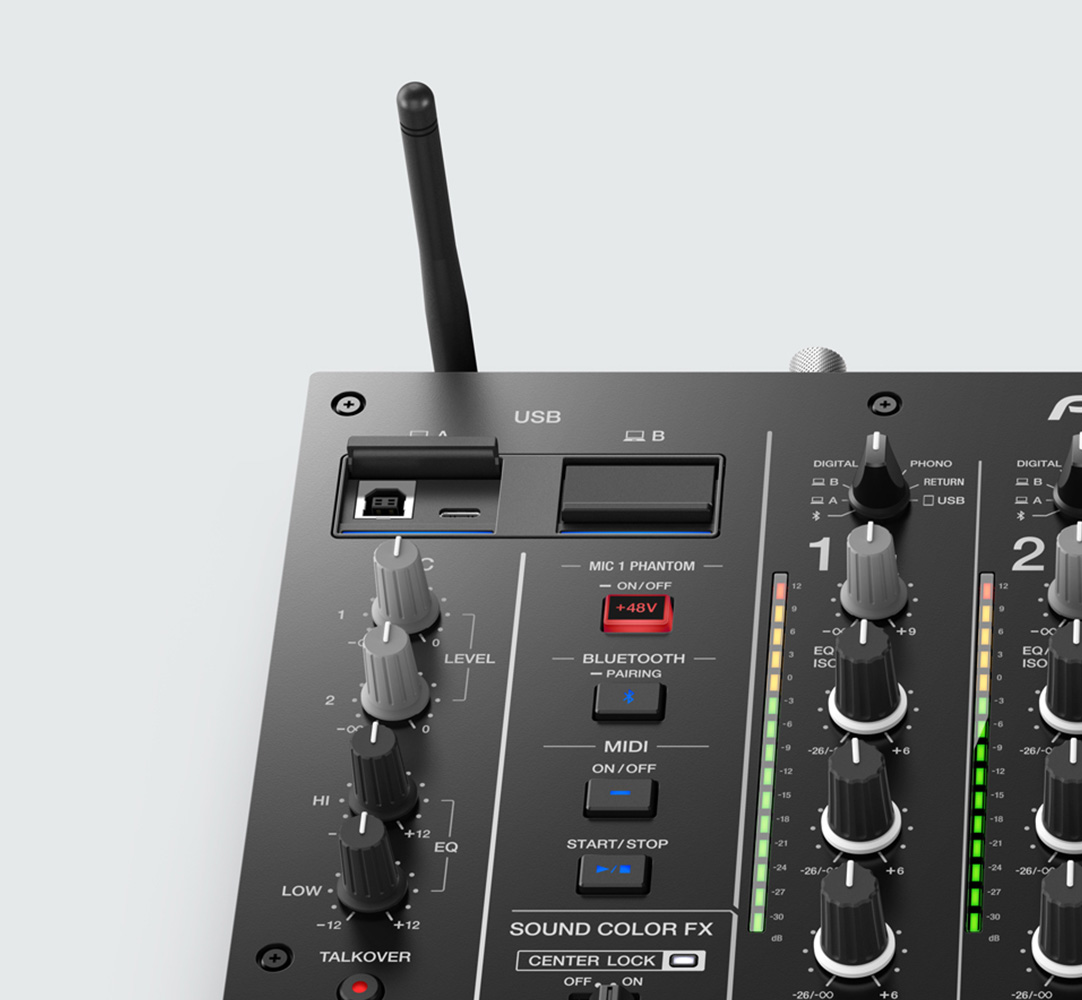 Dual independent headphone outputs and booth EQ
Plug in your headphones at the same time as another DJ and enjoy the freedom to monitor the channels you want to. With separate cue buttons, volume knobs, and mix balance knobs for each set of headphones, it's easy for 2 DJs to cue up tracks during changeovers and back-to-back sets. Plus, with the 2-band booth EQ, you can change the high and low frequencies to complement the master output.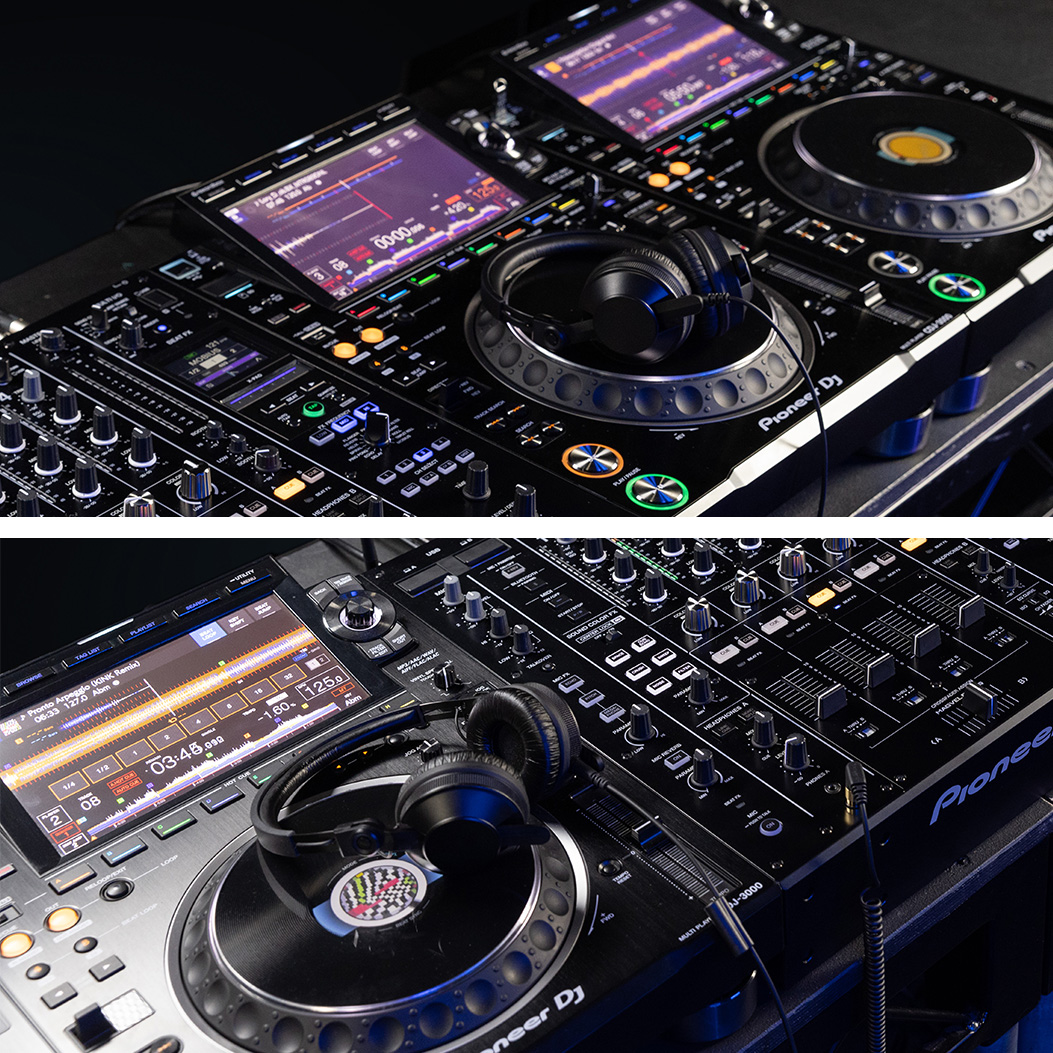 Support for the brand-new Stagehand app and built-in Sound Check function
The DJM-A9 is compatible with Stagehand, the industry-first PRO DJ LINK remote management app for front of house teams.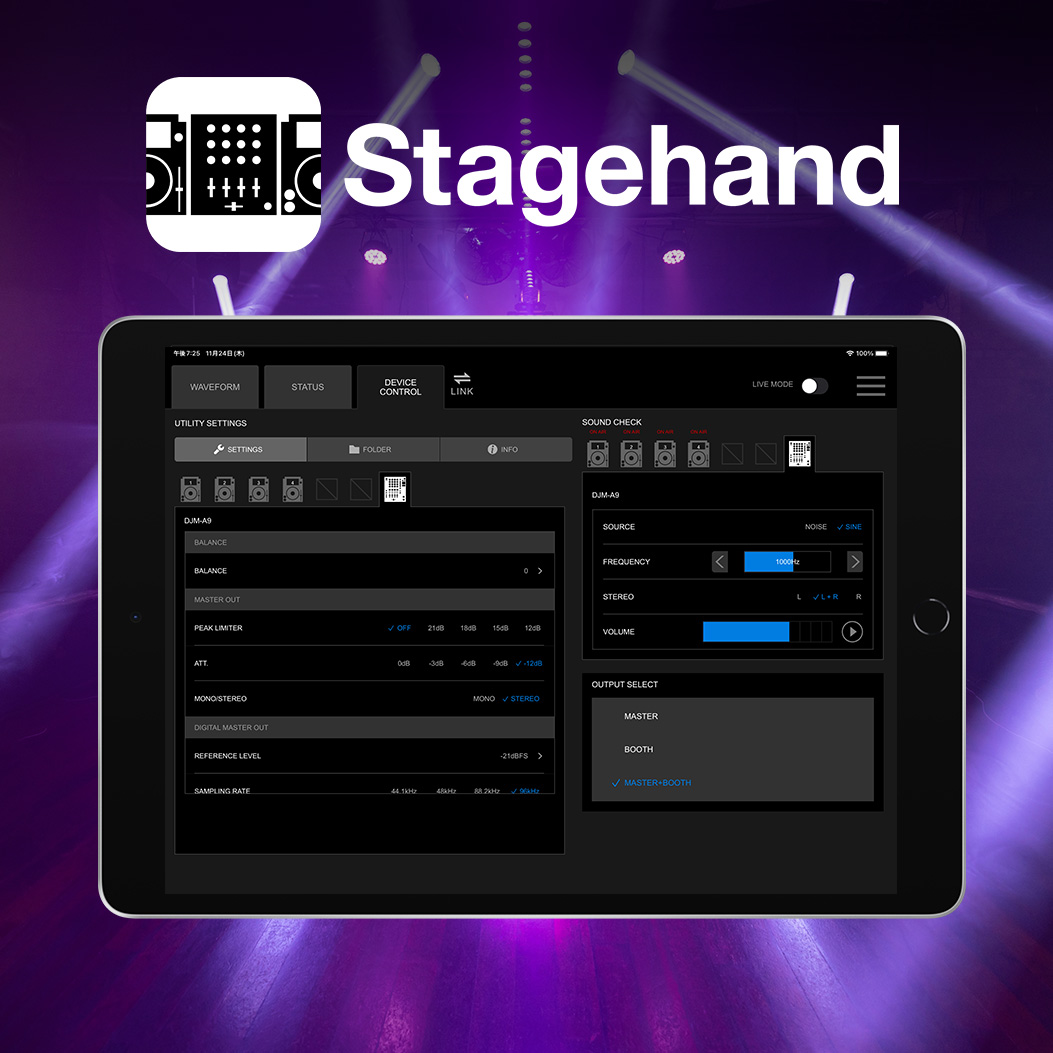 rekordbox - Make full use of the low-latency DVS feature in rekordbox for intuitive, smooth scratching. Find out more.
Serato DVS-ready - Use Serato DVS to control and scratch with CDJs or turntables. *You'll need to buy a license or subscription.
DJM-REC - Easily record your performances with DJM-REC for iOS/Android.
Video and Lighting app support - With support for TC Supply's ShowKontrol and the free application PRO DJ LINK Bridge, DJs, event producers, lighting designers, LJs, video creators, and VJs can produce sound and visual coordination with confidence.
Firmware Update Manager - You'll be automatically notified when firmware updates become available. You can download the Firmware Update Manager here.
Dimensions (W x D x H): 407.4 x 458.3 x 107.9 mm | 16.4" x 18.4" x 4.25"
A/D converter: 32 bit32 bit

Sound Color FX: Center Lock Knob
Microphone effects: Echo, Pitch, Megafon, Reverb
Condenser microphone: Yes

USB: USB Type-A x 1, USB Type-B / USB Type-C x 2
DJ software: rekordbox, Serato DJ Pro

VJ / LJ / FOH support: ShowKontrol, PRO DJ LINK Bridge, Stagehand