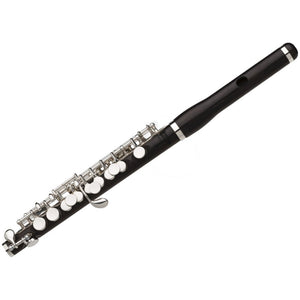 Description

Features

Specs
An impeccable pairing of uncompromising craftsmanship and cutting edge technology, the new Amadeus Wood Piccolo is distinctively Haynes. The responsive headjoint plays with ease, while the body and silver plated mechanism provides accurate intonation, balanced registers, and a responsive altissimo. The split-e mechanism is standard, and the choice of a Traditional or Wave style headjoint allows the player to choose the style which captures their imagination.

Headjoint Choice
The Amadeus Wood Piccolo is available in either a Traditional or Wave headjoint. For the player who wants a more traditional feel and a warmer tone, the Traditional cut is the better fit. For the player who wants easier response and playability in the upper register, the Wave headjoint might be the better fit.

Professional Setup
Your new Amadeus wood piccolo, when purchased through Kessler & Sons Music, is fully gone through in our professional flute shop to ensure that it is at its peak performance when you receive it. Furthermore, we provide you with a 1 year "ProShop Warranty" covering pads and adjustments at no additional charge.
Wave style Headjoint (Grenadilla Wood)
Body Grenadilla Wood
Key Mechanism Split E
Key Arms French-Style Pointed
French Style Case with Deluxe Case Cover