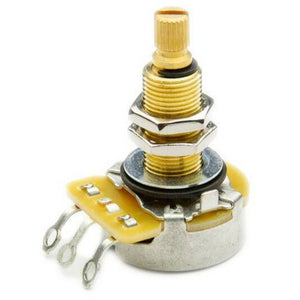 Bare Knuckle Custom 550K CTS potentiometers feature a logarithmic audio taper, smooth torque and +/- 10% tolerance and are specially made to our specifications by CTS.
The increased resistance over standard 500K pots opens out the upper-frequency range and allows the full harmonic richness of our hand-wound coils to shine through, improving detail and clarity.
Circlip fitted to shaft for increased durability
"A" 10% audio taper: fast roll-off from max volume, allows for quick swell techniques with a snappy response.