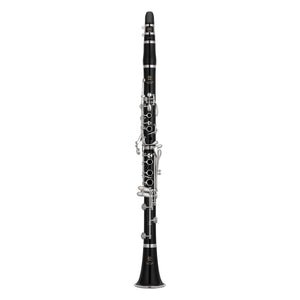 Description

Specs

Clarinet Accessories
The professional clarinet that performs as beautifully as it looks.
For those who are serious about clarinet performance, but need to keep an eye on their budget, the 650 is an excellent choice. The specifications of its bell, barrel, tone holes, and other features are close to those of the top-of-the-line Custom SEV model. As a result, its sound is warm, round, and deeply resonant. Whether you're a student of the instrument or play professionally, you'll find the YCL-650 to be the best clarinet for the price.
Carefully crafted for superior performance.
Constructed of carefully selected and seasoned Grenadilla wood and boasting an enormous amount of handcrafting and hand-finishing, the 650 features tapered tone holes that are undercut by hand for precise intonation and superior tonal balance. You'll also find beautifully sculpted keys whose touch has been regulated by master artisans for perfect balance.
An elevated level of comfort.
From the moment you pick up the 650, you'll notice that every detail of the instrument has been designed for your comfort. From the leather pads that make breath flow smooth and stress-free to the keys adjusted by hand using Custom-model techniques, the 650 makes performing feel effortless.
Top-of-the-line model design. Stunning performance.
Quality pads. Outstanding projection.
After extensive testing with an emphasis on sound, Yamaha selected top-quality leather pads. These pads allow the breath to flow easily and stress-free while making it easier to produce a beautiful, warm tone. Because the surfaces of the pads don't vibrate when the instrument is played, no spurious pad noise occurs and breath flows directly toward the bell for outstanding projection.
Same bell and barrel design as Custom models
The YCL-650 professional model clarinet features a new 65mm barrel design that produces a focused tone and quick response. Players looking for the tools necessary to maximize their performance will do just that with this clarinet.
Superior playability that helps players concentrate on the music
Reduce thumb discomfort and fatigue
Since there are so many different sizes and shapes of hands, it only makes sense to include a way to accommodate for different hand positions. That's why you'll find an adjustable thumb rest specifically designed for player comfort, while needle springs provide faster key action.
Looks as good as it sounds.
A great clarinet should also be easy on the eye – and the YCL-650 certainly is. The unique, natural finish that accompanies this beautiful-sounding instrument is bound to capture any audience's attention.
Make fewer mistakes.
In the 650, you'll find longer E/B levers. Additionally, the C#/G# keys are featured. This design reduces the likelihood of fingers slipping off the keys, improving performance
Key:  Bb
Mouthpiece:  4CM
Body Material:  Selected Grenadilla
Key Material: Silver-plated nickel silver
Pads:  Leather
Toneholes: Tapered tone holes with hand-tapered undercut
Thumb Rest:  Adjustable with strap ring
Case is included