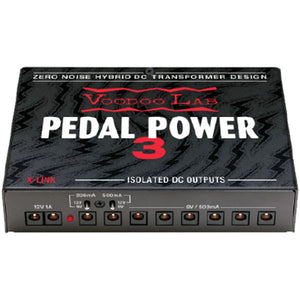 Description

Features & Specs

Pedal Accessories
The first lightweight, high current, international voltage power supply to establish zero-noise performance. Pedal Power 3 is equipped with 8 isolated 500mA outputs delivering robust power for modern DSP effects and audiophile specs for the most sensitive vintage stompboxes. X-LINK ports for expanding with Pedal Power X4 or X8. Hand-built in the U.S.A.
8 isolated 500mA DC outputs • 6 x 9V, 2 x Switchable 9V/12V
Powers standard battery operated and high current DSP effects
Innovative Zero Noise Hybrid DC Transformer Design
Audiophile-quality power ensures pedals sound and perform their best
Exotic organic and polymer filtering with noise-free linear regulation
Lightweight, low-profile construction
X-LINK expansion ports connect Pedal Power X4 and X8 units to add isolated outputs
100V-240VAC operation for international touring
Includes DC power cable kit and detachable AC line cable
Product Dimensions: 6" x 3.4" x 1.5" (127 x 86 x 38 mm)
Product Weight: 14.4 ounces (0.4 kg)
5 Year Warranty*
Made in the U.S.A.