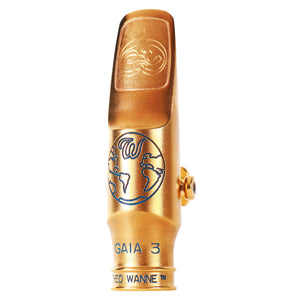 The GAIA 3 alto is fully re-designed!   It still has the classic Meyer style of sound, but with many visible, and hard to see innovations.
The result of the GAIA 3's new design is freedom of play never before experienced in a traditional-sounding alto mouthpiece!  Easy to see innovations include the proprietary Shark-Gill Baffle™, which improves the airflow and opens up the sound.  Harder to see is the redesigned baffle shape and chamber.  Full, rich, and fat traditional sound with a hint of edge.
Case: Beautiful Leatherette Case! Like the case?

Serial Number: Includes serial number showing care given to your mouthpiece.

Plating: Reticulated 24K Gold plating with highlights on the globe logo.

Ligature: The metal GAIA 3 includes our integrated two-point contact 24K Gold Plated Liberty Ligature and Alive Gold pressure plate.

Cap: Patented Reed Replacer Cap

Bite Pad: User-Replaceable bite pads allow you to peel and stick on new bite pads.