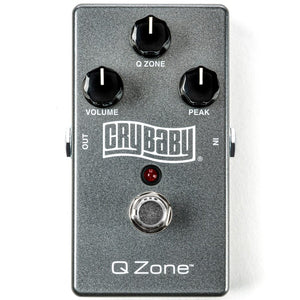 Description

Specs

Pedal Accessories
Now you can get the rich, resonant vocality of a fixed-position Cry Baby Wah in a standard pedal box. With this reissue of the Cry Baby Q Zone Fixed Wah, there's no need to mess around with the rocker and try to listen for the sweet spot every time you go onstage.
Like the Cry Baby 95Q Wah, this pedal allows you to boost your effect signal and adjust the bandpass shape from wide to narrow with the Volume and Q Zone controls respectively. The Peak control acts like the rocker pot of a wah pedal, setting the frequency center of the effect exactly where you want it so that you don't have worry about bumping the rocker and losing your position. Find your sweet spot and start jamming.
Input Impedance: 1 MΩ
Output Impedance: < 2.2 KΩ
Peak Range: 380 - 2000 Hz
Max Gain @ Center Freq: +16 dBV*
Volume: 0 dBV to 20 dBv
Bypass: True Hardwire
Noise Floor: -91 dBV**
Current Draw: 4 mA
This pedal can be powered by a 9-volt battery, a Dunlop ECB003 9-volt adapter, or the DC Brick™, Iso-Brick™, and Mini Iso-Brick™ power supplies (not included).