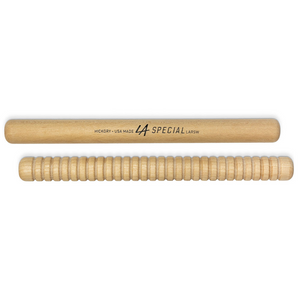 LA Special Rhythm Sticks are perfect for early music education. Crafted from resilient American Hickory, rhythm sticks are ideal for elementary music educators teaching the basics of percussion to young students in a fun learning environment.
They are 8" in length and .750" in diameter. One stick features a dual butt-end while the other features rhythm channels throughout for guiro-like sounds.
LA Special Drumsticks are the perfect option for the budget conscious drummer. These American hickory drumsticks are paired by size and profile, but are not weight or pitch matched. LA Special Drumsticks also make use of the natural variability and imperfections found in all wood which makes these sticks a great value.
Hickory is the most popular wood choice for drumsticks due to it's classic feel and responsiveness.
All LA Special drumsticks are proudly designed, engineered, and manufactured in the USA.