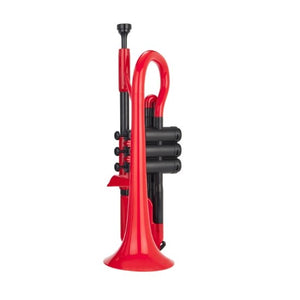 pCornet is the world's first ever fully plastic cornet – based on the traditional British Shepherd's crook Bb cornet, designed in the UK for musicians by musicians. It comes in its own, cloth bag along with a 2b and 4b Denis Wick plastic mouthpiece.
The pCornet is a truly authentic musical instrument that has revolutionized the way we think about brass instruments. At less than half the weight of its brass counterparts the pCornet is ideal for the younger player and for all those who desire a real cornet but don't want the weight or fragility of a metal instrument.
pCornet is the only cornet with a fully plastic valve system, which we have designed and developed to create unrivalled lightness, durability and sound quality. Our patented lead pipe technology ensures a vibrant and focused sound. It is tough, taking knocks and bumps in its stride – thanks to its precision plastic engineering.
Its unrivaled price enables everyone to enjoy the quality of an equivalent metal instrument at a third of the cost. Happy in the hands of the world's seasoned professionals, pCornet is also the perfect starter instrument.
Traditional Shepherd's Crook style Bb Cornet
Bell size 4 3/4 inches
Unique fully plastic valve system
Includes two Denis Wick plastic mouthpieces (2B & 4B)
All plastic water-key
One piece patented lead pipe
Adjustable main tuning slide
Lightweight and easy to hold, less than 18 ounces!
Cloth bag