Description

More

Features

Specs

Concert Ukulele Accessories

Humidity Care
*These are stock photos. Actual color and pattern may vary.
Lights up your life
Every detail carefully crafted and custom designed. The advanced bionic structure brightens up your tone, whilst the built in FreeBoost™ pickup allows you to play effects without plugging in.
Iconic design reimagined
Warmer, Softer on every curve.

The first ever screwless machine head.

The design we've been dreaming of. With a thousand hours of careful consideration, a form that expresses love and elegance has been created.

Comes with a hard case
BreatheNet Bionic™ - Brightens up your tone like never before
We didn't just design a new structure, we also invented a new way in which the materials used can intuitively grow. Using mechanical simulations and algorithms, we created a 142 piece bionic structure that produces a brighter tone in a far more organic way.
Simple and Portable
Enjoy superior sound and build quality anywhere you go, get inspired by adventures or vacations.
Weatherproof
Anywhere could be your stage
With our patent pending carbon fibre composite AirSonic body material, you can now take your LAVA U anywhere. Capable of adapting to temperature of -20℃ to 60℃ , and humidity of 10% -90% , from the desert to polar regions, it won't let you down.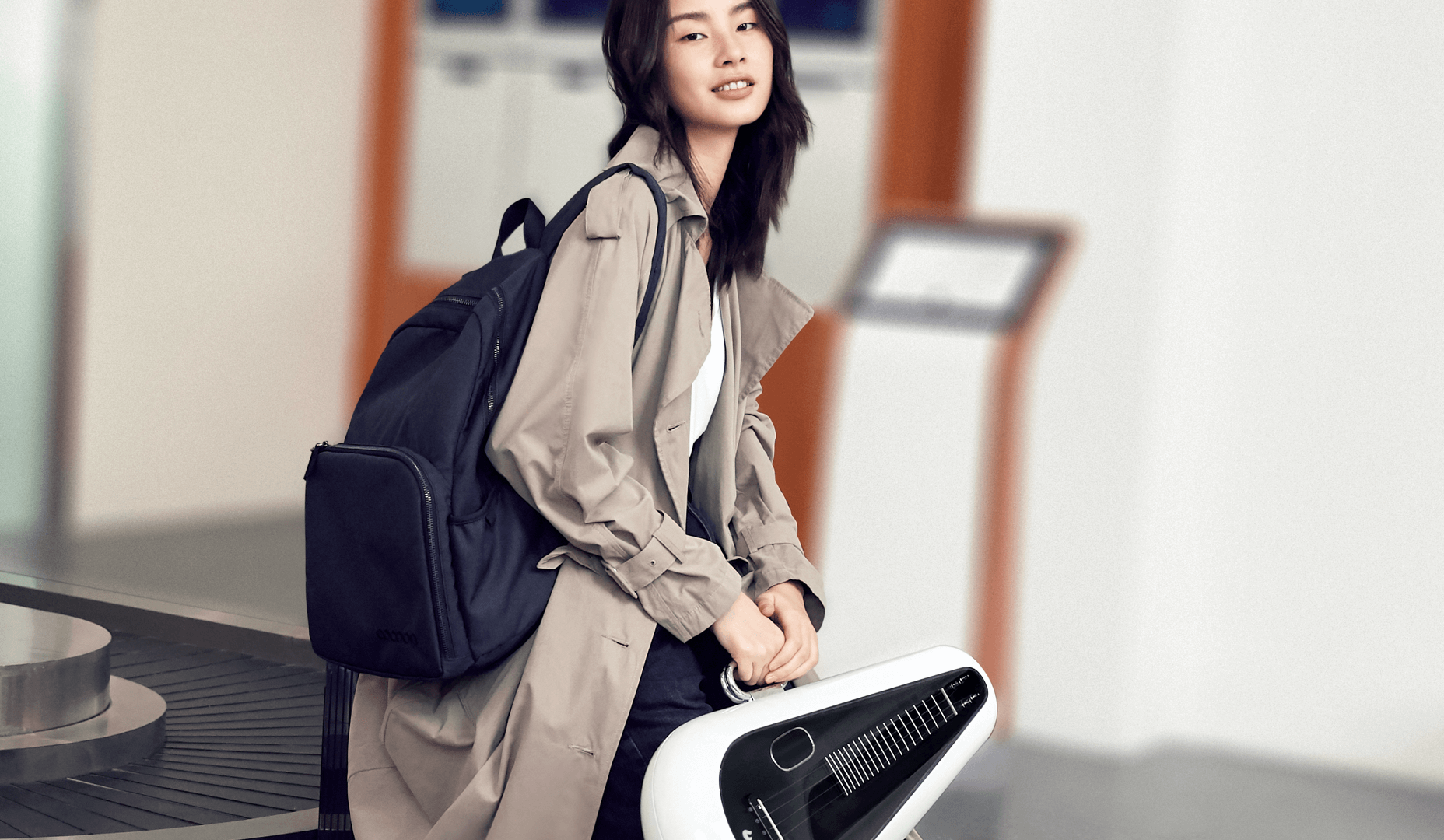 Exceptional neck - Enjoyable playing experience
LAVA MUSIC have refined the manufacturing process of both the neck and fretboard of the LAVA U. Every fretboard is CNC machined with a curve for comfort while playing, with an ultra-stiff carbon fibre rod inside the neck to improve stability and sound.
L2 mini - Colourful effects and sound via our smallest ever preamp system
The L2 mini preamp designed by LAVA MUSIC and Double Acoustics, enables you to play with superior sound quality and built in effects like Reverb, Delay and Chorus, with or without plugging in.
Fun to play the lightest and smallest instrument we've ever made. The L2 mini preamp has been reduced to half the size of the original L2 preamp but with all the same features. Built in FreeBoost™ technology allows you to play effects without plugging in, producing a more natural sound via the internal mic.


FreeBoost™ - Change your sound with one finger. No cables, No amps.
FreeBoost™ technology uses the back of the LAVA U as a speaker. Turn it on with just one finger, to enrich your tone with built-in Delay, Reverb and Chorus, all without even plugging in.
Space Case - Specifically designed for the LAVA U.
Combining elegance, simplicity and space-aged inspiration, there has been no compromise on the design, materials or craftsmanship which has created the luxurious mould of the Space Case.
Transparent design
Matches up your style and music
Unique expression from every angle, the best instrument case we've ever created.
Warmer, Softer on every curve, Love and elegance has been created.
Bionic Breathing Net,Brightens up your tone like never before
Built-in FreeBoost L2 mini pickup, enrich your tone with built-in effect without plugging in.
Sparkling, Beautiful Finishes, featured on all colours.
Specifically designed for the LAVA U
What's in the Box ? - Including following items

USB charging cable
Instruction
Cleaning cloth
Space Case
Ideal Pick Flow
Soundboard material / Body material: AirSonic™ carbon fiber Composite
Strings: Crystal Strings designed by LAVA MUSIC
Hardware: The screwless machine head designed by LAVA MUSIC
Others: LAVA U exclusive tutorial and USB Charging Cable
Concert Ukulele Accessories
Acoustic guitars and ukulele are made of wood, and wood is sensitive to changes in climate. Shifts in temperature or relative humidity can affect your instrument in multiple ways, some of which can lead to costly repairs if you're not careful. Solid woods in particular are especially prone to the effects of climate fluctuation. For example, extended exposure to low relative humidity (below 40% RH) can dry out the wood, causing it to shrink and run the risk of cracking. Similarly, excessive humidity can cause the wood to absorb moisture and swell, potentially causing other problems. Without adequate humidity control (especially in drier local climates), acoustic instruments can crack and their necks can warp, causing problems with fretting, intonation and playability.
So how do you prevent this kind of damage? Easy: by keeping your guitars and ukulele properly humidified (ideally between 40-60% RH). The easiest way to do this is by storing your instruments in a case with a case two-way humidifier inside. A two-way humidifier will slowly absorb or release moisture inside your case, maintaining humidity to help ensure your instrument doesn't suffer damage. Using a digital hygrometer can help you monitor humidity levels around your instrument.
Symptoms of a dry acoustic instrument:
Low action. Strings are very close to the fretboard.

Hump on the fretboard where the neck joins the body.

Sunken top across the soundboard between bridge and fingerboard.

The back of instrument looks very flat when it is dried out.

Sharp fret ends extend beyond the edge of the fretboard.

The plane of the neck angle on a dry instrument hits above the top of the bridge.
Symptoms of a wet acoustic instrument:
High action. Strings that are unusually high off the fretboard, making it difficult to play.

Unusually swollen top

Unusual warp on the top, back or both at the end-block

Improper neck angle. Sighting the neck to the bridge, the frets will appear to hit below the bridge.
Using patented technology, the D'Addario Two-Way Humidification System features disposable, moisture-filled packets with a breathable membrane that provides two-way humidity control, meaning it can either release or absorb moisture to consistently maintain a predetermined relative humidity (RH) level of 45-50 percent.
Music Nomad the leader in equipment care products, has developed an easy to use, no mess, and low maintenance Ukulele humidifier. The Humilele rests securely on top of the strings to safely and evenly hydrate your Ukulele to avoid these problems.
Final Notes on Humidity Control
To monitor the amount of humidity your instrument is receiving, we recommend the purchase of a digital hygrometer, a device that gauges and provides a read-out of humidity levels. It can be kept in the room where you store your instruments, or, better yet, in a central location inside the instrument case, preferably Velcro'd to the outside of the accessories compartment (facing the heel). The optimal range for your guitars and ukulele is 45-55% RH.