Description

More

Features

Specs

Humidity Care
Even easier to use with a large note name/string name display.
A dedicated compact tuner for guitar/bass, with a stylish new look.
With its superior basic functionality and convenient functions, the GA series has become extremely popular with musicians as a standard guitar/bass tuner, now has a fresh new look. While carrying on the stylish design with its simple layout of the necessary functions, it now has a larger note name and string name display, making the meter even easier to read. Dedicated guitar and bass modes can be selected, making it a must-have item not only for beginners who have just started their instrument but for all players. The GA-2 provides stable tuning functionality in any situation from home to studio and stage, with the high precision, sensitivity, and simple ease of use that you expect from KORG tuners.
A needle-style meter with large high-visibility note name and string name
KORG's needle-style meter that shows you the pitch quickly and accurately now has a note name and string name display area that's approximately four times larger, making it easier than ever to read. Red and green LEDs to indicate the pitch discrepancy are also provided for even smoother tuning.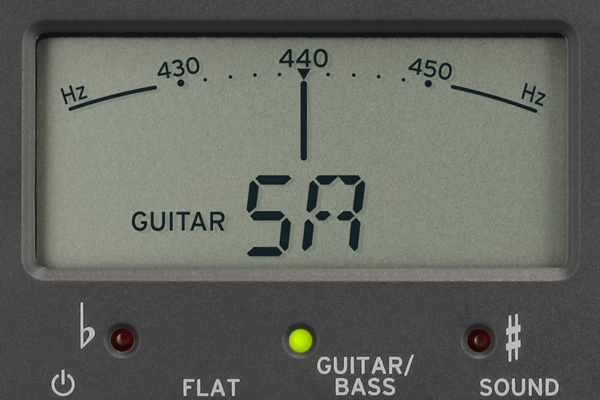 A compact body that's slim and lightweight
The GA-2 is a pocket-sized card-type tuner that's easy to carry anywhere. The rounded body is comfortable to hold in your hand, and has an even more stylish design that accents the battery compartment. It uses a new mechanism that lets you replace the battery by sliding the entire body, so there's no risk of losing the battery compartment cover.

Dedicated guitar and bass modes
The GA-2 lets you select either Guitar mode or Bass mode for truly easy operation with automatic pitch detection. The guitar mode supports 7-string guitars (7B through 1E). The bass mode supports 6-string basses (Low-B, Hi-C). A high-sensitivity microphone is built-in, allowing easy and accurate tuning of acoustic guitars.

Quinta Flat tuning mode
The GA-2's Quinta Flat Tuning mode supports the lowered tunings used in heavy metal styles to give more weight to the sound. The GA-2 gives you five steps of flatted tuning, extending as far as five semitones below standard pitch, and supporting even super-long scale guitars that are five frets longer than conventional guitars.

Tune with adjustable calibration
Since the calibration value of 430–450 Hz is shown within the meter, you can tune using the calibration of your choice.

Sound mode emits a reference tone from the built-in speaker
In addition to tuning visually with the meter, you can also tune by ear using Sound Out mode which emits a reference tone to which you can tune each string of your guitar or bass.

Approximately 200 hours of continuous use
The high-efficiency long-life design allows approximately 100 hours of continuous operation on two AAA zinc-carbon batteries or approximately 200 hours on alkaline batteries.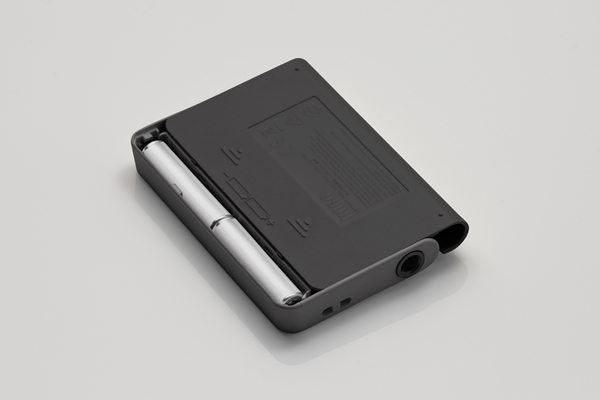 A needle-style meter with large high-visibility note name and string name
A compact body that's slim and lightweight
Tuning function suitable for guitar/bass
Approximately 200 hours of continuous use
Scale 12 note equal temperament
Detection Range B0 bbbbb (23.12Hz) - B6 (1975.53Hz): Guitar/Bass Tone
Reference Tone

[GUITAR] 7B -> 6E -> 5A -> 4D -> 3G -> 2B -> 1E
[BASS] LB -> 4E -> 3A -> 2D -> 1G -> HC
(Pitch is 1 octave higher for GUITAR, 2 octaves higher for BASS)

Tuning Modes Meter mode, Sound Out mode
Flat Tuning 1-5 semitones (semitone steps)
Detection Accuracy +/- 1 cent
Sound Accuracy +/- 1.5 cent
Connectors INPUT jack (1/4" monaural phone jack)
Power Supply Two AAA batteries (3V)
Battery Life

Approximately 200 hours (alkaline batteries, Meter mode, A4 continuous input)
Approximately 100 hours (zinc-carbon batteries, Meter mode, A4 continuous input)

Dimensions (W x D x H) 100 x 60 x 16 mm / 3.94" x 2.36" x 0.63"
Weight 67 g / 2.36 oz. (including batteries)
Included Items Two AAA batteries for verifying operation
Accessories Contact Microphone CM-200 (not included)
Acoustic guitars and ukulele are made of wood, and wood is sensitive to changes in climate. Shifts in temperature or relative humidity can affect your instrument in multiple ways, some of which can lead to costly repairs if you're not careful. Solid woods in particular are especially prone to the effects of climate fluctuation. For example, extended exposure to low relative humidity (below 40% RH) can dry out the wood, causing it to shrink and run the risk of cracking. Similarly, excessive humidity can cause the wood to absorb moisture and swell, potentially causing other problems. Without adequate humidity control (especially in drier local climates), acoustic instruments can crack and their necks can warp, causing problems with fretting, intonation and playability.
So how do you prevent this kind of damage? Easy: by keeping your guitars and ukulele properly humidified (ideally between 40-60% RH). The easiest way to do this is by storing your instruments in a case with a case two-way humidifier inside. A two-way humidifier will slowly absorb or release moisture inside your case, maintaining humidity to help ensure your instrument doesn't suffer damage. Using a digital hygrometer can help you monitor humidity levels around your instrument.
Symptoms of a dry acoustic instrument:
Low action. Strings are very close to the fretboard.

Hump on the fretboard where the neck joins the body.

Sunken top across the soundboard between bridge and fingerboard.

The back of instrument looks very flat when it is dried out.

Sharp fret ends extend beyond the edge of the fretboard.

The plane of the neck angle on a dry instrument hits above the top of the bridge.
Symptoms of a wet acoustic instrument:
High action. Strings that are unusually high off the fretboard, making it difficult to play.

Unusually swollen top

Unusual warp on the top, back or both at the end-block

Improper neck angle. Sighting the neck to the bridge, the frets will appear to hit below the bridge.
Using patented technology, the D'Addario Two-Way Humidification System features disposable, moisture-filled packets with a breathable membrane that provides two-way humidity control, meaning it can either release or absorb moisture to consistently maintain a predetermined relative humidity (RH) level of 45-50 percent.
Music Nomad the leader in equipment care products, has developed an easy to use, no mess, and low maintenance Ukulele humidifier. The Humilele rests securely on top of the strings to safely and evenly hydrate your Ukulele to avoid these problems.
Final Notes on Humidity Control
To monitor the amount of humidity your instrument is receiving, we recommend the purchase of a digital hygrometer, a device that gauges and provides a read-out of humidity levels. It can be kept in the room where you store your instruments, or, better yet, in a central location inside the instrument case, preferably Velcro'd to the outside of the accessories compartment (facing the heel). The optimal range for your guitars and ukulele is 45-55% RH.