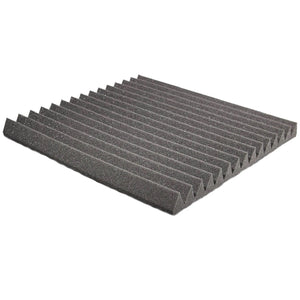 Description

Features

Installation

Studio Accessories
2″ Studiofoam® Wedges™ are our most popular Studiofoam® profile! They can be used to treat small- to medium-sized areas, including vocal booths, control rooms and tracking studios. 2″ Studiofoam® is quite simply the workhorse of the industry and is your safest bet if you're tuning your room yourself, without the help of a professional acoustician.

1″ Studiofoam® Wedges™ works most effectively on mid to high frequencies and may be used to acoustically treat walls or ceilings. Twice as absorbent as 2″ Wedges™ at 125Hz, 3″ Studiofoam® Wedges™ can provide a well-controlled, more accurate sound in any size room. 4" Studiofoam® Wedges™ are recommended for rooms with pronounced low-frequency problems or where sonic accuracy is mandatory and maximum acoustic absorption is required (e.g. voiceover or drum booths, forensic audio labs and mastering rooms). 4″ Studiofoam® Wedges™ provides 3 times the low-end control of 2″, and can effectively tame even the worst sonic anomalies. In some instances, using 4″ acoustical Studiofoam® can lessen the need for significant, dedicated bass trapping.
Check out what makes our technical foam different than competitor's commodity foam.
Anechoic wedge cut offers superior sound absorption
Effectively reduce standing waves and flutter echoes
Won't crumble with age
Absorbs up to 60% better than other brands
Meets flammability standard UL 94 HF-1
Adhesives:
Foamtak™
Tubetak Pro™
EZ-Stick Pro™ Tabs
Temp•Tabs™