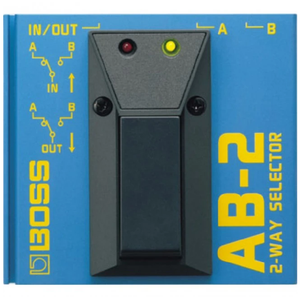 Description

Specs

Pedal Accessories
The BOSS AB-2 is a 2-way selector that makes changing inputs or outputs easy. One stomp is all it takes to instantly switch between two guitars or effects setups, change amplifiers or switch between an amp and tuner. Rock-solid BOSS construction ensures the AB-2 will stand the test of time.
Nominal Input Level -20 dBu
Nominal output Level-20 dBu
Control Pedal
Indicators A (red), B (yellow)
Connectors A jack, B jack, IN/OUT jack
Current Draw 5 mA or less
* Expected battery life under continuous use: Carbon: 100 hours
* This figure will vary depending on the actual conditions of use.
Power Supply Dry Battery [R03/LR03 (AAA) type] x 2
Accessories Owner's Manual, Dry Battery [R03/LR03 (AAA) type] x 2, Number Sticker
Width 96 mm 3-13/16 inches
Depth 90 mm 3-9/16 inches
Height 43 mm 1-3/4 inches
Weight 240 g 0 lbs. 9 oz.