Description

More

Specs

Pedal Accessories
Dynamic Audio Grinder
Zoar is a medium-high gain discrete distortion (using only transistors; no opamps or diodes in here!) that has that touch sensitive amp-like quality to it that everyone craves. It has been finely tuned to create a highly tweakable hi-fi and modern sounding distortion, but with the ghosts of old school circuitry to deliver a grind that is both instantly familiar and delightfully unique. Want that defined sparkle and tightness of an overdrive? This has it. Want that low-medium gain fuzz that's perfect for drop tuned guitars and basses? This has it. Want to be able to dial in and control every nuance of your tone from jangly on-the-verge of break up to blowing the walls out heavy saturation? Then this is the pedal for you.
Touch-Sensitive Controls
While having its roots in a very familiar past, the passive 3-band EQ has been finely tuned for modern tones. While this style of tone shaping seems simple on the surface, it is deceptively complex and highly interactive.

The 3-band EQ and Gain controls give you nearly unlimited options with great focus and sensitive precision, but the real powerhouse of Zoar is the Weight control. This control dictates the amount of low end that is passed into the circuit, thus controlling the entire character of the pedal. From a mere clean boost to a high gain distortion to overdrive to the crispy Hi-Fi fuzz territory, this function gives you everything.

The Level control hits unity gain around noon, but this is dependent on where the other controls are set. In addition to controlling the output volume, it also plays a small part in the controlling the voice of Zoar. By adjusting the Level control with any combination of EQ (boosting the frequency bands and cutting the output volume), you can achieve drastically different curves that have the feel of the more traditional low pass filter type tone control.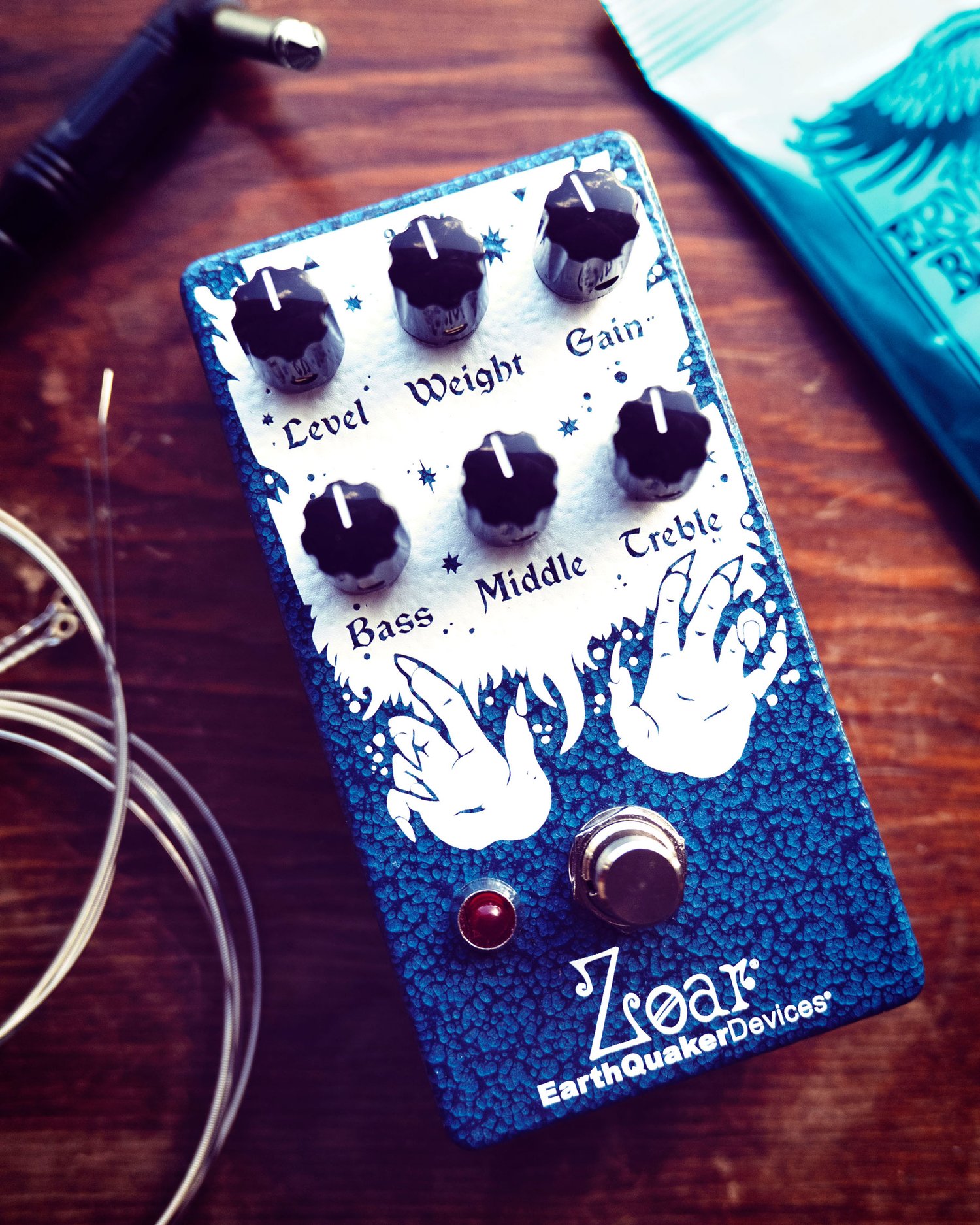 Frequency Response
 Running Zoar at 18v
Want to elevate your sonic spirit to a higher level? Try running Zoar at higher voltage! Zoar can handle power up to 18v DC. Higher voltages will yield a different frequency response with more defined dynamics and a faster response. When powered at 18v, the range of clean tones are widened, dirty tones become punchier with better note articulation, low frequencies are tightened, the Treble control will cover a broader spectrum without becoming harsh and the output volume nearly doubles! The experience is not unlike plugging into a wall of high wattage tube amplifiers!
Flexi-Switch® Technology
This device features Flexi-Switch® Technology! This relay-based, true bypass switching style allows you to simultaneously use momentary and latching style switching.

For standard latching operation, tap the footswitch once to activate the effect and then tap again to bypass.

For momentary operation, hold the footswitch down for as long as you'd like to use the effect. Once you release the switch the effect will be bypassed.

Since the switching is relay based, it requires power to pass signal.
Power
This device takes a 9-18 volt DC power supply with a standard 2.1mm negative center barrel plug. We recommend using a pedal-specific, transformer-isolated, wall-wart power supply or a power supply with multiple isolated-outputs. Pedals will make extra noise if there is ripple or unclean power. Switching-type power supplies, daisy chains and non-pedal specific power supplies do not always filter dirty power and may result in unwanted noise. DO NOT POWER THE ZOAR HIGHER THAN 18V!
Dimensions: 4.75 x 2.50 x 2.25 in. (121 x 64 x 57 mm) with knobs
Current Draw: 10 mA
Input Impedance: 1 MΩ
Output Impedance: <10 kΩ