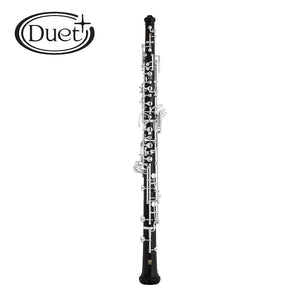 Yamaha oboes achieve a clear sound quality and superb intonation by dramatically improving the precision and stability of the bore. Also to cope with various durability issues inherent in wooden wind instruments, Duet+ models employ innovative techniques to form a protective layer next to the air column. The combination of precious wood and state-of-the-art resin is not simply a "Duet" of tradition and technology - it's a "Plus" advantage indeed!
The next-generation 400 series intermediate oboes build upon their predecessor's strong
reputation using valuable input from the market to best serve the needs of the player. The
new 441IIT oboes surpass the expected quality of performance and still leave room to grow.
Improvements over the previous generation:

New bell design with low Bb resonance key
Third-octave key
All cork pads to reduce pad noise
Low B-C# trill key
Thumb rest with strap ring
Metal tenon joint ring/receiver