Description

Features

Specs

Bass Guitar Accessories

Inspection and Set-up
*These are stock photos. Actual color and pattern may vary.
For 30 years the SR has given bass players a modern alternative. Embraced by bassists over the decades, the iconic series continues to excite with its smooth, fast neck, lightweight body and perfectly matched electronics.
The SR400EQM is a handsome 4-string bass designed for the advanced player. A stunning Quilted Maple adorns the bass, Nyatoh body. Other features include a sturdy 5-piece Maple / Walnut SR4 neck, a Jatoba Fingerboard, and an Accu-cast B300 bridge for superior string vibration transfer and precise intonation. Cosmo Black hardware adds a hint of stealth.
At the heart of the SR400EQM's electronics are two PowerSpan Dual Coil pickups. Their stainless pole pieces offer higher output, clarity, and fullness than any in the SR400's class. Accessed by the 3-way "Power Tap" switch, these proprietary pickups offer a choice of three tonal personalities: A rich humbucker sound, a pure single-coil sound, or an enhanced single coil sound, fattened by lows from the humbucker pickups. Add the ability to dial in precise tone preferences via the Ibanez Custom 3-band EQ, and the SR400EQM is a musical chameleon.
This Bass Guitar Does Not Come with a Bag or a Case
Accu-cast B300 Bridge
The Accu-cast B300 bridge affords precise intonation and delivers string-to-body vibration conductively.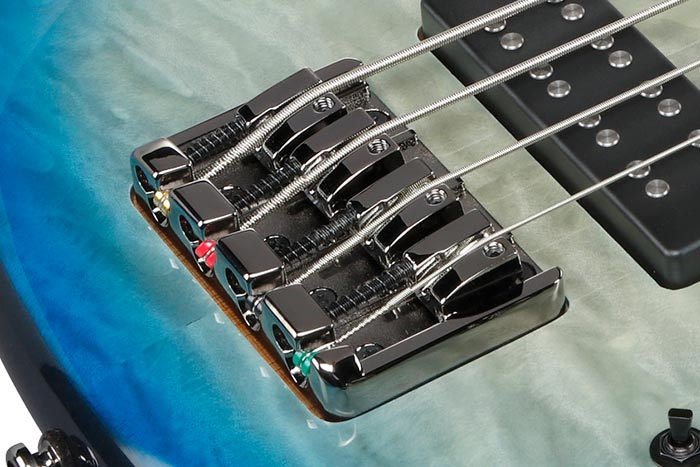 PowerSpan Dual Coil pickups
Developed by Ibanez, the exposed pole pieces of the PowerSpan Dual Coil pickups produce a stronger signal and increase the response of the higher frequencies without sacrificing low end. The result is a tone rich in harmonic detail and dynamic expression.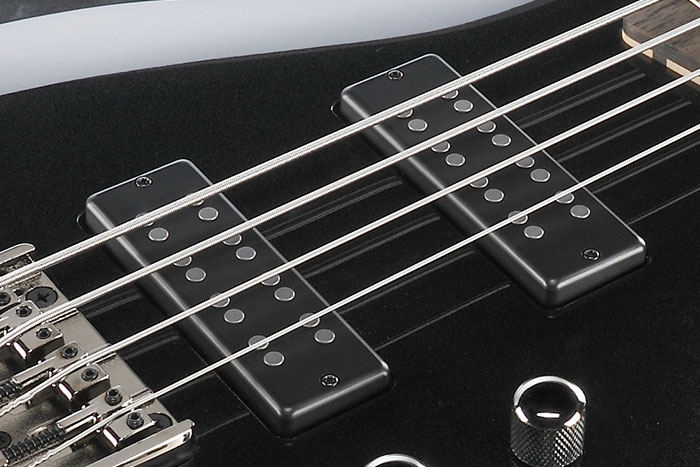 Ibanez Custom Electronics 3-band EQ w/3-way Power Tap switch
The 3-band EQ works in conjunction with a coil tap switch for maximum control over a wide variety of professional bass tones. Tap Mode (single coil) creates a punchy, dynamic sound with superior articulation. Series Mode (humbucking) delivers a full, warm tone, and Power Tap Mode provides the best of both worlds-combining the clarity of the single coil with the fat bottom end of the humbucker.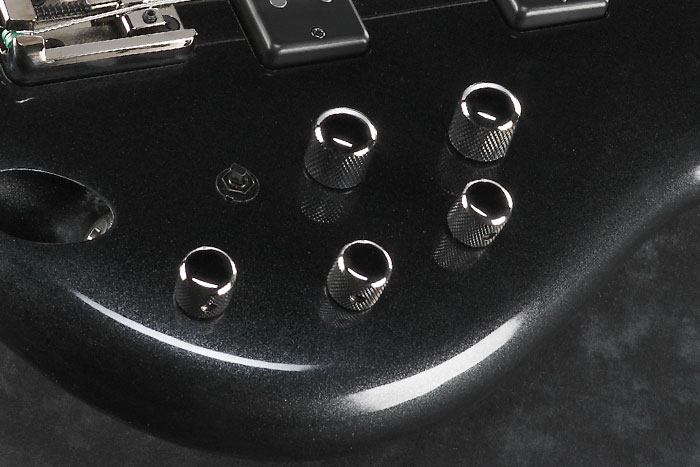 Jatoba Fretboard
Jatoba has a reddish brown color which produces a rich mid range with a crisp high end.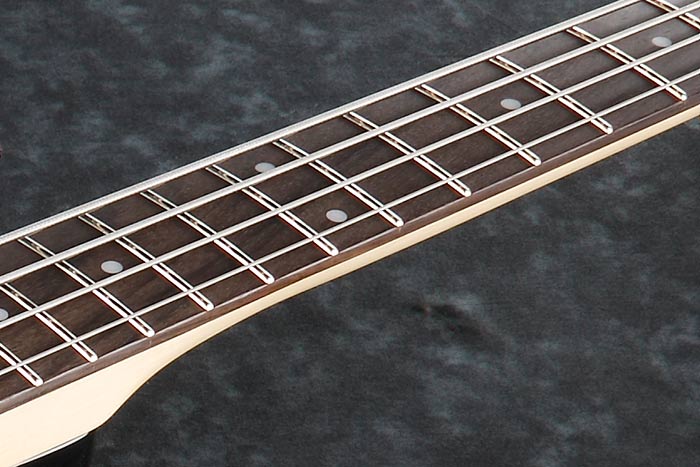 neck type SR45pc Maple/Walnut neck
top/back/body Quilted Maple top Nyatoh body
fretboard Jatoba White dot inlay
fret Medium frets
bridge Accu-cast B300 bridge
string space 19mm
neck pickup PowerSpan Dual Coil neck pickup Passive
bridge pickup PowerSpan Dual Coil bridge pickup Passive
equaliser Ibanez Custom Electronics 3-band EQ w/3-way Power Tap switch
hardware color Cosmo black
NECK DIMENSIONS

Scale : 864mm/34"
a : Width 38mm at NUT
b : Width 62mm at 24F
c : Thickness 19.5mm at 1F
d : Thickness 21.5mm at 12F
Radius : 305mmR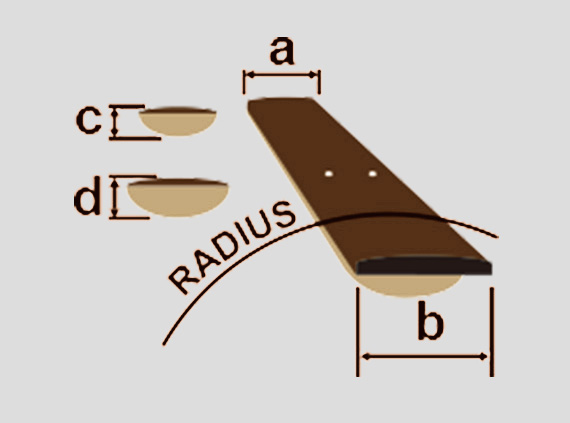 *Not all cases fit all bass guitars. Please call our store if you are not sure. Some of these cases are for smaller sized bass guitars.
At Easy Music Center, we care for our instruments from the moment they arrive to when they ship to your door. All instruments are stored in a climate controlled environment and put through a 12-point inspection checklist before being shipped.
First, we check the finish of the instrument, carefully inspecting any blemishes on the surface. Next, we check the playability and setup by inspecting and adjusting the truss rod (if available), bridge, nut, and frets to manufacturer factory specifications. Any request made outside of manufacturer factory specifications can incur additional charges for parts and labor. If the instrument has electronics, we test all of the electronic components to make sure they are functioning properly.
After a thorough inspection, we then move on to maintenance. We start by lubricating any moving parts on the instrument, such as tuning machines. We then move on to cleaning and oiling the fretboard along with the frets.
Once maintenance is done, we stretch and tune the strings and play test the instrument. After this, we do a final inspection and clean/detail the instrument before packing it up for shipment.
We're excited to be a part of your instrument buying experience.