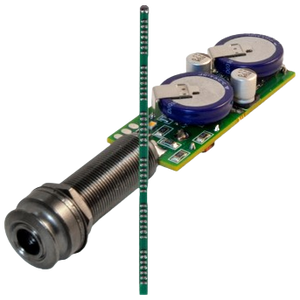 The Mi-Si Motif Acoustic Guitar System continues Mi-Si's pattern of innovation in acoustic amplification. It includes a high-performance, endpin-mounted preamp featuring Mi-Si's now classic battery-free technology, while introducing the world's first Active Under-Saddle Condenser Pickup.
This breakthrough pickup offers all the benefits of conventional under-saddle applications. It's highly responsive with low feedback, allows the player freedom of movement, and does not impair your instrument's appearance. It is only 1 mm thick, providing superior contact with your guitar's bridge and saddle, with much less impact on its structural integrity.
Eliminating the harsh characteristics of more typical piezo-electric technology, Motif captures the full richness and depth of your acoustic guitar. The system is completed by a low-noise Class A discrete preamp mounted directly to the endpin output jack. And like any other Mi-Si product — it's battery-free.
Charge Motif for 60 seconds via the output jack and you'll have 6 hours of exceptional acoustic amplification.