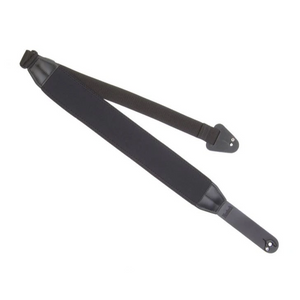 Neotech's Jammin' Strap™ offers an improved construction that makes for an entirely new feel in a comfort-stretch strap. This new system utilizes a laminated construction of neoprene layers, elastic reinforcement and a high-tech anti-microbial comfort foam. These combined features conform to the body and create a unique cushioning feel.
There is a choice of three attachment systems; the Standard Connector is made of thick top-grade leather for a long-lasting, secure fit, the Speed-Lock™, or the Cam-Lock™ Connector. The Speed-Lock™ connection system allows musicians to attach and detach their strap quickly and easily. One end of the connector remains attached to the instrument's strap pins so that the strap can be quickly snapped into place for a performance or easily removed for storage. As additional Speed-Lock™ connectors are sold separately as part of our Accessory Series, a single strap can be used on more than one instrument.
Whether you're jamming with friends or performing for crowds, Jammin' Strap™ is sure to please!
Neoprene pad with unique laminate construction 
Easy to attach with choice of connector styles: Standard, Speed-Lock or Cam-Lock
Fully adjustable 
Made in the USA
Stock #

    

Jammin' Strap Style

    

Connector Style

    

Color

    

MSRP

    

Approximate Size
9201062

    

Regular

    

Standard

    

Black

    

$37.35

    

38"–47" (96,5cm–119,4cm)