Description

Features

More

WHAT'S IN THE BOX

Specs
*These are stock photos.
MORE VALUE FOR CREATORS
The H1n is loved by musicians, podcasters and filmmakers because of its incredible audio, ease of use and small size. Now the H1n-VP includes a padded shell case, micro USB cable, AD-17 Power Adapter and foam windscreen, offering creators more value than ever before.
One-touch button controls
1.25" monochrome LCD display
Intuitive menus for easy operation
Stereo X/Y 90˚microphones handle up to 120 dB SPL
Stereo ⅛" Mic/Line In mini phone jack
Stereo ⅛" Phone/Line Output jack with dedicated volume control
Limiter button for input signal up to 120 dB SPL
Playback Speed Control, Voice Emphasize Filter, and Stereo Bounce functions
Auto-Record, Pre-Record, and Self-Timer functions
Supports up to 24-bit/96 kHz audio in BWF-compliant WAV or a variety of MP3 formats
Tone generator for filmmaking use with DSLR and video cameras
Records directly to SD and SDHC cards up to 32 GB
Micro USB port for data exchange to and from computer and use as an audio interface
Runs on only 2 standard AAA alkaline, Lithium, or NiMH rechargeable batteries, or AC adapter (AD-17)
Up to 10 hours of operation with alkaline batteries
ZOOM'S FLAGSHIP SOUND
The H1n is the ultimate take-anywhere recorder for every creator's gear bag. Its X/Y microphones capture high-quality stereo sound, supporting up to 24-bit/96 kHz.
JUST PRESS RECORD
One-touch button controls make it simple to record songs, audio-for-film, lectures, podcasts and more. Its monochromatic 1.25" LCD display is easy to read even in the brightest lighting conditions.
GET LOUD
An advanced onboard limiter offers distortion-free recording up to 120 dB SPL-- the same volume as a jet engine during take off. A low-cut filter helps eliminate pops and unwanted low frequency rumble.
UNLIMITED OVERDUBBING
The H1n is the perfect song-writing companion, allowing you to build compositions and layer audio with the overdub function.
TRANSCRIPTION MADE EASY
The H1n playback speed adjustment helps you transcribe music, interviews and other types of recordings without altering pitch.
DON'T MISS THE MOMENT
You can set the H1n to auto-record, pre-record and use the self-timer to make sure you always capture the moment.
MARK AND SYNC
The built-in tone generator makes it easy to calibrate your H1n and camera audio levels.
IO
An ⅛" stereo mic/line input lets you record external microphones or other sound sources. Connect the H1n via USB when recording and streaming on PC, Mac and iOS devices.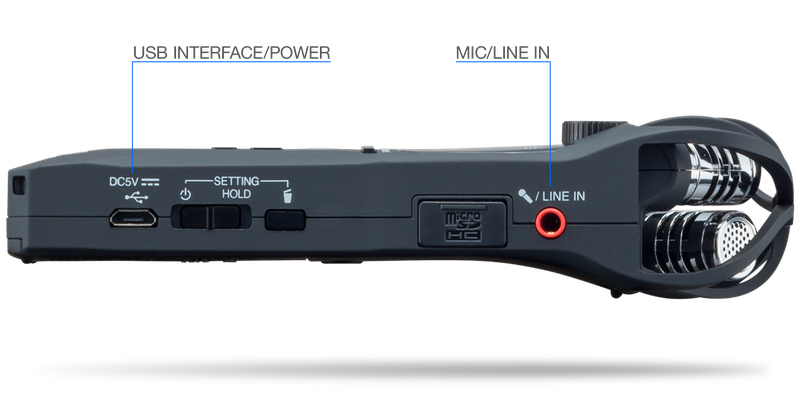 Connect headphones via the ⅛" headphone output with dedicated volume control. You can also use the H1n's built-in speaker to listen to your recordings.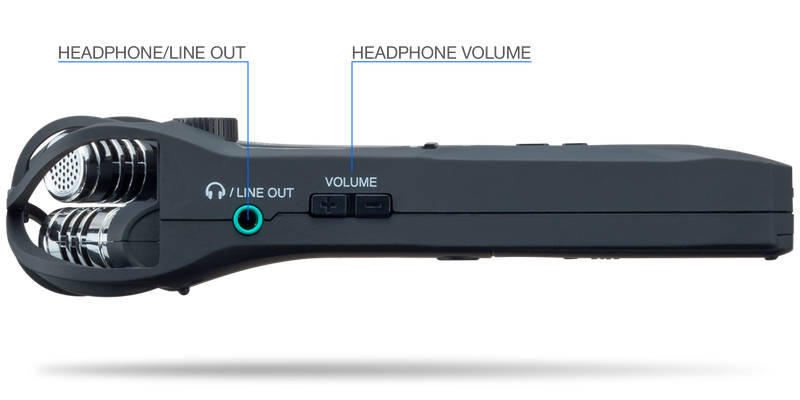 H1n Handy Recorder
Windscreen
AD-17 AC adapter
USB cable
Padded-shell case
SIMULTANEOUS PLAYBACK TRACKS: 2
SIMULTANEOUS RECORDING TRACKS: 2
FUNCTIONS: Lo-cut Filter, Limiter,Test Tone,Slate-Tone,Voice Emphasize
Filter, Playback Position Skipping, Playback Speed Control, A-B Repeat, Auto REC Level, Marker, Auto-Record, Pre-Record, Self-Timer, Overdubbing
RECORDING FORMATS: WAV: 44.1 kHz/16-bit, 48 kHz/16-bit, 48 kHz/24-bit, 96
kHz/24-bit
A/D CONVERSION: 24-bit, 128x oversampling
D/A CONVERSION: 24-bit, 128x oversampling
SIGNAL PROCESSING: 32-bit
RECORDING MEDIA: microSD/microSDHC cards (Class 4 or higher, up to 32
GB
DISPLAY: 1.25" monochrome LCD (96 × 64)
BUILT-IN STEREO MIC: Unidirectional condenser, 90° XY stereo format
Gain: -∞ dB to +39 dB
Maximum sound pressure level: 120 dB SPL
INPUTS: 1/8" stereo phone jack
Rated input level: -∞ dB to -39 dBm
Input impedance: 2 kΩ
Plug-in power supported (2.5 V)
BUILT-IN SPEAKER: Built-in 500 mW mono speaker
Output impedance: 8 Ω
OUTPUTS: 1/8" stereo phone jack (combined line/headphones)
Rated output level: 20 mW + 20 mW into 32Ω load
Output impedance: 10 kΩ or more
USB: Micro USB port
Mass storage class operation: USB 2.0 high speed
Audio interface operation: 44.1/48kHz sampling rate, 16-bit depth, 2-in/2-out
Transfer method: asynchronous
POWER REQUIREMENTS: 2 AAA batteries (alkaline, nickel-metal hydride rechargeable,
or lithium)
AC adapter (ZOOM AD-17): DC 5V/1A
USB bus power
BATTERY LIFE (ALKALINE BATTERIES): Approximately 10 hours
(continuous recording time using built-in mic, 44.1 kHz/16-bit)
DIMENSIONS: 1.9 in (W) x 5.4 in (D) x 1.2 in (H)
50 mm (W) × 137.5 mm (D) × 32 mm (H)
WEIGHT: 0.13 lbs / 60 g (without batteries)