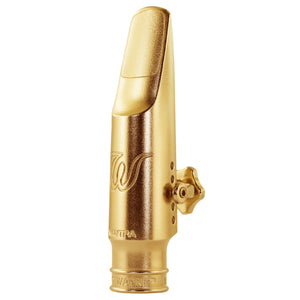 The MANTRA alto mouthpiece has a thick, full and clear sound versatile enough for all types of playing!  It has more power than a vintage Meyer style mouthpiece, yet is not 'bright' like a high baffle mouthpiece.
The MANTRA combines both a shallow-step and roll-over baffle, and adds the Theo Wanne proprietary small "shark-gill" chamber. This is not a True Large Chamber like many other Theo Wanne™ designs, but a very unique small chamber evolved from Theo's study of boundary layer effect and boat hull design.   These features give the MANTRA enough projection and depth to be suitable for both Rock n' Roll, and more traditional ballad playing as well.
Like all Theo Wanne™ products the MANTRA is made using Theo's state-of-the-art design and manufacturing technologies. You will receive the most consistent and highest quality mouthpiece available in history.
Versatile and lively, with a big core sound.
Good for all music, from Rock n' Roll to traditional mellow music
Case: Beautiful Leatherette Case! Like the case? 
Plating:

 

Reticulated 24K Gold plating with Bright Nickel highlights.
Ligature:

 

The MANTRA includes our integrated two-point contact Gold Liberty Ligature and Alive Gold pressure plate. 
Cap: Our Reed Replacer Cap

 

is most secure cap in the world.
Bite Pad:

 User replaceable pads 

allow you to peel and stick on new bite pads.