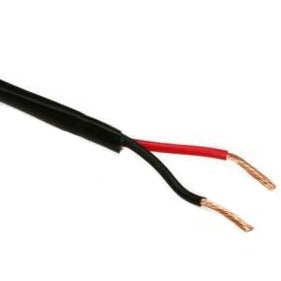 Pro Co Bulk 16 Gauge Speaker Cable
Pro Co cables display the company's commitment to making the highest quality audio cables. Since they first came out, Pro Co cables have been the professional's choice for the most demanding applications. The exacting design of the entire line makes Pro Co cables the smart choice for your needs. From simple hookup cables to complex studio harnessing, only high-grade components and time-proven manufacturing techniques are employed. To ensure you are receiving the highest quality cable for your dollar, try a Pro Co cable today!

This speaker cable is designed for permanent installations, is protected by more than durable insulation, and comes with a lifetime warranty. If anything goes wrong with this cable, we'll take care of it for you. Even if you accidentally roll over it with your car, your daughter jumps rope with it one too many times, or your band members use it in a tug of war, you're covered!

Note: This is bulk cable only. Connectors sold separately.
Price is per foot
Cable Type Install Speaker Wire
Number of Conductors 2
Wire Gauge 16 AWG
Length 25'
Outer Jacket Material PVC
Diameter 0.185"