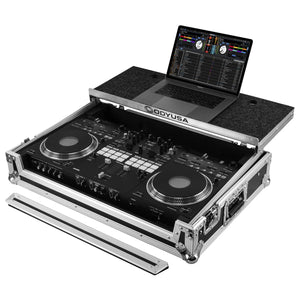 Approx. Exterior Dimensions: 32.75" W x 21.75" D x 9.75" H
Approx. Weight: 40 lbs
Approx. Shipping Dimensions: 33" x 22.5" x 10.25"
Approx. Shipping Weight: 44 lbs
Approx. Gear Compartment Measurements: 28.75" x 14.25"
Approx. Case Lid Interior Height: 2.75"
Approx. Rear Spacing Depth: 4.25"
Approx. Glide Platform Surface Measurements: 30.5" x 12"
UPC: 807822048278
Case Constructs:
Silver Hardware
Case Features:
Cable Port Hole
Glide Platform Port Hole
Laptop Platform (Glide Style)
Padlock Loop
Removable Panel
Rubber Feet
Fits
Pioneer DDJ-REV7
This product is just a case. It does not come with a controller or a laptop.
*For the safety of your equipment, do not transport with gear stored on the glide platform and be aware that the platform can be removed when slid out to its furthest point.