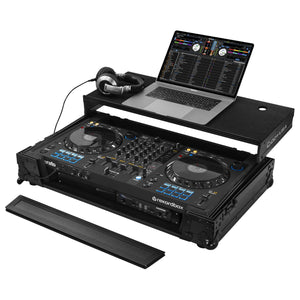 Mix in style with the Pioneer DDJ-FLX6 and Odyssey's DDJ-FLX6 case in black! The FZGS DDJFLX6 1BL case has the hardware anodized and powder coated in black giving it a mysterious, stealthy look. Mix in with DDJ-FLX6 controller's lights, the FZGSDDJFLX61BL looks better than ever! The case has a 19" 1U rack space beneath the controller for devices such as the wireless mic receiver. The FZGSDDJFLX61BL is more than just a case for protection, it's a event gig station. Mix in style with Odyssey, it's the only way to be.

All Black Anodized and Powder Coated Hardware
Patented Removable Gliding Laptop Platform. NOTE: The gliding laptop platform must be properly positioned and inserted back into the rails when closing the case.
Rack Rails Can Be Positioned for Front or Rear Mounting *Additional 1U Rack Rail Kits Are Optional
Removable V-cut™ Front Access Panel
Exclusive Patent Pending Bevel Foam Interior
Heavy-Duty Ball Corners
Recessed Handle and Latches
Plenty of Space for Cable Management
Approx. Exterior Dimensions: 31" W x 18.5" D x 9.5" H
Approx. Weight: 29 lbs
Approx. Shipping Dimensions: 31.5" W x 19.25" D x 10" H
Approx. Shipping Weight: 33 lbs
UPC: 807822047516
EAN: 8078220475108
Case Constructs:
All Black Anodized and Powder Coated Hardware
Case Features:

Bottom 1U Rack Space
Cable Port Hole
Laptop Platform (Glide Style™)
Removable Panel
Rubber Feet

This is just a case.  It does not come with any controllers, hardware, mixers,

 

laptops, cables etc shown.