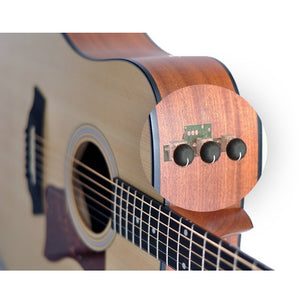 Active battery-free preamplifier, L.R. Baggs undersaddle pickup, and Power Charger

The Mi-Si Align XT is a direct upgrade/replacement for the Taylor Expression System®. It features a lightweight, active, battery-free preamp designed specifically to easily retrofit your Taylor guitar. This enables Taylor fans to take advantage of Mi-Si's innovative active battery-free technology.

The Align XT comes standard with volume and active bass and treble controls that fit the exact spacing of your Taylor's existing Expression preamp. You can also use the same knobs from the Taylor Expression System®, so the appearance of your instrument remains unchanged. The Align XT preamp uses Mi-Si's custom piezo linearization scheme — allowing for the most truthful and accurate sound from the pickup.

The battery-free design is a benefit for both the stage performer and the environment. All you have to do is power up for 60 seconds using the Mi-Si Power Charger, providing you with up to 8 hours of performance time.

*TAYLOR and TAYLOR EXPRESSION SYSTEM® are the registered trademarks of Taylor Guitars (Taylor-Listug, Inc.). This product is not sponsored or endorsed by Taylor Guitars or Taylor-Listug.