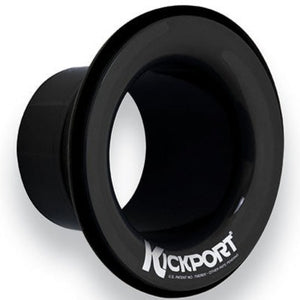 KickPort 2 Bass Drum Port
The KickPort 2 improves upon the revolutionary KickPort by slightly modifying the size and completely changing the attachment sleeve - the KickPort 2 is much easier to install. Of course, it still retains its ability to boost the bass of your kick drum.
Ports have long been used in bass reflex speaker cabinet design to beef up the bass and lower the frequency response without increasing the size. The Kickport 2 applies the same rules of physics to your bass drum, giving you that fatter, deeper, warmer sound you've always wanted. The Kickport 2 also dampens the resonant head, eliminating the need to add internal muffling devices! Say goodbye to the blanket/pillow/towel you've been using.
More Low End
More Tone
Easier to Install
Muffles Resonant Head
Fits Any Size Bass Drum
Available in Black, Chrome, Gold, White