Description

More

Features

Specs

Studio Accessories
Start connecting with the world
The original iRig Stream offered groundbreaking features for today's top apps that made it an overnight must-have for millions of creators. Now iRig Stream Solo brings comparable features and connectivity to a new level of affordability.

iRig Stream Solo is an easy-to-use audio interface for iPhone*, iPad and Android that lets you connect up to 3 distinct sources and mix them into your stream. Connect mixers or keyboards, your earbuds or iRig mics, and even audio played right on your device, and mix them together into a signal that's optimized for streaming and sent straight to your favorite apps. It's all you need to start streaming in a compact and battery-powered format.
Mix and stream up to 3 audio sources
iRig Stream Solo makes it easy to connect all your audio sources and route them to a streaming or recording app. Send the audio output of your smartphone or tablet into iRig Stream Solo, mix it with external audio sources like mixers, DJ decks, keyboards and more. Add your voice from earbuds (or an iRig Mic) and send all 3 signals back to your device to popular apps like Instagram, or just your built-in camera app.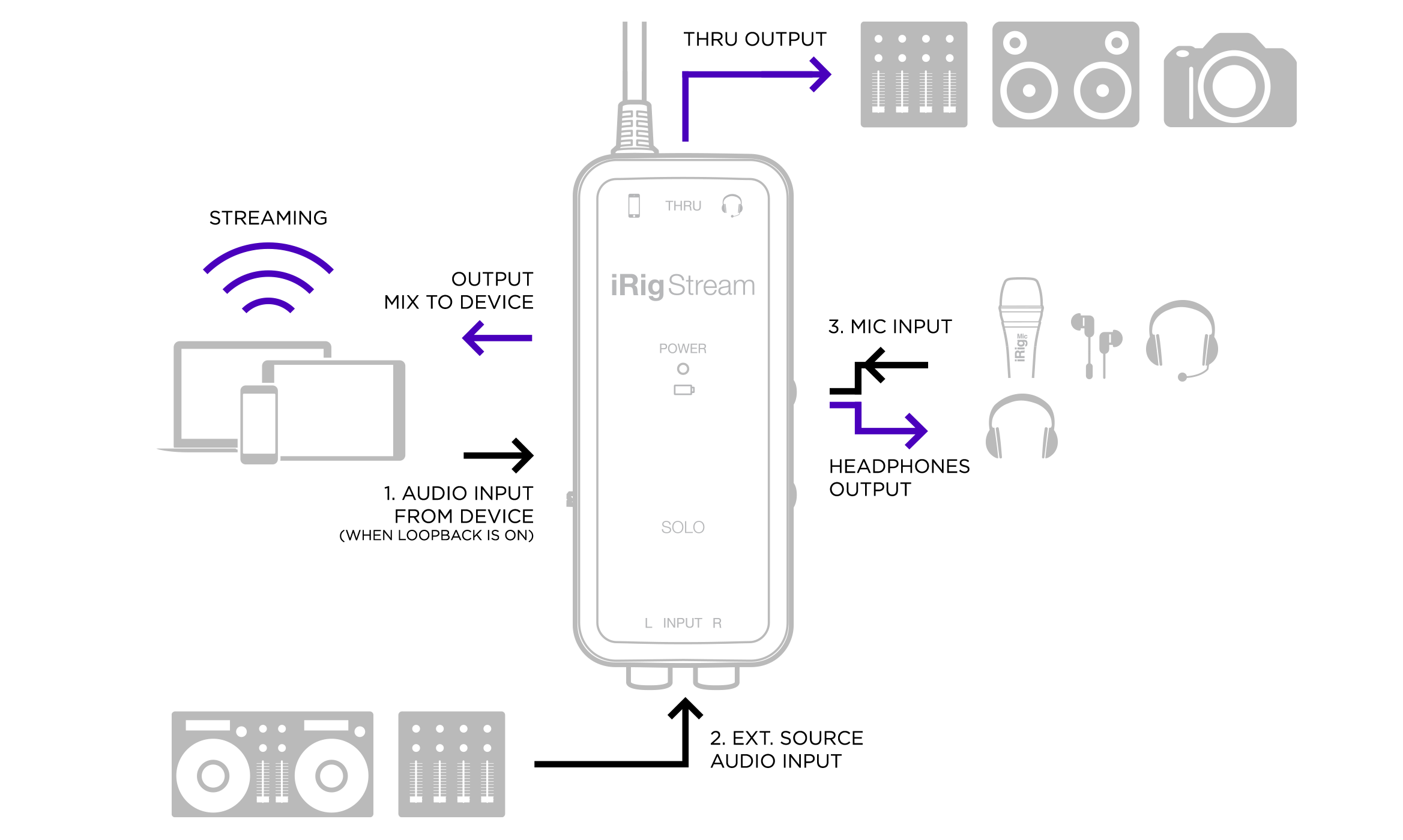 Plug in all your gear
2 line-level RCA inputs are perfect to connect DJ and multi-channel mixers, but are also great for keyboards, synth and drum machine setups, and more. Whether you're looking to stream your DJ set, record band practice, jam along with your favorite song, or even host a podcast, iRig Stream Solo lets you connect a massive range of gear.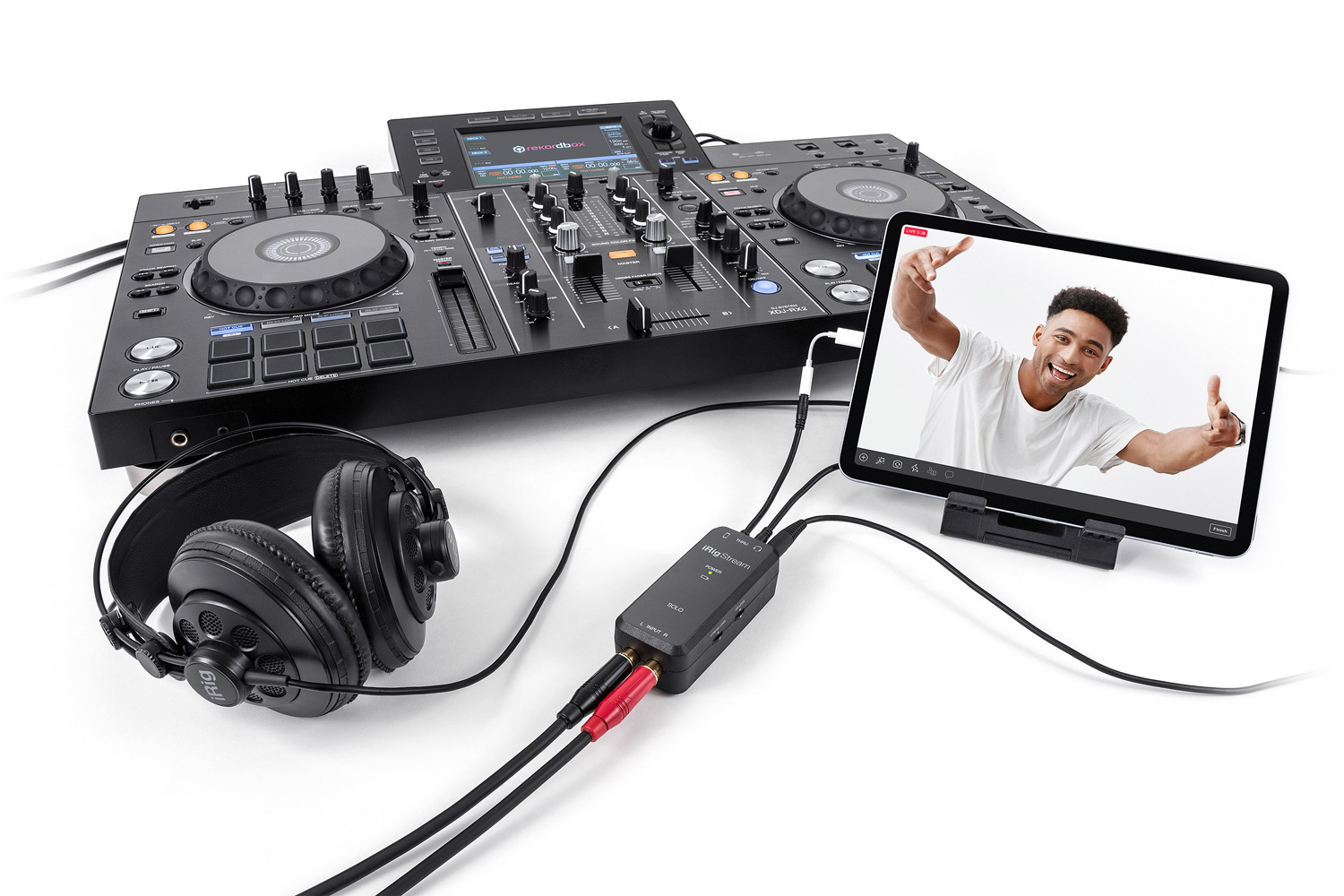 Use a headset or a mic
A unique headphone/microphone jack is wired just like your smartphone so you can listen and talk over the other audio inputs simultaneously. It works with most headphones with a built-in mic and also with IK products like iRig Mic Lav, iRig Mic, and iRig Pre 2, giving you a wide range of options for any situation.

The overall input signal level (line + mic) is controlled with a single thumbwheel and optimized for streaming before being sent to your device and favorite apps.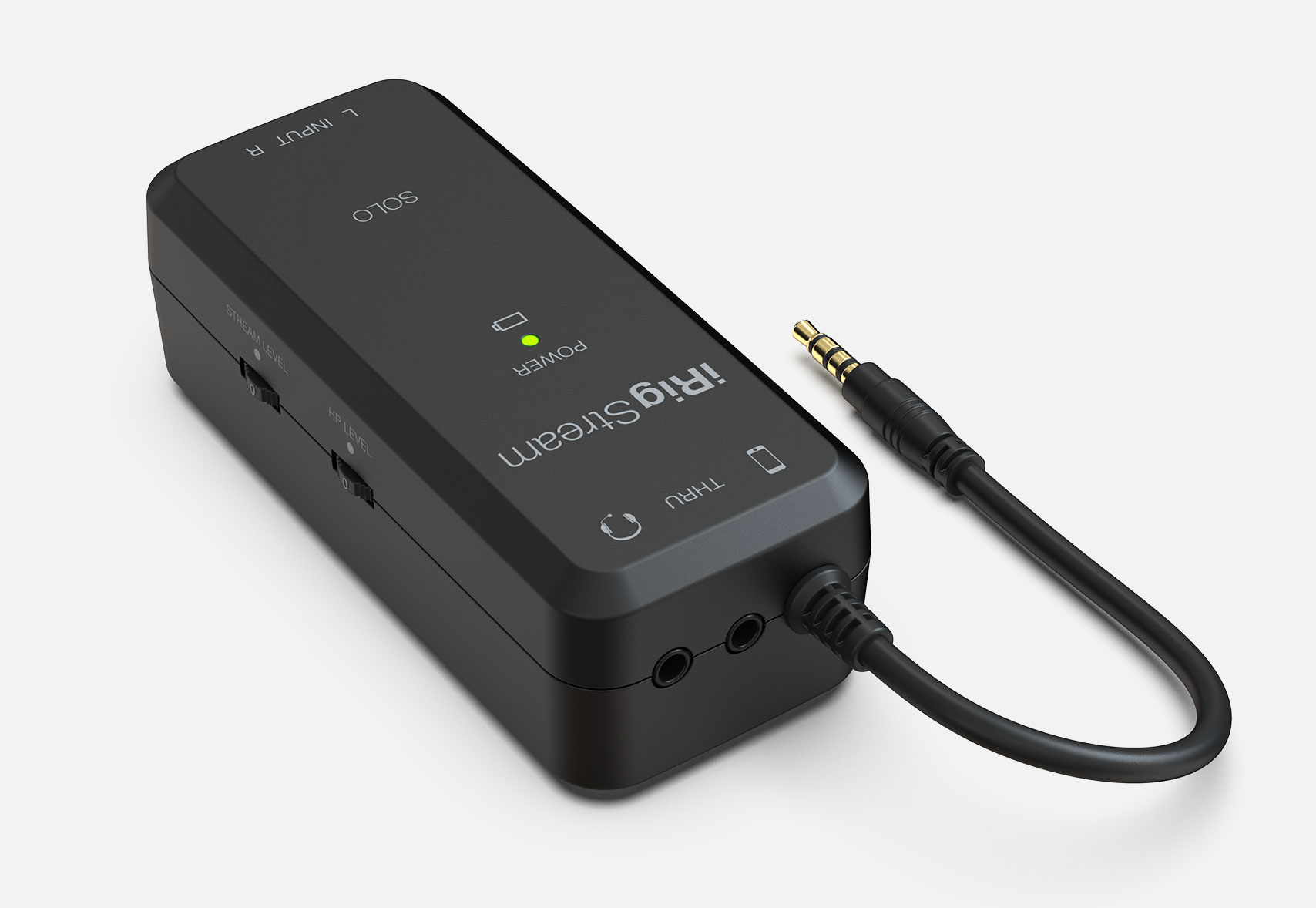 Mix audio from your device
A special Loopback switch lets you route the audio output of your digital device (iPhone, iPad or Android) back into iRig Stream Solo to be mixed in with the other audio signals. This is perfect to jam or sing along with backing tracks and stream to another app, all on a single device.

Designed for apps
If you've ever tried streaming or sharing audio on social media, you know many apps only support mono signals - so iRig Stream Solo sums everything together to a single channel, ensuring you won't lose anything panned to one side.
Get connected, stay connected
iRig Stream Solo is easy to use with a captive TRRS cable to connect to your iPhone*, iPad and Android. Its 1/8" mono Thru line output lets you send your audio to additional devices such as cameras, mixers and more. And with two AA batteries, you can enjoy hours of reliable performance anywhere.

* Requires use of Apple's Lightning to 3.5 mm Headphone Jack Adapter (TRRS).
Comprehensive compatibility
iRig Stream Solo works with any app that records or streams audio or video, so you'll never stop finding new ways to use it. To get you started, it includes iRig Recorder 3 LE (iPhone/iPad/Android) – an easy-to-use, high-quality audio and video recording app. Record, trim, edit and share, right from your device.
Captive TRRS cable to connect to your device
Connect a mixer, DJ setup and more via RCA inputs
Headphone out with integrated mic input
All signals summed to mono for streaming
Loopback mixes incoming signals with your device's audio
Direct monitoring via the headphone out
1/8" mono Thru line output for cameras, mixers and more
Powered by 2 AA batteries
Works with all your favorite apps
Common

Power: 2x AA batteries
Metering: Battery status LED
Device Connection: captive 1/8" / 3.5 mm TRRS jack - CTIA/AHJ wiring standard
Dimensions: 45 x 105 x 34 mm
Weight (without batteries): 74 g

Line input

Connector: 2x RCA (unbal.) Left/Right
Nominal Input Level: -10 dBV
Head Room: 9 dB
Input Impedance: 15k Ohms
Frequency Response: from 20 Hz to 20 kHz (-3 dB)

Headset/Phones

Connector: 1/8" TRRS jack (CTIA wiring standard)
Supply voltage: >= 2,5 V
Microphone gain: Fixed at 27 dB
Headphone frequency response: from 20 Hz to 20 kHz (-3 dB)
Microphone frequency response: from 50 Hz to 20 kHz (-3 dB)
Headphone Level control: numbered thumbwheel

Thru out

Connector: 1/8" TRS jack
Frequency Response: from 20 Hz to 20 kHz (-3 dB)

Battery Life

50 hours (Alkaline batteries)

Package includes

iRig Stream Solo interface
2x 1.5V AA battery
Compatibility iOS and Android Devices
Compatible with iPhone, iPad, iPod touch and Android devices with 1/8" / 3.5mm jack standard headset input (onboard or via adaptor) compliant with the CTIA/AHJ wiring standard, which is illustrated as follows.