Description

Features

Specs

Electric Guitar Accessories

Inspection and Set-up
*These are stock photos. For actual photos of the instrument, please contact us.
The RGD is Ibanez's ultimate metal machine. The demands of down-tuning require a specifically designed responsiveness not found in "normal" guitars. To optimize for the rich, desirable thickness of tone that down-tuning produces, we extended the neck by one inch to a 26.5" scale. Longer-than standard yet not overly long. The neck is still considered a "fast" neck for speed soloing. Extra-deep cutaways grant comfortable access to the necks highest notes.
The Axion Label series takes the established elements of modern electric guitar design and push them to new, lesser-explored territory. Similar to how the Bass Workshop series delivers the cutting-edge of bass, Axion Label dives into elements like multi-scale design, ultra-modern pickups from Fishman®, Bare Knuckle®, and DiMarzio®, as well as hardware innovations like the Evertune® bridge. These elements are just the tip of the iceberg for this ultra-modern series, and only the beginning of its ultimate potential.
This Guitar Does Not Come with a Bag or a Case
Nitro Wizard 5pc Panga Panga/Walnut neck
The Super-thin and ultra-playable Nitro Wizard 5-piece Panga Panga/Walnut neck substantially increases sustain.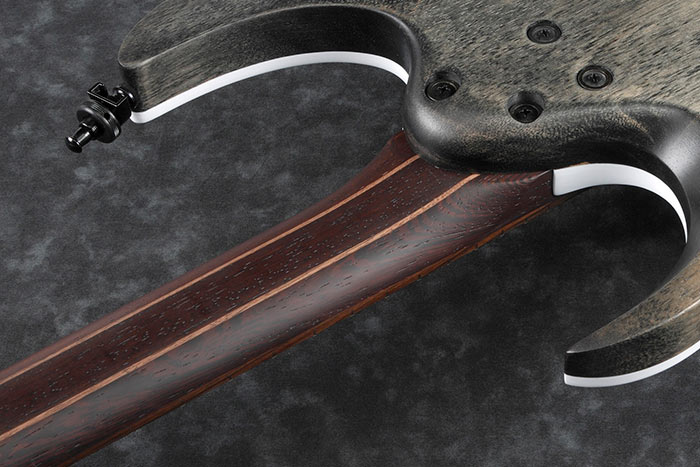 Macassar Ebony fretboard
Macassar Ebony produces tight lows and mid range along with strong attack in the highs and quick response with rich sustain.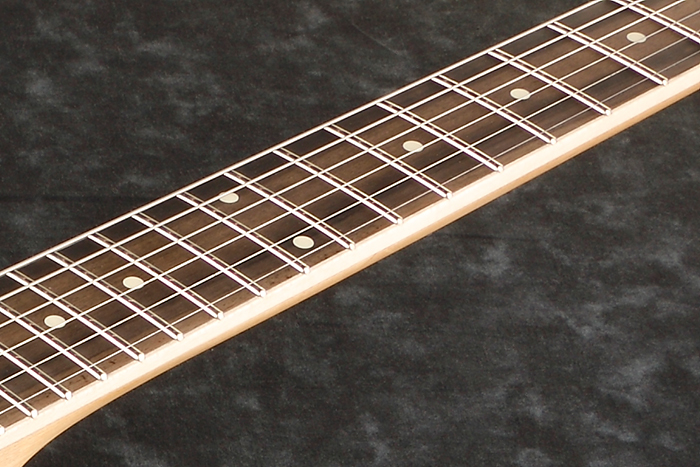 Jumbo Sub Zero treated frets
Sub Zero treated frets can stand up against the hardest riffing and string-bending.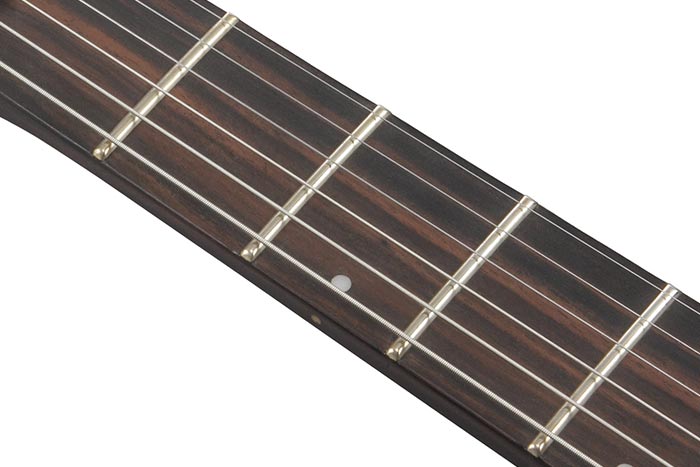 Ash body
The Ash body wood imbues this bass guitar with an exotic appearance and delivers a pleasant brightness and rich sustain.

Fishman® Fluence Modern Humbucker Alnico / Fluence Modern Humbucker Ceramic pickups
The Fishman Fluence Modern Humbucker pickups provide an aggressive tone and a powerful attack without excess noise.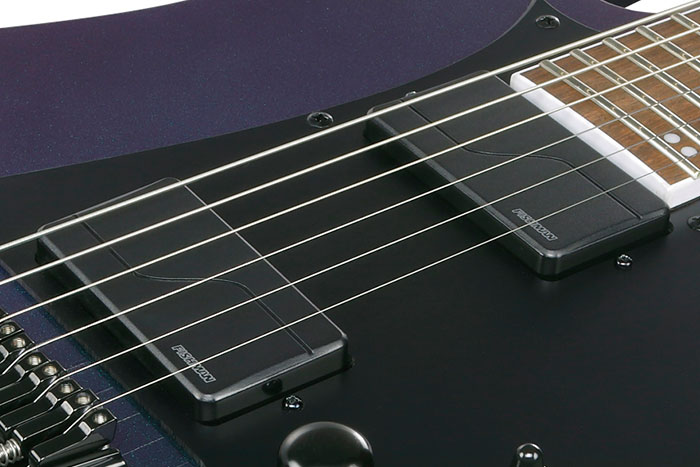 Gotoh® MG-T locking machine heads
The Gotoh® MG-T locking machine heads achieve incredible tuning stability, cutting down string-changing time.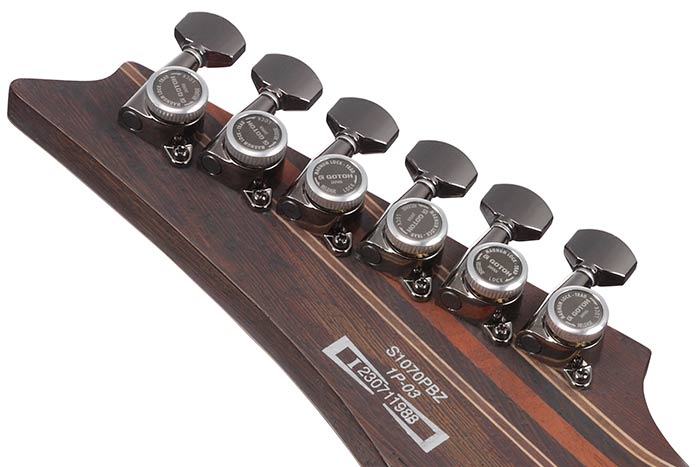 Mono-rail bridge
Designed for both stability and sustain, the innovative Ibanez Mono-Rail bridge minimizes cross-talk between strings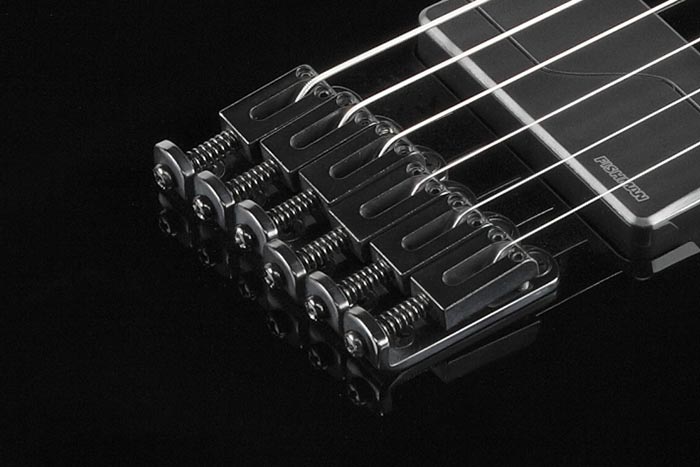 Fishman® Fluence Voicing switch on volume control (push/pull)
The Voicing switch allows the pickups to switch from a modern, active high output sound to a crisp, clean and fluid sound.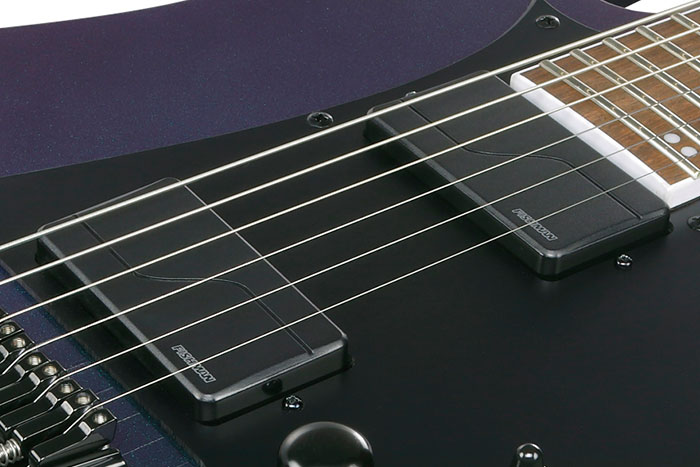 Coil-tap switch
The coil tap switch adds sound and tonal variations for both pickups.

Schaller S-Locks strap lock pins
Indestructible Schaller S-Locks don't fail, even under the toughest conditions on stage.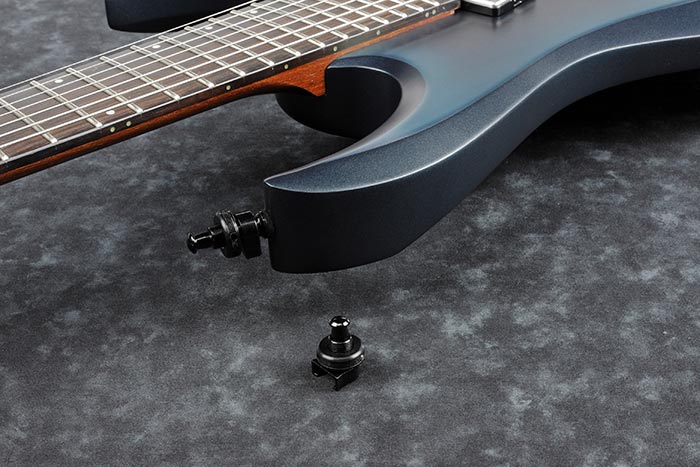 26.5 inch scale
Its extra long 26.5" scale and ability to accurately intonate heavier string gauges, make it the perfect beast for down-tuned metal.

Ash body

Fishman® Fluence Voicing switch on volume control (push/pull), Coil-tap switch

Black hardware

neck type Nitro Wizard5pc Panga Panga/Walnut neck
top/back/body Ash body
fretboard Macassar Ebony fretboard White Step off-set dot inlay
fret Jumbo Sub Zero treated frets
number of frets 24
bridge Mono-rail bridge
string space 10.8mm
neck pickup Fishman® Fluence Modern Humbucker Alnico (H) neck pickup Active/Alnico
bridge pickup Fishman® Fluence Modern Humbucker Ceramic (H) bridge pickup Active/Ceramic
factory tuning 1D,2A,3F,4C,5G,6D
strings D'Addario® EXL110
string gauge .010/.013/.017/.026/.036/.046
nut Plastic nut
hardware color Black
NECK DIMENSIONS

Scale : 673mm/26.5"
a : Width 43mm at NUT
b : Width 58mm at 24F
c : Thickness 19mm at 1F
d : Thickness 21mm at 12F
Radius : 400mmR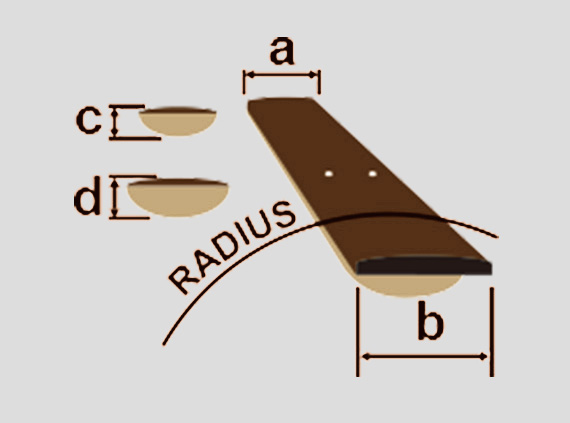 Electric Guitar Accessories
*Not all bags and cases fit all guitars. If you aren't sure, please check with us at the store. Admin@easymusiccenter.com or call 808-591-0999.
At Easy Music Center, we care for our instruments from the moment they arrive to when they ship to your door. All instruments are stored in a climate controlled environment and put through a 12-point inspection checklist before being shipped.
First, we check the finish of the instrument, carefully inspecting any blemishes on the surface. Next, we check the playability and setup by inspecting and adjusting the truss rod (if available), bridge, nut, and frets to manufacturer factory specifications. Any request made outside of manufacturer factory specifications can incur additional charges for parts and labor. If the instrument has electronics, we test all of the electronic components to make sure they are functioning properly.
After a thorough inspection, we then move on to maintenance. We start by lubricating any moving parts on the instrument, such as tuning machines. We then move on to cleaning and oiling the fretboard along with the frets.
Once maintenance is done, we stretch and tune the strings and play test the instrument. After this, we do a final inspection and clean/detail the instrument before packing it up for shipment.
We're excited to be a part of your instrument buying experience.