Description

More

Features

Specs

Bass Guitar Accessories

Inspection and Set-up
*These are stock photos. For actual photos of the instrument, please contact us.
The EHB's headless construction, contoured body, ergonomic design, and chambered body make for a lightweight and comfortable instrument that's excellent for long sets or practice sessions. This series also sports a combination of high-quality tone woods and versatile electronics, resulting in a cutting-edge, ultra-modern bass, capable of cutting though the complex landscape of tones required for today's bassist. - Bass Workshop

This Guitar Comes with a Gig Bag
For more than 40 years, Ibanez has pioneered new frontiers in bass development, pushing the boundaries of conventional designs to bass players of all styles, affording new avenues of expression and creativity. This spirit of exploration has led to the creation of some of the most successful and popular production basses of all time. Following this same drive to bring new and relevant ideas to the musical forefront is what serves as the basis for this ongoing project, dubbed the Ibanez Bass Workshop.
The impetus behind each one of these unique instruments comes from a desire by the Ibanez bass development team to satisfy the particular needs of many players. These inventions may not be for everyone, but for those who yearn to explore new sonic vistas through the medium of bass: The Ibanez Bass Workshop project may give you just what you're looking for.
Ergonomic body design
The EHB"™s headless construction and specially designed body enable the player to maintain a similar playing position whether seated or standing.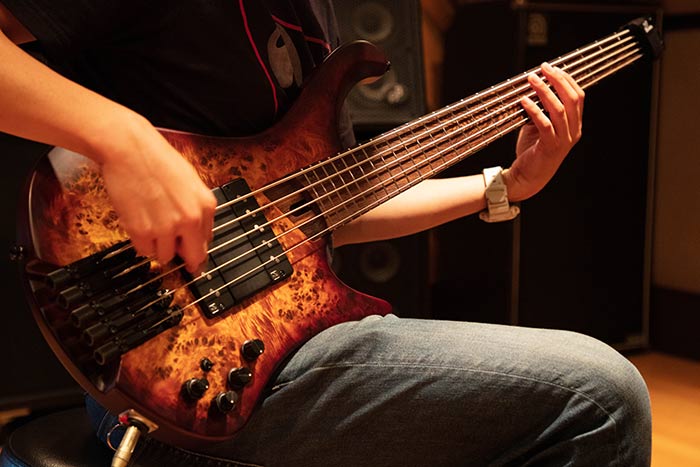 Slanted body back
The top half of the back of the body is slanted which allows the bass to rest slightly closer to the player"™s body for better control and a more ergonomic feel.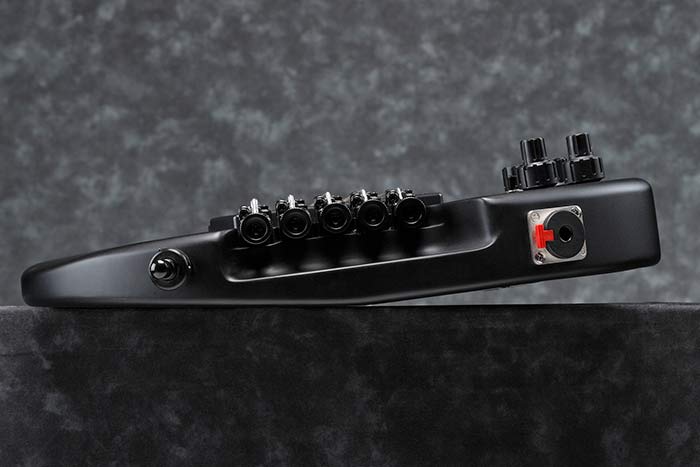 Comfortably rounded body edge, Chambered body
Its contoured, ergonomic design and chambered body make for a lightweight, well-balanced, and comfortable instrument that"™s excellent for long sets or practice session.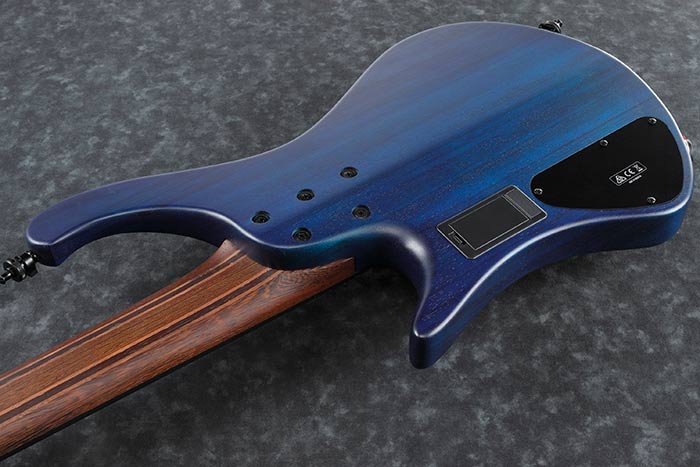 Scooped cut on the body back
There is extra carving on the back of the body behind the lower horn for easier upper fret access.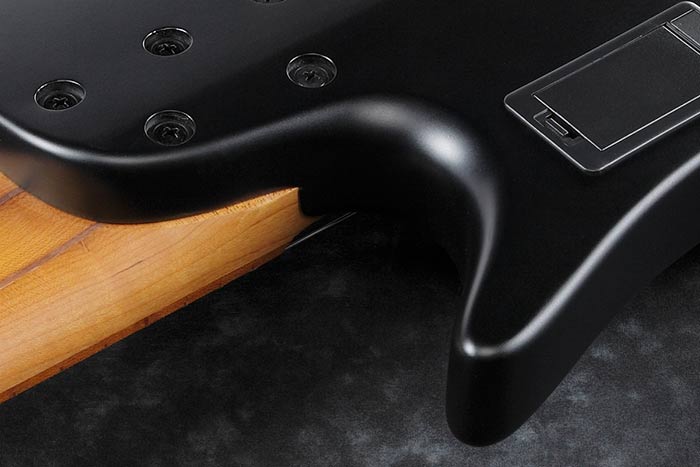 5pc Roasted Maple/Walnut neck w/Graphite reinforcement rods
The Roasted Maple in the neck is heat-treated to increase stability, durability, moisture resistance, and tolerance of temperature changes.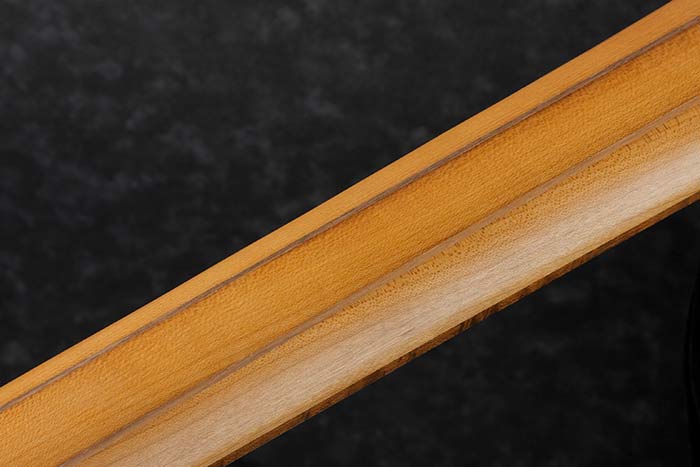 Luminescent side dot inlays
Luminescent side dot inlay provides clear visibility in dark environments.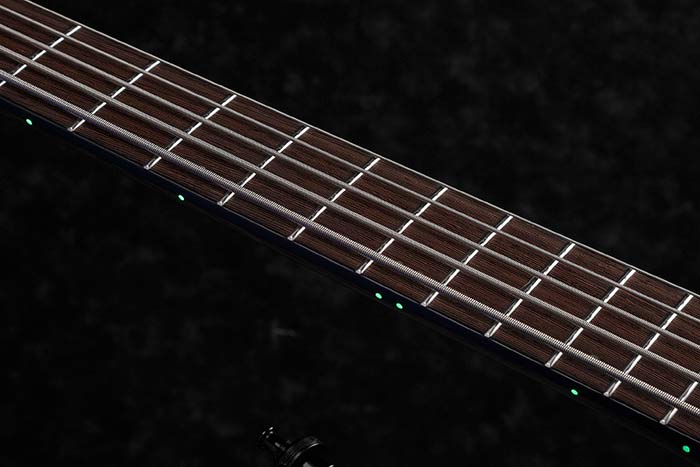 Vari-Mid 3-Band EQ w/EQ bypass switch
The Vari-mid 3-band EQ features a variable mid-frequency control which allows you to dial in an incredibly wide range of sounds. There is also an EQ bypass switch for passive operation with the treble control acting as a passive tone control when the EQ is bypassed.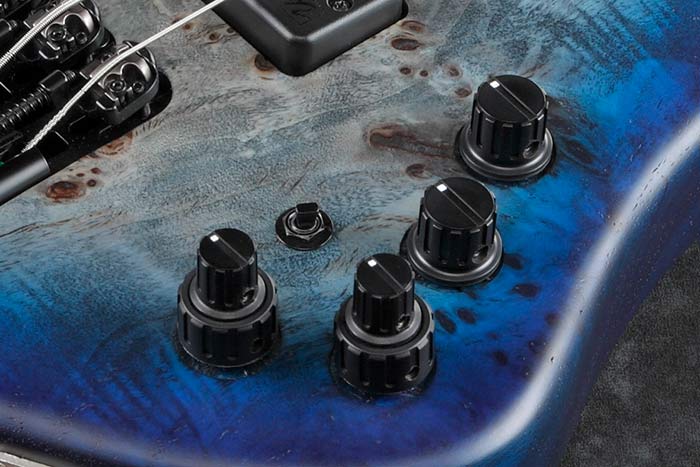 MR5HS mono rail bridge w/string spacing adjustable saddles
The MR5HS bridge is designed especially for the EHB basses and features wide intonation range. Each bridge piece is independently and securely attached to the body for maximum vibration transfer, and the saddles are adjustable for string spacing +/-1.5mm, answering every bassist"™s individual string spacing demands, no matter what playing style. Teflon washers are used on each tuner for a smooth tuning action.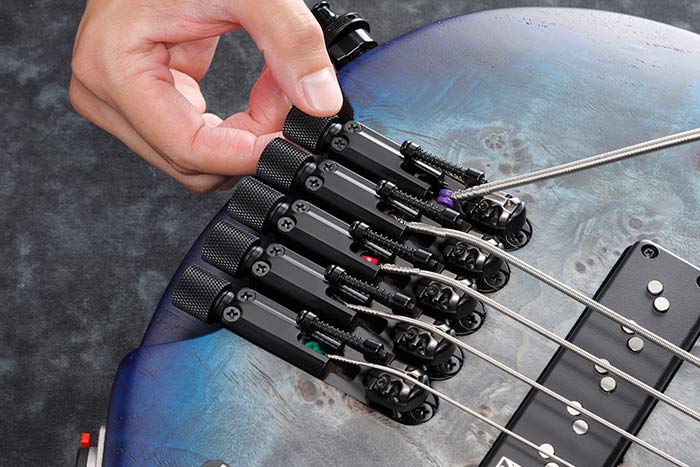 Schaller S-Locks strap pins and Neutrik locking jack
Schaller S-Lock strap lock pins and a Neutrik locking jack hold the strap and cable securely.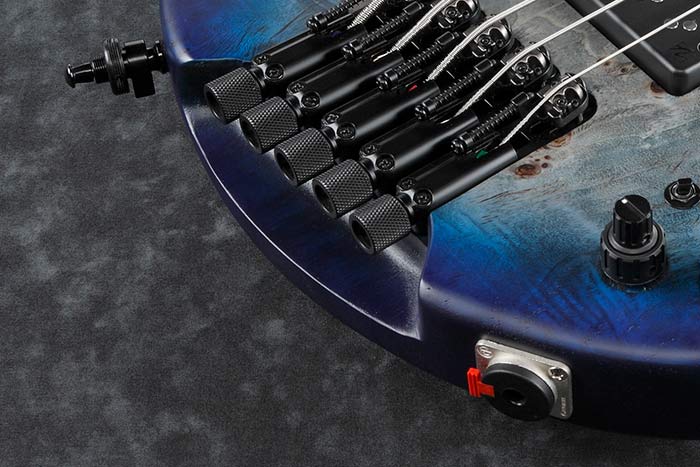 Detachable Finger ramp
A detachable Finger ramp is included for comfortable finger picking.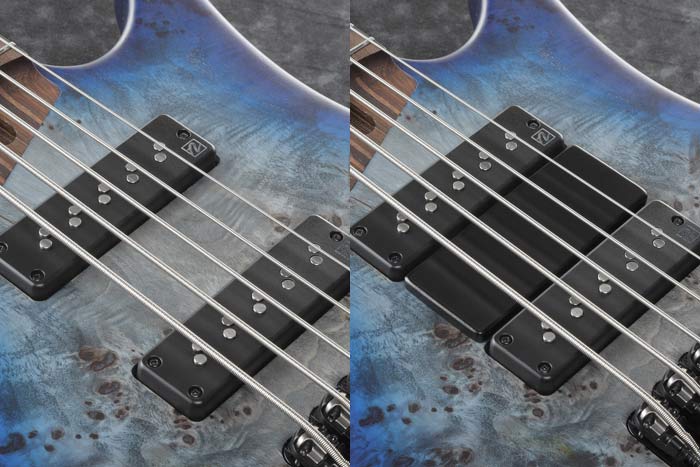 neck type EHB45pc Roasted Maple/Walnut neck w/Graphite reinforcement rods
top/back/body American Basswood body
fretboard Roasted Birdseye Maple fretboardAbalone off-set dot inlay
fret Medium Stainless Steel frets
number of frets 24
bridge MR5HS bridge
string space 19mm
neck pickup Bartolini® BH2 neck pickupPassive
bridge pickup Bartolini® BH2 bridge pickupPassive
equaliser Vari-mid 3-band EQ w/ EQ bypass switch (passive tone control on treble pot)
factory tuning 1G,2D,3A,4E
strings D'Addario® EXL165
string gauge .045/.065/.085/.105
nut Plastic nut
hardware color Black
NECK DIMENSIONS

Scale : 762mm
a : Width 41mm at NUT
b : Width 64mm at 24F
c : Thickness 19.5mm at 1F
d : Thickness 21.5mm at 12F
Radius : 500mmR
*Not all cases fit all bass guitars. Please call our store if you are not sure. Some of these cases are for smaller sized bass guitars.
At Easy Music Center, we care for our instruments from the moment they arrive to when they ship to your door. All instruments are stored in a climate controlled environment and put through a 12-point inspection checklist before being shipped.
First, we check the finish of the instrument, carefully inspecting any blemishes on the surface. Next, we check the playability and setup by inspecting and adjusting the truss rod (if available), bridge, nut, and frets to manufacturer factory specifications. Any request made outside of manufacturer factory specifications can incur additional charges for parts and labor. If the instrument has electronics, we test all of the electronic components to make sure they are functioning properly.
After a thorough inspection, we then move on to maintenance. We start by lubricating any moving parts on the instrument, such as tuning machines. We then move on to cleaning and oiling the fretboard along with the frets.
Once maintenance is done, we stretch and tune the strings and play test the instrument. After this, we do a final inspection and clean/detail the instrument before packing it up for shipment.
We're excited to be a part of your instrument buying experience.