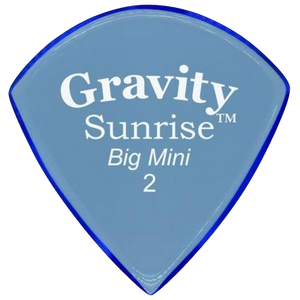 The Sunrise shape is our best selling shape. Â The pointed tip and 'wings' are the highlights of this model. Â Easy to hold onto and has a bright, brilliant sound.
There are 4 sizes: Mini (Jazz size), Big Mini, Standard (Traditional size) and XL.
There are also several grip holes to choose from. Â  Grip holes are not available for the 1.5mm thickness.
The bevels on each pick are shaped on a grinding wheel which creates rough bevels. Those bevels are then polished or left unpolished (which we call 'Master Finish').
The Polished version glides across the strings with very little effort.
The Master Finish (unpolished) version is a bit brighter and creates a different release off the string. It allows you to 'dig in' a bit more. It is just a personal preference.