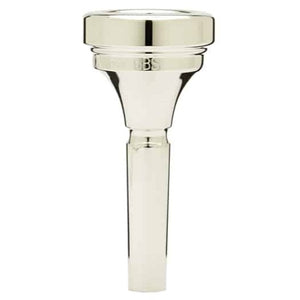 Description

More

Features
Denis Wick develops his trombone mouthpieces to help players achieve clarity, warmth and beauty of sound that no other manufacturer has been able to duplicate. His attention to detail and dedication to his craft has brought intonation and flexibility to near perfection, creating the highest standard in trombone mouthpieces.
The 6BS trombone mouthpiece was one of the very first designs created by Denis Wick. It was only the second mouthpiece that was developed, coming after the original 'A' model which became the famous 4AL. It was inspired by the Vincent Back 6 1/2AL. This mouthpiece dates back to the late 1920's and was known as the Clarke Large and originated from Ernest Clarke, the trombonist, brother of Herbert Clarke, the most famous American cornetist of the time.
Over the years this model had been gradually reduced in cup volume and therefore sound quality. In 1968, I found an original from about 1930, and had my engineer measure it. The rim of the original was very sharp and not really usable, so this had first to be modified. After several weeks of careful, painstaking working, the curves in the cup were slightly altered and finally evolved the 6BS. This had a better intonation pattern and clearer and richer overtone structure than the Clark Large, as well as a much fuller low register. It has proved to be their best-selling trombone model over the years.
Even tone quality
Big, full sound
Ideal for concert band and brass band players
Medium shallow cup for improved high register
Cup diameter : 25.4mm
Rim width : 6.26mm
Throat : 6.66mm
Backbore: V-Type. Small shank