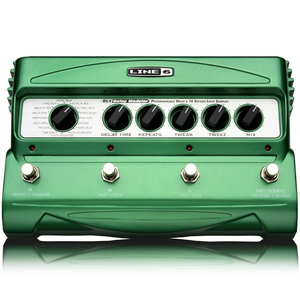 Description

More

Features

Controls

Includes

Pedal Accessories
This is it, folks; the fabled "green box" that's been igniting creativity, passion and sheer awe since Line 6 first released its digitally modeled marvels on the world in 2000. Containing 16 models based* on legendary echo and delay boxes from the storied Maestro® EP-1 Echoplex to the awesome T.C. Electronic® 2290, the DL4™ has in turn become a classic in its own right, as popular with guitarists as it is with singers, drummers, bassists, keyboardists, and anyone who wants a pure 24-bit true stereo signal path in the service of delays that run the gamut from gritty and psychedelic to pristine and heavenly.
You'd be insane to pack an original Roland® RE-101 Space Echo or Electro-Harmonix® Deluxe Memory Man into the back of your van for a club tour, but the DL4 packs models of those sounds and many more into a rugged, road-tested steel housing that can run for up to 30 hours on four "C" batteries or with the optional PX-2G power adaptor. Models of classic delay boxes—and the sweet choruses and vibratos that accompany many of them—are just the beginning; the DL4 also boasts innovative sounds like its "Auto-Volume Echo," which combines a volume swell with a tweakable tape-style echo; or the outstanding "Reverse Delay," which allows you to play stunning backwards guitar solos on the fly.
You also get those U2-style "Rhythmic Delays" in several metric flavors, super-cool "Ping-Pong Delay" effects, and outrageous stereo panned repeats. Look, if it ain't in the DL4, it probably doesn't exist... until you create it. What's more, with its onboard 14-second looper, the DL4 is both the perfect practice tool and the ultimate creative canvas for crafting overdubs and creating textures, with its ½ speed and reverse modes ideal for sonic adventurers and arrangement-minded recordists alike.
Like all Line 6 stompbox Modelers, the DL4 boasts a simple and sturdy front panel design, with four footswitches for saving and recalling your sounds, and six knobs for selecting models and tweaking parameters, with distinct assignments for each knob depending on the delay model you've chosen. Paired with the optional EX-1 expression pedal, which lets you morph between two radically different settings for each of your sounds, the DL4 is truly the ultimate delay pedal, making the history of echo and delay available to your creative future.
Digital Effects: 16

Tube Echo
Tape Echo
Multi-Head
Sweep Echo
Analog Echo
Analog w/Mod
Lo Res Delay
Digital Delay
Digital w/Mod
Rhythmic Delays
Stereo Delays
Ping Pong
Reverse
Dynamic Delay
Auto-Volume Echo
Loop Sampler

Factory Presets: 18

User Programmable Channels: 3
Controls: Effect Selector, Delay Time, Repeats, Tweak, Tweez, Mix
Additional Controls: Tap Tempo (Included)
Chassis Color: Green
Dimensions: Length: 10-inches/25.4 cm; Width/Depth: 6-inches/15.24 cm; Height: 2.5-inches
Weight: 3.1 lbs
MODEL SELECTOR - This is where you pick the model you want to use; it comes up pre-set to a great sound.
DELAY TIME - Typically sets the amount of delay time. Check the delay model descriptions for more details.
REPEATS - Typically adjusts the amount of repeats of your delay from one to infinity. Check the delay model descriptions for more details.
TWEAK - This is a special control unique to individual delay models. Check the delay model descriptions for more details.
TWEEZ - This is the other special control unique to individual delay models. Check the delay model descriptions for more details.
MIX - This knob is always used to set the mix between the dry/direct/unprocessed signal and the processed signal. Turn counterclockwise for more dry signal.
STOMP SWITCHES - For all models except LOOP SAMPLER, these switches choose one of the 3 memories. Step on a switch to get the sound that was stored there. To change what's in a memory, hold one of these switches for 3 seconds: that will store whatever sound you are currently hearing, so you can recall it by pressing that switch.
TAP TEMPO - Tap this in quarter notes a few times to sync the delay time with your music.
(1) Line 6 DL4 Delay Modeler Pedal
(4) C Batteries
(1) User Manual