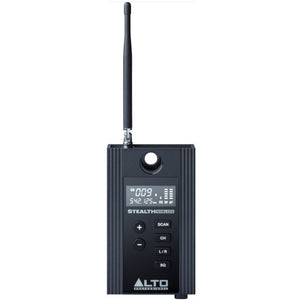 Description

Includes

Features
Take your Alto Stealth Wireless MKII to the next level! The Stealth Wireless MKII Expander Pack includes an additional single-channel UHF receiver, making it easy to create a larger system or provide multi-room coverage. This pack includes everything you need to connect to your existing Alto Stealth Wireless MKII wireless audio system.

The Alto Professional Stealth Wireless MKII is a next gen wireless solution that eliminates the need for up to 200' of speaker cabl ing. With Stealth Wireless MKII, it's easy to add wireless audio connectivity to any active loudspeaker without compromising audio quality. The system works perfectly well through walls, floors, and ceilings, providing setup flexibility that far exceeds co nventional hard wired systems. Adding Stealth Wireless MKII to your live sound rig will enable you to skip the long setup and teardown processes required of a wired sound system. This is the ultimate time and money saver.

Stealth Wireless MKII includes a single dual channel transmitter with two removeable antennas. The front panel LCD screen with dual frequency display conveniently shows the RF frequency and channel as well as the AF signal level for each channel. Each system also includes two receivers. They feature slimline, rugged plastic housings, with dual swiveling hinged antennae.

Stealth Wireless MKII can be set for mono or stereo use. Two XLR + balanced 1/4" TRS combo inputs on the transmitter accommodate the main outputs from nearly any mixing board or console. Each of the receiving units has a single 1/4" TRS output to send the signal to a powered speaker array or a traditional amplifier and speaker combo. Each Stealth Wireless MKII package comes with (2) 1/4" TRS to XLR cables so that you can plug into your system right out of the box

For sound professionals, setup time, simplicity, and flexibility are of paramount importance. But any reduction in audio quality for the sake of convenience is totally unacceptable. Stealth Wireless MKII delivers exactly what professionals demand faster setup/teardown, LCD displays for instant visual confirmation of system configuration, and uncompromised audio quality.
1x Alto Professional Stealth Wireless MKII Expander Pack - Additional 1-Channel Stealth Wireless MKII Receiver
Use to expand your existing Stealth Wireless MKII system
Single channel receiver with one 1/4" TRS output (per unit)
Reliable UHF band; up to 100+ selectable channels (regionally dependent)
Adjustable squelch eliminates interference
Sold and priced as single units (previous versions were sold as pairs)