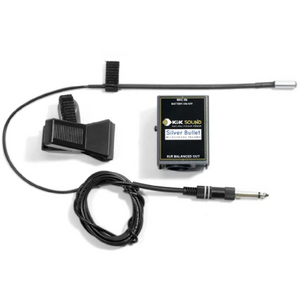 The Silver Bullet Microphone is a very powerful condenser microphone with excellent sound and frequency range. Its outstanding performance, especially on wind instruments, makes this small mic an affordable tool for every musician.
The Silver Bullet Microphone can be conveniently attached both externally and internally to a wide variety of instruments:
Wind Instruments, such as concert flute, clarinet, trumpet or saxophone. A foam wind screen is provided for all application on wind instruments.
Hand drums, such as darabokas, dumbaks, djembes, bongos, as well as kalimba or slit drum.
String instruments such as mandolin, banjo, piano, violin, acoustic guitars, and ethnic instrument like sitar, bouzouki, saz, oud, balalaika, and similar.
Vocals, for use as a Lavalier microphone.
The Silver Bullet Microphone has a 4" gooseneck built into the cable for quick and sturdy positioning of the microphone. This allows a variety of elevated positions on wind instruments. Two different attachment systems are supplied to accommodate different mounting methods: a padded clip and a Dual-Lock Velcro attachment in case the clip does not fit your instrument. The mic plugs into the Silver Bullet Preamp, which provides active pre-amplification, plus active balance XLR out.
Frequency Range: 20 - 20,000 Hz
Sensitivity: 8 mV / PA / 1 kHz
Maximum SPL: 133dB
Polar Pattern: Soft cardioid
Preamp Power Supply: 9-volt battery
Mic Power Supply: 5 volt supplied by Silver Bullet preamp
Power Consumption: less than 1 mA
Output: 1/4" line level