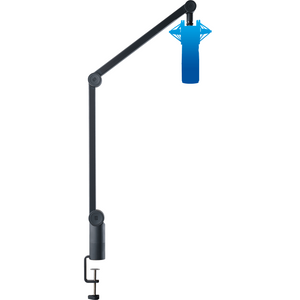 Description

Features

Studio Accessories
Arm yourself!
Create a hands-free recording and streaming environment while simultaneously isolating your voice from the sounds of your mouse and keyboard. The PBA-2 Professional Broadcast Boom Arm gives you a sturdy, adjustable solution to get your mic up off your desktop and in front of your attractive face where it belongs. No more hunching over your desk to reach your mic!
The PBA-2 has five points of articulation, so you'll always be able to position your mic exactly where you need it to be. It also includes an adjustable tension control, making it suitable for use with both heavy and lightweight mics, and the built-in cable channels hide your cables within the boom arm itself, keeping your steams looking tidy and professional. Thread adapters for standard microphone mounts are included.
Pair it with a PreSonus SHK-series shockmount to double the sonic isolation of your mic!
Heavy-duty microphone boom arm with adjustable tension for use with heavier microphones
Five articulation points plus friction locks for precision mic placement
Cable channels keep your microphone cables tidy and off-camera
5/8" male to 3/8" female adapter included for use with standard mic mount threadings