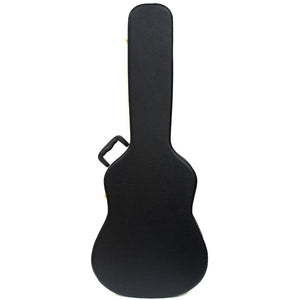 Description

Features

Interior Dimensions
Every instrument needs a case, and HI Bags are the answer to protecting and transporting your instrument. Our Hardshell cases are super-protective and super-affordable, providing your instrument safe travel without breaking the bank. This hardshell case is built with vinyl exterior, plush interior, neck cradle & compartment, stitched edging, metal latches, and includes locks and a pair of keys for security.
This acoustic case is intended for standard steel-string acoustic guitar body shapes. May not be suitable for extreme body shapes or instruments with exceptionally long headstocks (see 'Dimensions' tab for sizing information).
All HI Bags products are available exclusively at Easy Music Center.
Vinyl exterior

Plush interior

Neck cradle & compartment

Stitched edging

Metal latches


Built-in lock & (2) keys



Interior Length: 44.75 in

Interior Width: 16.5 in

Interior Depth: 5.5 in