Description

More

Features

Specs

Electric Guitar Accessories

Inspection and Set-up
*These are stock photos. For actual photos of the instrument, please contact us.
Some guitars are built for performance, some for aesthetic. These instruments are the best of both worlds... and perhaps the universe!

The PIA is a new signature guitar coming out of the highly successful collaboration between Steve Vai and Ibanez. The PIA, as Steve explains it, does not replace the GEM, but is essentially an evolution of that guitar. New design features include the PIA blossom inlay, new "Petal" grip, groundbreaking Lion's Claw tremolo cavity, and DiMarzio® UtoPIA™ pickups.
This Guitar Comes with a Hard Case
Thirty-three years after the release of one of the most legendary and iconic signature guitars of all time, the Ibanez JEM, Steve Vai and Ibanez have once again collaborated on something completely new, in what Steve has described as "the next evolution of the JEM". After all those years with his trusty JEM guitars at his side, Steve recently felt an urge to design a new guitar that reflected his own personal growth and journey as an artist since the release of the Ibanez JEM in 1987. Steve and Ibanez worked tirelessly over a period of time in order realize Steve's vision; a guitar that can not only capture the same thrill and exhilaration that his JEM guitars have always provided, but also one that adds new elements of aesthetics, design, and function. After an exciting process of research and development, Steve and Ibanez were able to create something that exceeded all expectations, something that Steve has deemed "Paradise in Art". Ibanez is proud to now offer this new guitar, the Ibanez PIA, as the next of evolution of our amazing partnership with Steve Vai. The 'Petal Grip', arguably the most eye-catching feature of the PIA, is something that Steve feels visually represents the bond that two entities can create when in synergy with one another. It is this synergy, and its ability to create a dynamic system in which the whole is greater than its parts, that the Ibanez PIA is born.
PIA Blossom inlay
The newly designed PIA Blossom inlay is gorgeous, prominent, and elegantly imparts Steve Vais trademark style and artistic vision.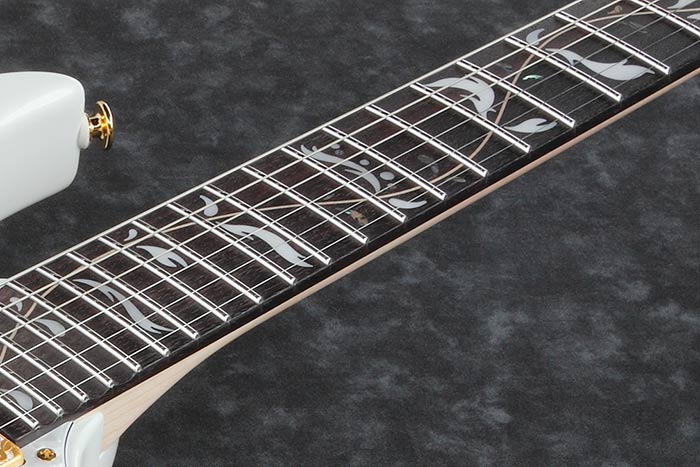 Petal grip
Exclusively designed for the PIA, the new Petal Grip offers a balanced, contemporary design aesthetic. Its also meant to symbolize unity, companionship, and interpersonal bonds.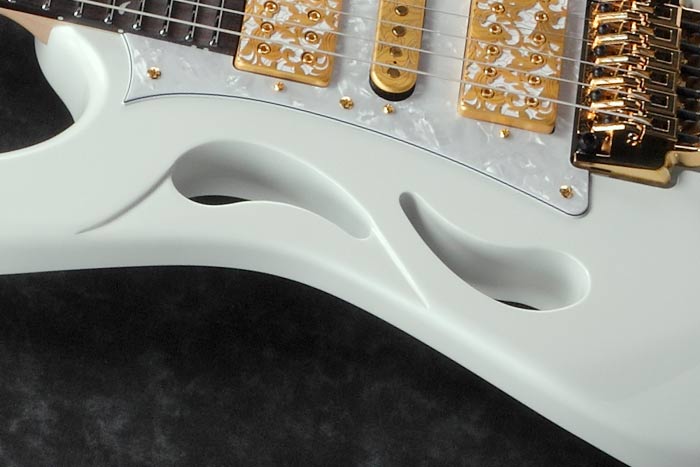 DiMarzio® UtoPIA™ pickups
Based on Steve's latest tonal preferences, DiMarzio® UtoPIA™ pickups are voiced for smoother highs, more scooped mids, and more pronounced low-end. The pickups incorporate beautiful aesthetics and design elements meant to complement the cosmetic features of the guitar.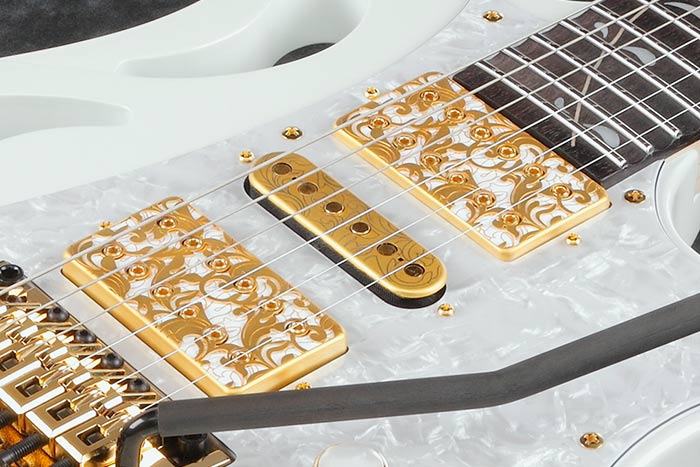 Edge Tremolo
The Edge tremolo bridge and groundbreaking Lion's Claw tremolo cavity allow for rapidly increasing and lowering pitch with dramatic range and an intense voice.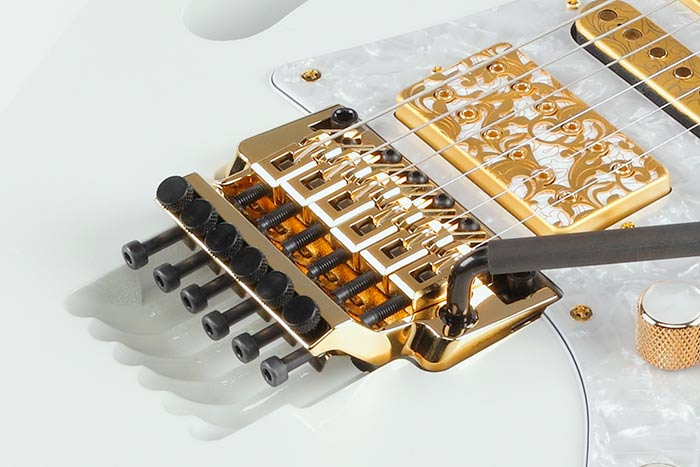 Magnetic Tremolo Cavity Plate
The tremolo cavity plate is held in place magnetically, allowing for quick removal and reinstallation when changing strings or adjusting the tremolo system.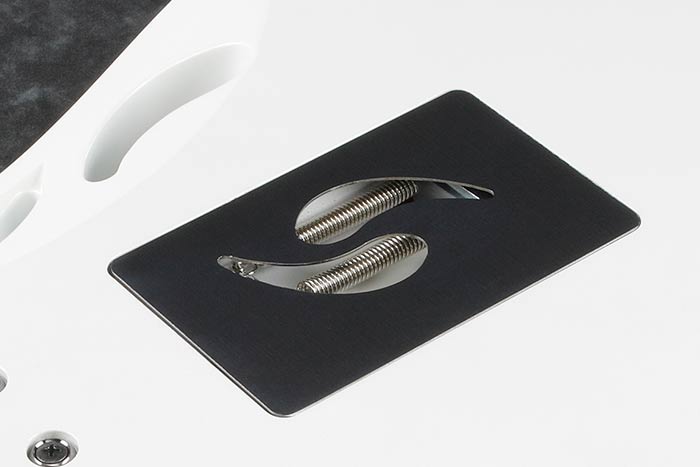 Newly designed PIA Blossom inlay
Luminlay side dots
Scalloped fingerboard on 21-24 Frets
Ultralite Tremolo Armâ"¢ included
Petal grip
Gotoh® machine heads
Hardshell case included
neck type PIA5pc Maple/Walnut
top/back/body Alder body
fretboard Rosewood fretboardPIA Blossom inlay
fret Jumbo Stainless Steel fretsPrestige fret edge treatment
number of frets 24
bridge Edge tremolo bridge
string space 10.8mm
neck pickup DiMarzio® UtoPIA™ (H) neck pickupPassive/Ceramic
middle pickup DiMarzio® UtoPIA™ (S) middle pickupPassive/Alnico
bridge pickup DiMarzio® UtoPIA™ (H) bridge pickupPassive/Ceramic
factory tuning 1E,2B,3G,4D,5A,6E
strings D'Addario® EXL120
string gauge .009/.011/.016/.024/.032/.042
nut Locking nut
hardware color Gold
NECK DIMENSIONS

Scale : 648mm/25.5"
a : Width 43mm at NUT
b : Width 58mm at 24F
c : Thickness 18mm at 1F
d : Thickness 20mm at 12F
Radius : 430mmR
Electric Guitar Accessories
*Not all bags and cases fit all guitars. If you aren't sure, please check with us at the store. Admin@easymusiccenter.com or call 808-591-0999.
At Easy Music Center, we care for our instruments from the moment they arrive to when they ship to your door. All instruments are stored in a climate controlled environment and put through a 12-point inspection checklist before being shipped.
First, we check the finish of the instrument, carefully inspecting any blemishes on the surface. Next, we check the playability and setup by inspecting and adjusting the truss rod (if available), bridge, nut, and frets to manufacturer factory specifications. Any request made outside of manufacturer factory specifications can incur additional charges for parts and labor. If the instrument has electronics, we test all of the electronic components to make sure they are functioning properly.
After a thorough inspection, we then move on to maintenance. We start by lubricating any moving parts on the instrument, such as tuning machines. We then move on to cleaning and oiling the fretboard along with the frets.
Once maintenance is done, we stretch and tune the strings and play test the instrument. After this, we do a final inspection and clean/detail the instrument before packing it up for shipment.
We're excited to be a part of your instrument buying experience.