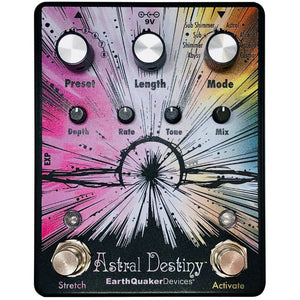 Description

More

Features

Specs

Pedal Accessories
An Octal Octave Reverberation Odyssey
The Astral Destiny is a compact and powerful modulated octave reverb pedal that features 8 reverb modes with 8 editable presets, assignable expression control, tails for natural reverb decay when the effect is bypassed and a super cool stretch feature that doubles the length of the reverb while adding an adjustable pitch bending effect.
The Astral Destiny operates between two different modes: Live or Preset. It comes with 8 factory presets, 1 for each reverb mode, that can be edited or completely overwritten for your enjoyment. The settings for Length, Depth, Rate, Tone, Mix as well as EXP assignment and Stretch length can all be stored and recalled. Any of the Astral Destiny's 8 reverb modes can be used as the basis for each of the 8 presets.

Live Mode
This is the standard mode of operation that the Astral Destiny ships in and is indicated by a Green or Red Activate LED depending on the bypass state. Astral Destiny will operate manually in this mode and all controls will visually indicate the current settings.

Preset Mode
This puts the Astral Destiny into one of the 8 presets selected by the Preset rotary switch. This mode is indicated by a Yellow Activate LED. The panel controls will no longer operate as visually set and instead, the Astral Destiny will use the stored control settings for each selected preset position. If a control change is made while in Preset Mode, the Activate LED will begin to flash. You can easily save this change by holding down both footswitches until both LED's flash 4 times indicating that the change has been saved.

Stretch Footswitch
The Stretch footswitch doubles the length of the reverb effect while adding a temporary change in pitch.

Tap for an immediate pitch change.
Hold for a temporary pitch bending effect.
Adjusting the speed of the pitch bend
The speed of the of the pitch bending effect created by holding the Stretch footswitch can be adjusted by following these steps:

Hold down the Stretch footswitch.
Turn the Length control clockwise for a longer pitch bend or counterclockwise for a shorter pitch bend.
Release the Stretch footswitch once you have selected your desired length.
The Stretch footswitch will now operate at the selected speed every time the Astral Destiny is powered on.
Expression Jack
Use any TRS expression pedal to take control over the Length, Depth, Rate, Tone, or Mix panel controls! You can also use Control Voltage with the EXP Jack. The CV range is 0 – 3.3v.
EXP Jack Internal Connections:

Sleeve= Ground
Ring= 3.3v
Tip= Wiper (CV)
Power
This device takes a standard 9 volt DC power supply with a 2.1mm negative center barrel. We always recommend pedal-specific, transformer-isolated wall-wart power supplies or multiple isolated-output supplies. Pedals will make extra noise if there is ripple or unclean power. Switching-type power supplies, daisy chains and non-pedal specific power supplies do not filter dirty power as well and let through unwanted noise. DO NOT RUN AT HIGHER VOLTAGES!
Reverb Modes
Abyss: Huge reverb with no octave effect
Shimmer: Adds an upper octave to the reverb tail
Sub: Adds a lower octave to the reverb tail
Sub Shimmer: Adds an upper and lower octave to the reverb tail
Astral: Adds an upper and lower octave combined with a regenerating tail
Ascend: Upward pitch bending
Descend: Downward pitch bending
Cosmos: Adds a regenerating fifth to the reverb tail
Dimensions: 4.65 x 3.65 x 2.25 in. (118 x 93 x 57 mm) with knobs
Current Draw: 85 mA
Input Impedance: 500 kΩ
Output Impedance: 100 Ω