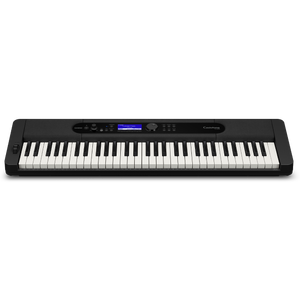 Description

More

Features

Specs

61-Key Keyboard Accessories and Add-Ons
The Casiotone CT-S400 is a great-sounding, ultra-portable keyboard that is perfect for making music at home or on the go. With hundreds of incredible Tones and Rhythms, the CT-S400 will inspire players of any age, skill level or budget for years to come.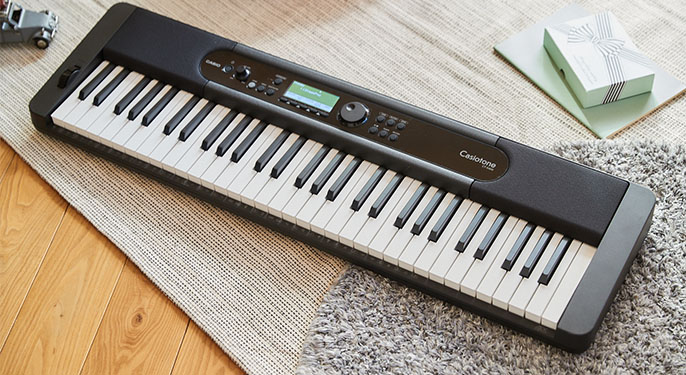 Keys to the Kingdom
The CT-S400 features 61 full-size touch responsive keys in a sleek, stylish case that weighs less than 10 pounds. The easy-to-read LCD display and intuitive controls give you everything you need to bring your music to life. Use the pitch bend wheel to add natural (or supernatural) expression to your playing.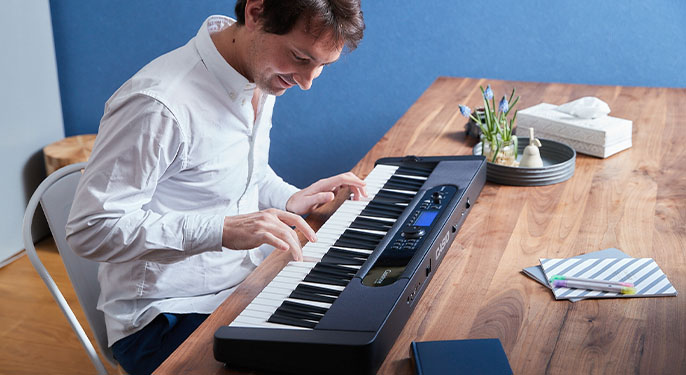 The Heart of a Champion
The AiX Sound Source delivers sound quality that you'd expect from a keyboard costing hundreds, if not thousands more. Power on the CT-S400, and you'll be presented with a dynamic, expressive German concert grand piano placed in a virtual concert hall. Inside the collection of 600 Tones, you'll also find great-sounding electric pianos, organs, strings, synths, and more.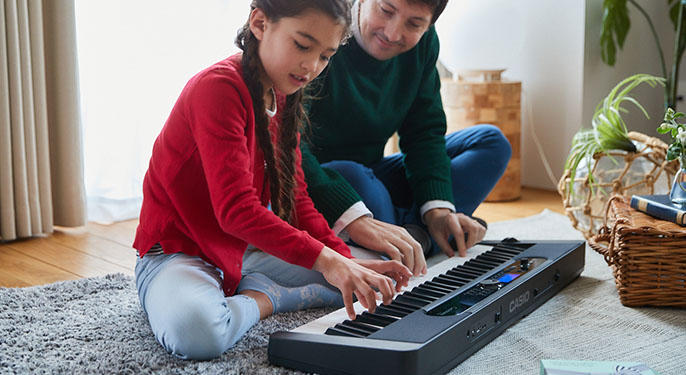 A World of Music to Explore
The CT-S400's 200 full-accompaniment Rhythms make it a perfect jamming partner. Simply play a few notes, and it will create an entire backing band that reacts effortlessly to the way you play. No matter what kind of mood you're in, your Casiotone is always ready to back you up with vibrant acoustic drums, vintage drum machines, global percussion instruments, rock-solid basslines, horn ensembles, rhythm guitars, and so much more.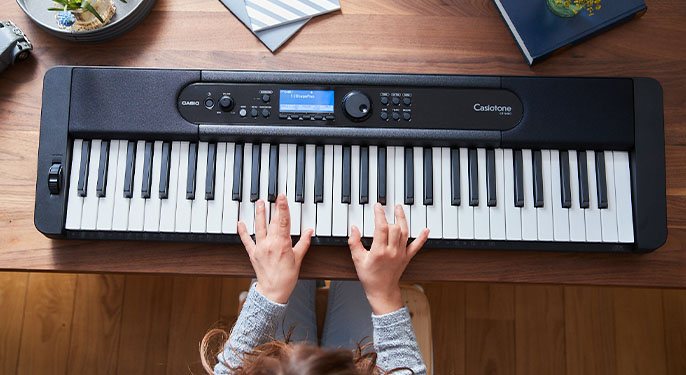 Small Size, Huge Sound
There are three ways to experience the CT-S400's amazing sound quality at its best. First, the bass-ported speaker system delivers punch and clarity throughout the entire volume range. Second, plug in a good set of headphones for personal play. Third, turn on SURROUND, and the sound from the speakers will place you right in the middle of your music.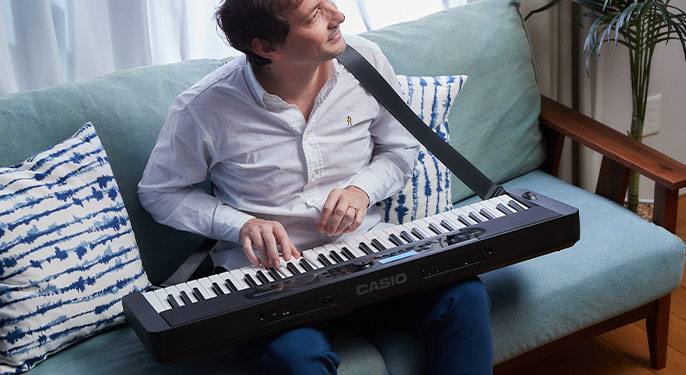 Take It To Go
With a CT-S400, there's no reason to feel tied down. Just pop in 6 AA batteries, attach a strap, and wherever you are becomes center stage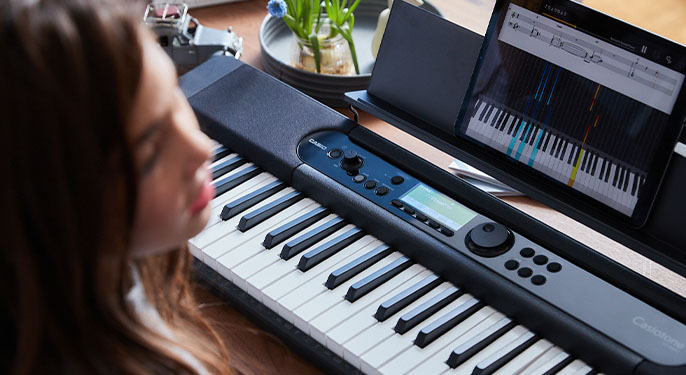 Connected to Your World
The microUSB port connects your CT-S400 to any PC, Mac, iOS or Android device with no drivers or installation needed. Use the free Chordana Play app to learn to play your favorite songs with downloadable MIDI files. With the optional WU-BT10 Bluetooth MIDI/audio adapter, you can even connect wirelessly to your favorite devices to control them via MIDI, or to use the CT-S400 as a Bluetooth speaker.
61 full-size keys with touch response, pitch bend wheel and easy-to-use controls
600 AiX-powered Tones and 200 full accompaniment
Rhythms Powerful bass-reflex stereo speaker system with surround effect
5-track song recorder Strap pins for playing anywhere
Class-compliant USB-MIDI connects to free Chordana Play app
Optional (sold separately) WU-BT01 Bluetooth MIDI/Audio adapter
Optional (sold separately) 6xAA battery power (AC adapter and music rest included)

Number of Keys: 61
Touch Response: 3 sensitivity levels, off
Sound Source: AiX
Polyphony: 48
Tones: 600
Layer: 2 (Upper1/2)
Split: Yes
Sustain: Yes
Reverb: 20x
Chorus: Yes (Preset for some tones)
DSP: Yes (Preset for some tones)
Master EQ: 10
Volume sync EQ: Yes
Surround: Yes
Number of Rhythms: 200
One Touch Preset: 200
Auto Harmonize: 12
User Rhythms: 10
Chord Mode: CASIO Chord, Fingered 1, Fingered 2, Fingered On Bass, Fingered Assist, Full Range Chord
Rhythm Elements: Intro, Normal, Normal-Fill, Variation, Variation-Fill, Ending, Synchro Start, Synchro Stop
Metronome: Yes
Tap Tempo: Yes
Arpeggiator: 100
Songs: 160
Lesson Part Select: Yes
User Songs: 10
Demo Song: 1
Registration: 4 set x 8 bank
Freeze Function: Yes
My Set Up Function: Yes
Transpose: Yes
Tuning: Yes
Octave Shift: Yes
Scale Setting: Equal temperament + 16 variations
MIDI Recorder: Yes
Songs: 1
Tracks: 6
Memory Capacity: 40,000 notes (for each song)
LCD: Yes
Type: Yes
Back Light: Yes (white)
Available APP: Chordana Play
Bluetooth MIDI & Audio Adaptor: Yes (Option)
General MIDI: Yes
PHONES / OUTPUT: Stereo mini
PEDAL: Standard
AUDIO IN: Stereo mini
USB TO HOST: micro B
USB TO DEVICE: Yes
Strap Pin: Yes
Speakers: (13cm x 6cm) x 2
Horizontal Bass Reflex: Yes
Amplifiers: 2.5W + 2.5W
Power Supply: DC 9.5V
AC Adaptor: AD-E95100L
Battery (Alkaline): AA type x 6
Dimensions (in): 36.61 x 10.15 x 3.30
Weight: 9.9lbs
61-Key Keyboard Accessories and Add-Ons
* These are suggestions Only - Not all Cases will fit all 61 key keyboards. Please be sure to check the product measurements listed for the keyboard versus the bag capacity listed on the bag product.