Description

More

Features

Specs

Humidity Care
A new, larger screen shows the tuner and metronome functions simultaneously
The TM-60 — a must-have item for practicing.

The best-selling KORG TM series, which lets you use a tuner and metronome simultaneously, has been revamped. The TM-60 is the newest model and features a larger display that can show the tuner and metronome simultaneously. The battery life has also been dramatically improved. With the all-new TM-60, you'll be able to enjoy pitch training and rhythm training without having to switch functions or be concerned with battery life.
The TM-60, the tuner/metronome that's even more convenient and easier to use.
Tuning and rhythm training are indispensable for brass band or orchestral practice. In addition to letting you use the tuner and metronome simultaneously, the TM-60 features a display that's approximately 1.3 times larger than the previous model.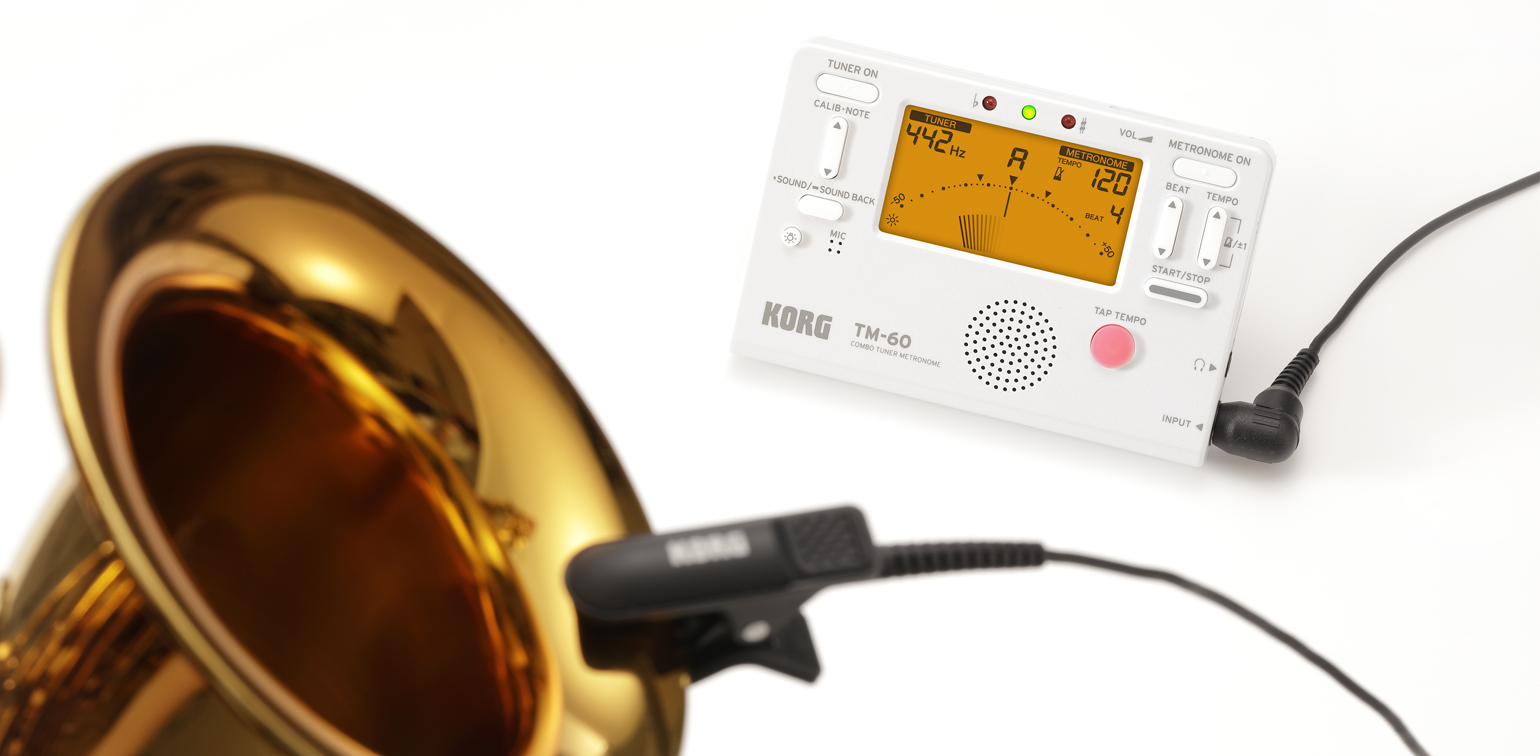 Tuner section quickly and accurately detects the pitch of wind and string instruments
Needle-type meter with excellent response
KORG's proprietary technology accurately detects the pitch without any time lag. The pitch drift that is prone to occur during long tones played on a wind instrument can be detected before it happens, letting you train yourself to produce unwavering tone with stable pitch.

A wide detection range of C1–C8 supports a variety of instruments
The TM-60 can detect note names and pitches for a variety of orchestral and other instruments. The range from C1 (32.70 Hz) to C8 (4186.01 Hz) can easily be detected. Even acoustic instruments that are difficult to detect because their sound contains a significant amount of low-frequency energy or a large number of partials, such as guitar and ukulele, can be tuned easily and accurately.

Marks that indicate pure major and minor third intervals
In an ensemble such as a brass band or orchestra, harmonies of third intervals are easily perceived as out of tune, and can be made to sound better by slightly adjusting the pitch to a pure major or minor third.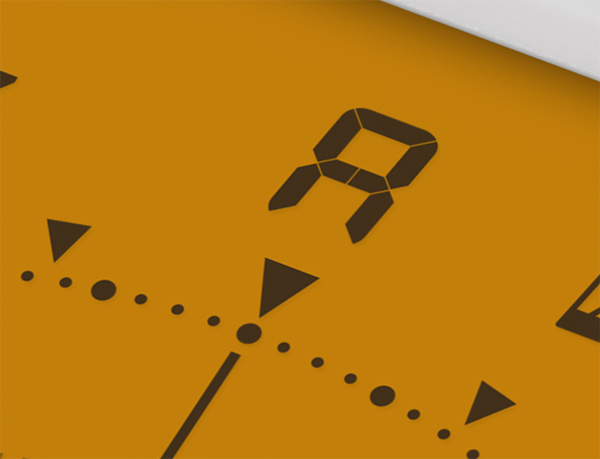 Sound Out mode generates a reference tone
In addition to a meter for visual tuning, the TM-60 provides a "sound out" mode that lets you tune using your ear while listening to a reference tone from the internal speaker or a set of connected headphones.

Equipped with high-precision tuner function and metronome function. The two functions can be used simultaneously.
The display is approximately 1.3 times the size of the previous model (TM-50), allowing the tuner and metronome to be shown simultaneously.
Backlit LCD ensures excellent visibility even in dark locations.
LCD needle-type meter detects the pitch instantly, providing the excellent response that you expect from KORG.
A wide detection range of C1–C8 supports a broad range of instruments.
Calibration is adjustable to match various concert pitches.
Marks are provided to indicate pure major and minor third intervals.
Sound Out mode and Sound Back mode are great ways to train your ear.
Metronome features a wide tempo range from 30 to 252 beats/minute. Choose from three types of tempo settings and 15 rhythm variations.
Long-life design with approximately double the battery life. (Compared to the KORG TM-50, in tuner mode with backlight off)
Convenient memory backup function and auto power-off function.
Further improvements in ease of use, including a newly designed stand and battery compartment cover.
Available in black or white, two simple and timeless colors.
Separately sold CM-200 contact mic allows even higher tuning precision. The lineup also includes the TM-60C which is packaged with a CM-200 in a color that matches the body of the tuner/metronome unit.
Tuner Section

Scale 12-note equal temperament
Detection Range C1 (32.70 Hz)–C8 (4186.01 Hz) with sine wave input
Reference Tone Generation C3 (130.81 Hz)–C6 (1046.50 Hz) three-octave range
Tuning Modes meter mode, sound out mode, sound back mode
Calibration Range A4=410–480 Hz (1 Hz units)
Detection Accuracy better than +/-1 cent
Sound Accuracy better than +/-1 cent

Metronome Section

Tempo Range Quarter note=30–252 times/minute
Tempo Setting Method pendulum step, full step, tap tempo
Time Signature Range 15 types (0–9 beats, duplets, triplets, triplets with center note omitted, quadruplets, quadruplets with center notes omitted)
Tempo Precision +/-0.3%

Main Specifications

Connectors INPUT jack (6.3 mm monaural phone jack, unbalanced), headphone jack (3.5 mm stereo mini-phone jack)
Speaker Dynamic speaker (φ23mm)
Power Supply Two AAA batteries (3V)
Battery Life

Tuner: Approximately 130/55/36 hours (backlight: off/soft/auto, continuous A4 input, using zinc-carbon batteries)
Metronome: Approximately 130/55/36 hours (backlight: off/soft/auto, tempo 120, 4 beats, maximum volume, using zinc-carbon batteries)

Dimensions (W x D x H) 111 mm x 74 mm x 18 mm / 4.37" × 2.91" × 0.71"
Weight 100 g / 3.53 oz. (including batteries)
Color Variations Black (TM-60-BK), White (TM-60-WH)
Included Items Two AAA batteries for verifying operation
Accessories (separately sold) CM-300 contact mic
Acoustic guitars and ukulele are made of wood, and wood is sensitive to changes in climate. Shifts in temperature or relative humidity can affect your instrument in multiple ways, some of which can lead to costly repairs if you're not careful. Solid woods in particular are especially prone to the effects of climate fluctuation. For example, extended exposure to low relative humidity (below 40% RH) can dry out the wood, causing it to shrink and run the risk of cracking. Similarly, excessive humidity can cause the wood to absorb moisture and swell, potentially causing other problems. Without adequate humidity control (especially in drier local climates), acoustic instruments can crack and their necks can warp, causing problems with fretting, intonation and playability.
So how do you prevent this kind of damage? Easy: by keeping your guitars and ukulele properly humidified (ideally between 40-60% RH). The easiest way to do this is by storing your instruments in a case with a case two-way humidifier inside. A two-way humidifier will slowly absorb or release moisture inside your case, maintaining humidity to help ensure your instrument doesn't suffer damage. Using a digital hygrometer can help you monitor humidity levels around your instrument.
Symptoms of a dry acoustic instrument:
Low action. Strings are very close to the fretboard.

Hump on the fretboard where the neck joins the body.

Sunken top across the soundboard between bridge and fingerboard.

The back of instrument looks very flat when it is dried out.

Sharp fret ends extend beyond the edge of the fretboard.

The plane of the neck angle on a dry instrument hits above the top of the bridge.
Symptoms of a wet acoustic instrument:
High action. Strings that are unusually high off the fretboard, making it difficult to play.

Unusually swollen top

Unusual warp on the top, back or both at the end-block

Improper neck angle. Sighting the neck to the bridge, the frets will appear to hit below the bridge.
Using patented technology, the D'Addario Two-Way Humidification System features disposable, moisture-filled packets with a breathable membrane that provides two-way humidity control, meaning it can either release or absorb moisture to consistently maintain a predetermined relative humidity (RH) level of 45-50 percent.
Music Nomad the leader in equipment care products, has developed an easy to use, no mess, and low maintenance Ukulele humidifier. The Humilele rests securely on top of the strings to safely and evenly hydrate your Ukulele to avoid these problems.
Final Notes on Humidity Control
To monitor the amount of humidity your instrument is receiving, we recommend the purchase of a digital hygrometer, a device that gauges and provides a read-out of humidity levels. It can be kept in the room where you store your instruments, or, better yet, in a central location inside the instrument case, preferably Velcro'd to the outside of the accessories compartment (facing the heel). The optimal range for your guitars and ukulele is 45-55% RH.